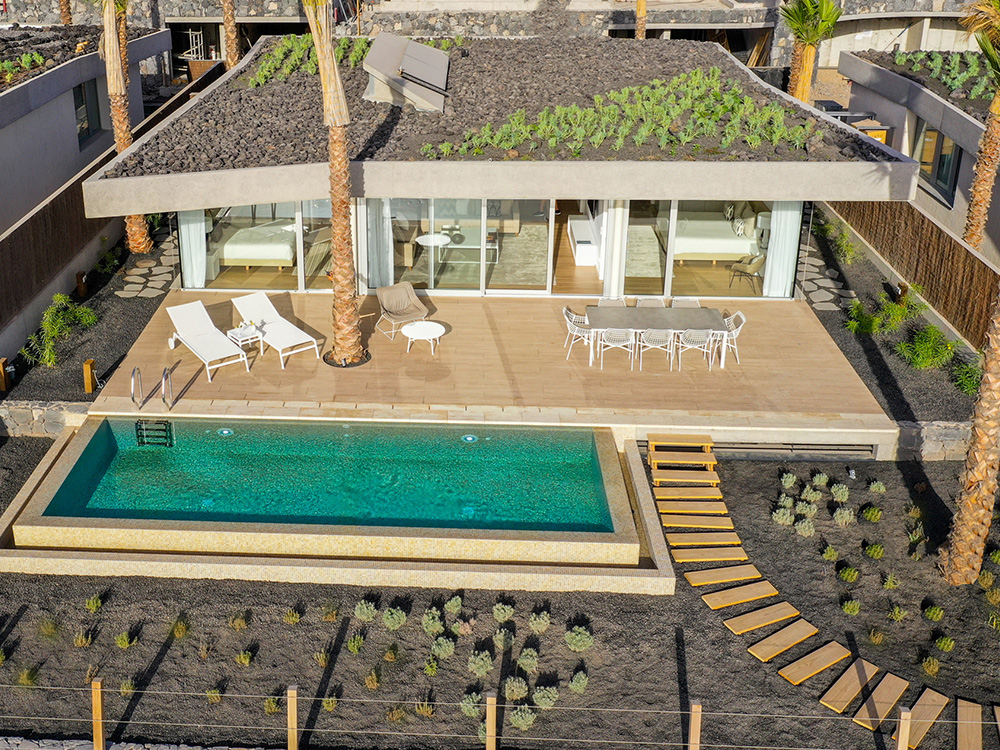 We are delighted to announce that in September 2020 we officially inaugurated the show home of our new villas for sale in Spain. Las Villas del Tenis, as this pristine community is called, responds to our clients' interest in spacious homes with stunning panoramic views of the Atlantic Ocean.
On the 10th of September we welcomed important local figures including Pedro Martín, the President of The Council of Tenerife, and Josefa Mesa, the mayor of Guía de Isora, to Abama for the launch. Those present enjoyed a tour of the fully furnished villa and its private swimming pool, terraces, and gardens.
If you're not able to travel to Abama at the moment, we have a unique opportunity for you upcoming on the 29th of September: we'll be presenting a Live Open House, during which two of our team members will take you on a virtual tour of our show villa. Join up to see every beautiful nook and cranny of this residence yourself, and ask our experts questions at the same time. If you can't come to Abama, it's the next best thing!
These villas for sale in Spain, designed by the same prize-winning architects who brought you our Bellevue villas, have a modern aesthetic all their own. Featuring clean lines, light neutrals, and a carefully curated set of furnishings, they are the perfect place to relax in style. Large windows and spacious terraces take maximum advantage of the incredible views of the ocean and the island of La Gomera.
With 2- and 3-bedroom options, and several different configurations, Las Villas del Tenis can meet the needs of couples, families, and those who work from home. Their modern conveniences and quality fixtures and appliances are built to last.
But the advantages don't end there. These villas can be let to guests when owners are away, providing an additional source of returns in periods when you're not using your property. Our rental management team is responsible for promoting and managing all rentals, as well as ensuring that these villas are perfectly outfitted and ready to welcome you or guests.
As an additional bonus, Abama gifts our new owners two years of membership in our Exchange Program. This is a holiday exchange scheme run in collaboration with luxury company The Registry Collection, whose more than 240 exclusive destinations worldwide are sure to pique your interest.
If you're not yet familiar with Abama, or you can't wait to see these beautiful villas for sale in Spain, book your complimentary spot on the 29th for our exclusive virtual tour. We're certain that if you're in the market for property for sale in Spain, our residences will more than satisfy your expectations.