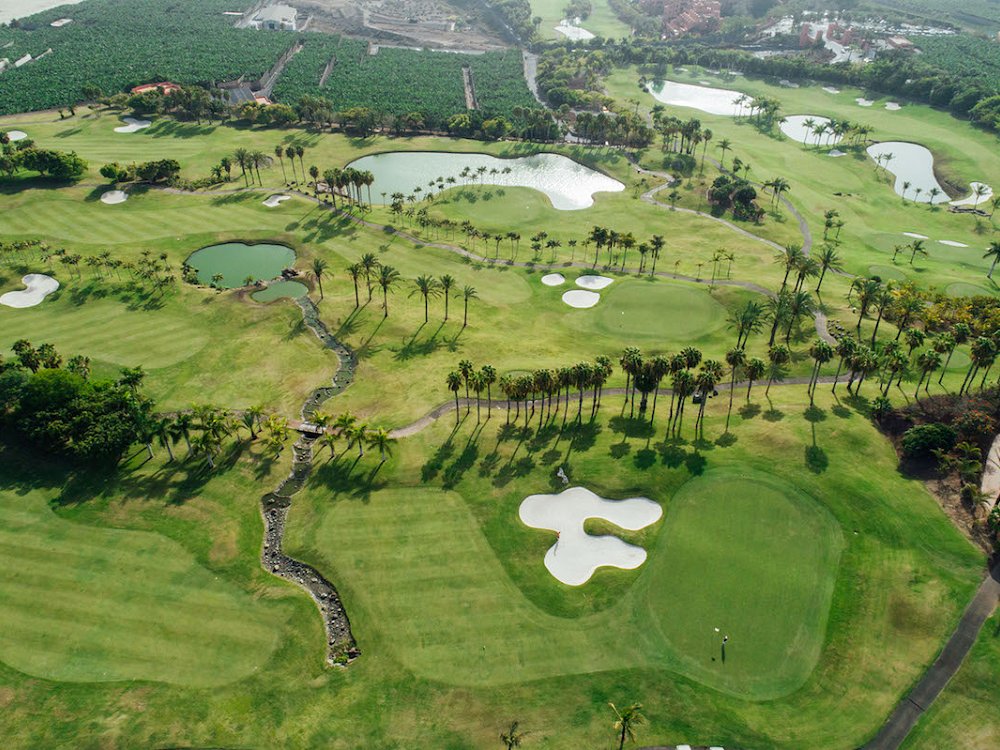 There are projects that carry the unmistakeable seals of their creators, and if you're lucky enough to own one of our exclusive homes, you already know one of them: our magnificent Abama golf resort Tenerife. Ours is an impressive professional complex whose design allows both aficionados and the more experienced to enjoy their game and some spectacular views of La Gomera.
And it's all thanks to the great work of Dave Thomas, the marvelous player and course designer responsible for the unique distribution of our 18 holes among lakes, waterfalls, and white sand bunkers. Have a walk through the more than 20,000 palm trees and other subtropical plants that grow in the complex, and you'll know you've landed in golf heaven.
Welshman David Charles Thomas was born in Newcastle-upon-Tyne the 16th of August, 1934, and passed away August 27th, 2013, at the age of 79. As a professional golf player he gathered important accolades in the 1950s and '60s in numerous European tournaments, including the News of the World Match Play, the Dutch, Belgian, and French Opens, and the British Golf Open, where he was a finalist more than once. In total, he participated in 19 Gran Slam Tournaments and 4 Ryder Cups. He was forced to retire early due to arthritis, but he wasn't done having his say in the golf world. And so he set about making a new name for himself through his other great passion: golf course design.
Such was his success in his new endeavor that he became one of the most in-demand designers in the world, with more than 100 courses to his name by the time of his passing, and not only in Europe, but also in Africa, South America, and countries like China and Japan. In Spain, 14 courses bear his indelible signature, thanks to him having spent a large portion of his adult life here. And this is the country where he also lived his last days, leaving behind him an incomparable history that includes the design of the Abama golf resort Tenerife.
Many are the golf lovers that come to Spain in search of its sun, warmth, and wonderful courses, but only on the island of Tenerife will they find the technical challenge of a course designed for professionals that can also be enjoyed by beginners, framed by the panorama of the Atlantic Ocean and bathed in the springtime climate of the Canary Islands. The golf course that the owners of our exclusive homes on Tenerife enjoy has all this and more, including two new weekly golf dates you won't want to miss beginning in January 2019. Take note!
Weekly 9-hole Tournament
Tuesday, the 15th of January, at 14:00h, we'll inaugurate our new weekly 9-hole tournament, to be held on Tuesdays throughout 2019 for our owners and their guests. The format of the tournament will be an individual Stableford and, in addition to the green fee, players will have to contribute a nominal €10 for the winners' prizes. If you'd like to play, you should confirm before 19:00h on Monday, the day before the competition. We're certain that this will be a great opportunity for the owners of our exclusive homes on Tenerife to meet their golfing neighbors and keep an eye on the competition for the next Owners' Cup! Make your reservation by sending an email to info@abamagolf.com or by calling reception.
Weekly golf clinic
Also beginning Tuesday, the 15th of January, our golf pro Sebastian Miller will be giving a weekly golf clinic from 15:00 to 15:50h for those who wish to initiate themselves in this wonderful sport. The location will be the Abama Resort Golf Academy. We have all the equipment you'll need, so you only have to arrive with a desire to learn! Reservations for the clinic can also be made by sending an email to info@abamagolf.com or calling in to reception.
Don't wait a moment longer to enjoy the stunning views of the ocean and the exotic colors of the Teide's volcanic earth while you play at our incomparable Abama golf resort Tenerife. You'll soon marvel at how Thomas leveraged a beautiful landscape to the fullest to create an ambiance of peace and harmony like no other, putting us squarely among the best golf resorts in Europe.