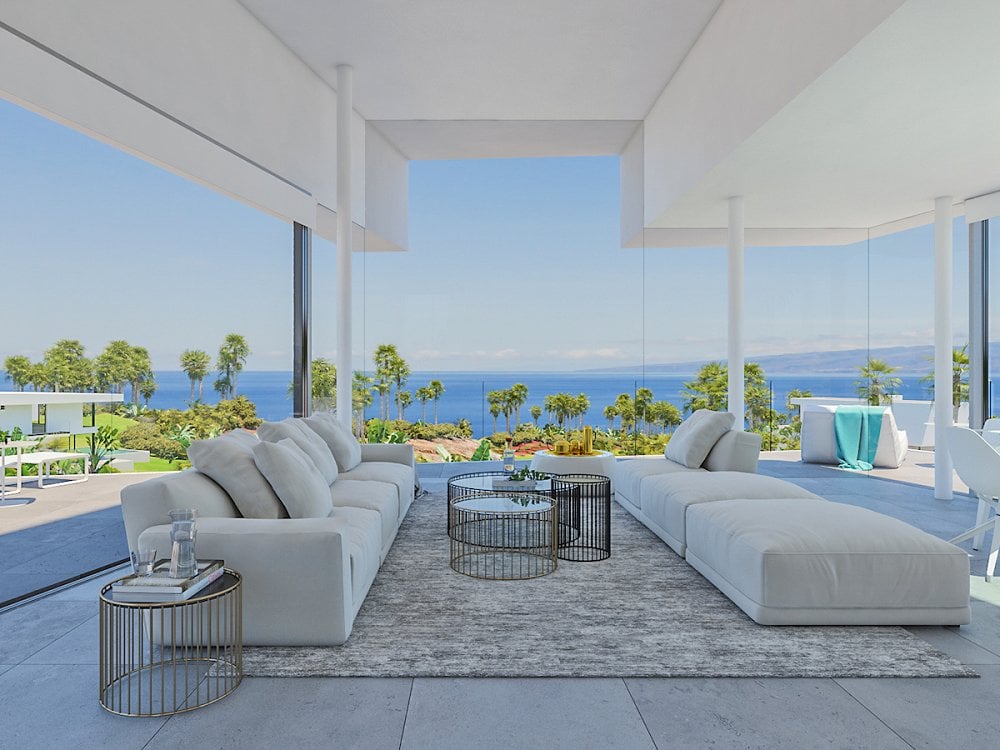 European Union residency is more important than ever, and it's possible to live in the EU without renouncing the pleasures of a luxury home in paradise. Located in the balmy Canary Islands, and with an average year-round temperature of 21ºC, Abama Resort is the best-kept secret in Southern Europe: a magical place to disconnect from stressful routines and establish a home in a unique natural environment.
Abama owners enjoy the extraordinary blue of the Atlantic Ocean and incredible views of the Teide Natural Park, a UNESCO World Heritage Site, without renouncing the advantages of one of the most exclusive resorts in Spain. Best of all, this oasis has daily connections to continental Europe from Tenerife's two airports.
If you come from a colder climate on the Old Continent, you will be pleased to discover that you can enjoy paradise and still live in the EU. And if you're from the United Kingdom, your residence at Abama may give you the double benefit of a home in a privileged community that also affords European residency, making your movement and business opportunities on the continent more flexible. This enclave offers some of the most incredible real estate opportunities available today. Discover them, and you'll want to stay forever.
Golf, wellness, and Michelin Stars
Abama is synonymous with easy luxury and an active life set against one of the most beautiful landscapes in the world. The properties at Abama Resort put you next to a first-class golf course that is the only one in Spain with an IAGTO certification, as well as magnificent tennis facilities and a near-private beach complete with crystal-clear waters. Here, among thousands of palm trees, immaculate greens, and endless views of the Atlantic, the most demanding golfers can measure their skills on a course designed by former professional player Dave Thomas: a truly unique experience.
Along with its first-class sports facilities, Abama also offers culinary excellence and exclusive leisure amenities. The Ritz-Carlton, Abama and the resort are home to the Martín Berasategui two-Michelin-star M.B restaurant and the one-Michelin-star Japanese fusion restaurant Kabuki. And at the heart of one of the resort's most dynamic communities, Las Terrazas, Martín Berasategui's third restaurant on the grounds, Melvin, offers succulent Mediterranean fare at its tables as well as Chef at Home and Room Service for owners of the residences. Connected to the hotel is the spa, designed by the creators of the Sanctuary Spa in London and Chiva-Som in Thailand, as well as a variety of top international brand stores. And our new project, Plaza Abama, is under construction. This new social hub of our residential community will shortly give Abama residents a high-end social, shopping and restaurant destination right within our walls.
In addition to this, for those with children in the family, Abama offers an interesting programme via the Kids Club, with artistic, scientific, sports and cultural activities designed for children between 4 and 14 years old.
Abama: paradise in the EU
One foot in heaven and one on Earth. Whether or not you are a European citizen, Abama offers a sophisticated lifestyle in a natural paradise unmatched in the European Union. And thanks to Spanish regulations offering residence visas for the acquisition of some Spanish real estate, purchasing a property at Abama could allow you to live legally in Spain and even establish a business here. This is a great advantage not only for non-European foreign nationals but also for those affected by Brexit. Owners gain the ability to move freely throughout Europe, and if they so desire, to establish a business in the Canary Islands as well. Depending on the industry, the tax advantages offered by the special schemes on Tenerife can be very interesting.
In order to apply for this European residence permit, the property acquired must meet a series of conditions, and you must present a pre-contract with guarantees for the purchase of the property or the already-formalized proof of purchase. Thus, buying a residence at Abama Resort can be a much more than just a real estate purchase, and one that adapts to the needs of each family. Each residential project has its own characteristics, but all owners enjoy a dynamic community of liberal European professionals who share social clubs, the beach and swimming pools, and sport facilities.
Las Atalayas: freehold sophistication
If you dream of waking to the sunrise over the vast Atlantic Ocean, have a look at Las Atalayas de Abama. These ten independent freehold villas are located on a terraced parcel and overlook the island of La Gomera. Each villa offers bedrooms with bathrooms en suite, underground parking, a garden and a private swimming pool. Light-flooded spaces, minimalist lines, and neutral colours define the sophisticated character of Las Atalayas, a residential project designed to guarantee privacy and easy access for owners.
Los Jardines de Abama: an investment and guaranteed enjoyment
With their impressive ocean views, the Los Jardines de Abama apartments are the perfect combination of pleasure and investment. Fully equipped with prestigious brands like Porcelanosa, Axor-Hansgrohe and Duravit as well as energy-efficient systems, these homes have rooms with en-suite bathrooms, storage rooms and parking spaces. Use the property for your personal enjoyment or take advantage of it as an investment property, as they are zoned for legal tourism rental.
Among the advantages of buying an apartment in Los Jardines de Abama is being included the Abama Prestige Owners Club and two years of free membership in our Exchange Programme in partnership with The Registry Collection. This program allows members to exchange weeks at Abama for weeks at 240 other luxury destinations around the world.
Las Terrazas: your European holiday home
The product of the exquisite architectural ingenuity of Melvin Villarroel, the famed architect of The Ritz-Carlton, Abama, Las Terrazas is harmoniously integrated into terraced terrain to guarantee panoramic views from each home throughout the year. The first residential community built in the resort, Las Terrazas' fully furnished apartments boast modern interiors designed with rustic touches, and owners can enter and enjoy their property immediately.
The community's three swimming pools and the social club are shared between owners and guests, as well as the sports facilities, a gym and the Abama beach. Las Terrazas are a real estate investment in the long and short term, as the properties can be entrusted to our rental management team for letting when not in use.
Custom villas: the home of your dreams
For those looking to create something unique, Abama's plots offer land to build the home you've always imagined. Following the aesthetic guidelines of the resort and the architectural parameters established for these homes, the team at Abama Luxury Residences will help you to shape your project to your needs and desires. Located next to the golf course and tennis courts, the Custom Villas are the perfect location for your custom-made sanctuary, imbued with the discretion, sophistication and charm of Abama.
If you want to live in the EU, there may be other locations in Europe that offer comfortable, modern homes with exclusive services. But only at Abama Resort Tenerife will you be ensconced in a paradise of easy, accessible elegance. Year-round spring temperatures, a secluded beach and a natural park, and incredible sports and social facilities come together for an experience you have to live to believe in the luxury house of your choosing.