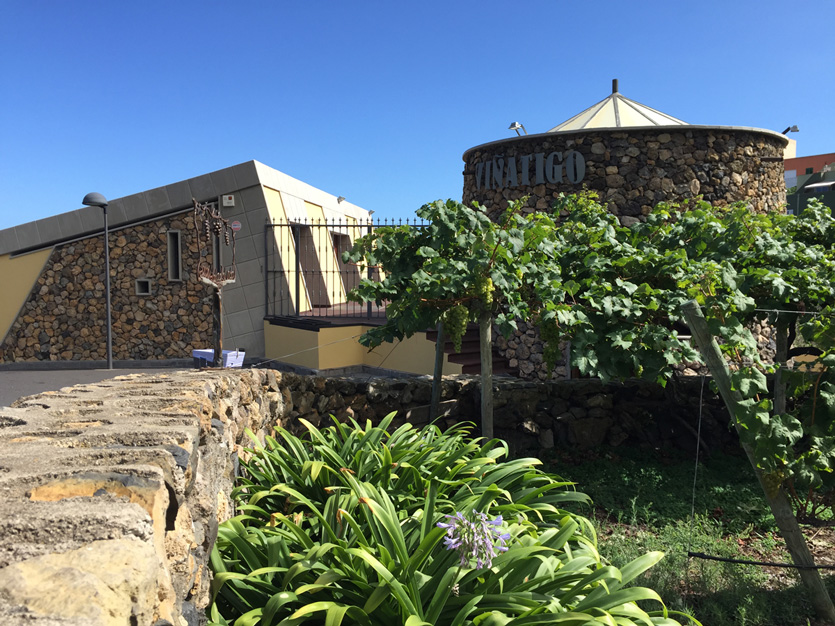 Linking the north and south of the island, it's possible that some of the guests and owners at our luxury resort don't know that this extraordinary land is also home to some of the most interesting Tenerife vineyards.
The Ycoden-Daute-Isora denomination carries some of the most delectable products of the region, wines boasting a special charisma and in which tradition melds together seamlessly with innovation.
Though the wines were introduced into Tenerife by settlers between the 16th and 17th centuries, it wasn't until the beginning of the 1990s that a group of farmers in the area decided to professionalize what today is one of the most consolidated of the 11 D.O.s from the Canary Islands. The Ycoden-Daute-Isora D.O. brings together the wines produced by Tenerife vineyards in the municipalities of San Juan de la Rambla, La Guancha, Icod de los Vinos, Garachico, Los Silos, Buenavista del Norte, El Tanque, Santiago del Teide and Guía de Isora, making it relatively easy to plan excursions and wine routes without going too far afield from Abama Resort.
Currently, the Yconden-Daute-Isora D.O. principally produces two types of wine: the crisp, dry whites and rosés and the Malvasias, a characteristic sweet wine known for having been able to satisfy demanding local English consumers for the past two centuries. In fact, references to Canary Island wines, the "Canary Sacks", can be found even further back, in works by Shakespeare and Robert Louis Stevenson. Though today many of the bodegas are relatively small and have only recently begun to focus on international sales, there are several places worth a day trip combining gastronomy, heritage and some great wines.
One of these highly recommended trips would have to be to the veteran bodega Viña La Guancha, founded in 1893 and helmed by owner and oenologist José Carlos Pérez. Visits and tastings of his well known Zanata wines can be organized for up to 50 people. Reservations must be made beforehand by telephone at +34 922 82 81 66 or by email at zanata@zanata.net.
At the other extreme, and for those particularly enamored of design, is the modern Viñátigo bodega. Located in a unique and sustainably designed building whose interior mimics the form of a volcano, Viñátigo's contemporary lines bring together design and local materials, taking the characteristic volcanic rock as protagonist. Visits can be organized for up to 20 people by calling +34 922 82 87 68 or via their web at vinatigo.com. There is also a tasting area and shop open from 8-13h and 14:30-17:30h, Monday through Friday.
Finally, for aficionados of the traditional Canary Island sweet wine, one option is a half-day visit to the Malvasia Museum in Icod de los Vinos. This small museum has been open for 5 years and offers visits and tastings of these charismatic wines steeped in history. Consult the opening hours at museomalvasia.com and let this be the beginning of your love affair with Tenerife vineyards. They're the perfect place to begin exploring the world of Tenerife drinks you'll love to share.