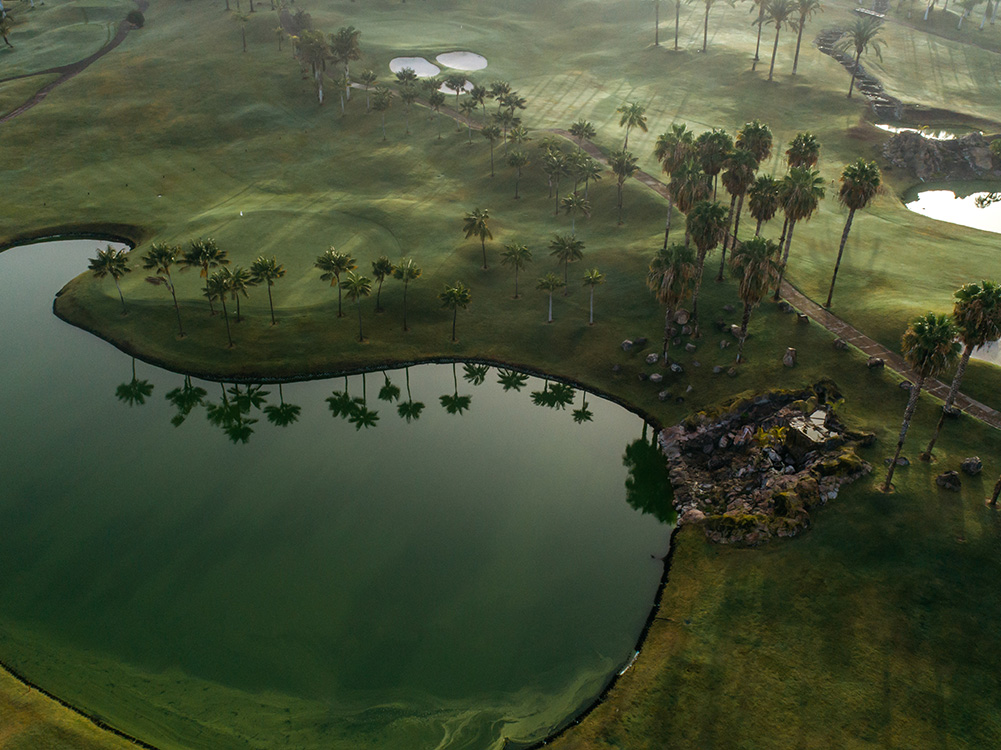 Holiday homes for sale in Spain will give you a year-round refuge in an idyllic climate that always feels like spring. And if you're looking for a unique place to make a safe investment, Abama Resort is your answer. Located on Tenerife, in the delightful Canary Islands on the Atlantic Ocean, this enclave offers you all the benefits of living in the EU, plus an average temperature of 25º C all year.
Its homes also have incredible services and amenities that make it easy to stay for short breaks or reside here permanently. This exclusive complex offers security and concierge services 24 hours a day. The prestigious Abama golf course is at your service any time you want to take advantage of it, just like the professional tennis center, and the resort has a Kids' Camp and two Michelin star restaurants. And when you become an owner of one of our luxury properties on Tenerife, you'll gain incredible financial benefits that may even lead you to establish a business here, and become an EU citizen.
Our tour begins at the top of Abama Resort, where you'll find two real estate projects with incredible views. These independent villas can be equipped and decorated to your taste, with the support of Abama Property Management for their design and construction, as well as for repairs, maintenance of the pools and facilities, housekeeping, landscaping, restaurant reservations, Chef at Home services, airport transfers, and many other services.
Custom Villas
Build the home of your dreams with its own garden and a front-line golf position on these plots of land for sale in Spain of 800 sqm. or more. These exclusive, private holiday homes for sale in Spain have plenty of room for construction and each owner can decide how to lay out his or her home under the guidance of Abama's architects. A private swimming pool on your terrace, the number of bedrooms and floors you desire…no matter the design you choose, you'll have privileged views of the Atlantic Ocean, the golf course, and the sunset over the island of La Gomera.
Las Atalayas de Abama
The Las Atalayas real estate project consists of 500 sqm. plots with independent freehold villas. The terraced landscape has allowed Corona-Amaral Architects to develop a concept that serves both form and function, in harmony with the surroundings, and provides private access to homeowners. The spacious interiors, that range from 161 to 215 sqm., afford a comfortable distribution of the bedrooms over one or two floors. Private gardens and swimming pools and an underground parking area complete the package of these beautiful homes that have exceptional panoramic views.
At the center of the resort lie two new communities with an ample range of services: Los Jardines de Abama and las Villas del Tenis. Completely equipped and furnished, these apartments and villas can also be let and managed by Abama in owners' absence. But you are free to choose when you use your property, with direct access to common areas such as the Social Club, the community pools, and the golf course.
Los Jardines de Abama
Unobstructed views of the ocean are one of the strong points of many of the Los Jardines de Abama properties. These apartments vary in size, from 62 to 143 sqm., to serve the needs of different buyers, with some offering up to 3 bedrooms and Jacuzzi installation. Functional and light-filled, they are furnished with top-brand furniture, fixtures, and appliances, to ensure that these holiday homes for sale in Spain are of true and lasting quality.
Las Villas del Tenis
Designed by renowned architects Virgilio Gutiérrez Herreros and Eustaquio Martínez, the exclusive Las Villas del Tenis homes each have a private swimming pool and ample gardens. Located on plots ranging from 434 to 766 sqm., each offers 2 or 3 bedrooms on one or two floors. The interior and exterior furniture, as well as the built-in closets and all the home equipment, are delivered along with the house.
The range of holiday homes for sale in Spain is broad at Abama, and designed to serve the needs of many different types of buyers. Once you've made the decision to invest in these quality homes, you'll never look back. Peruse all our information about property for sale in Spain if you're curious about more reasons Abama Resort should be a top choice.