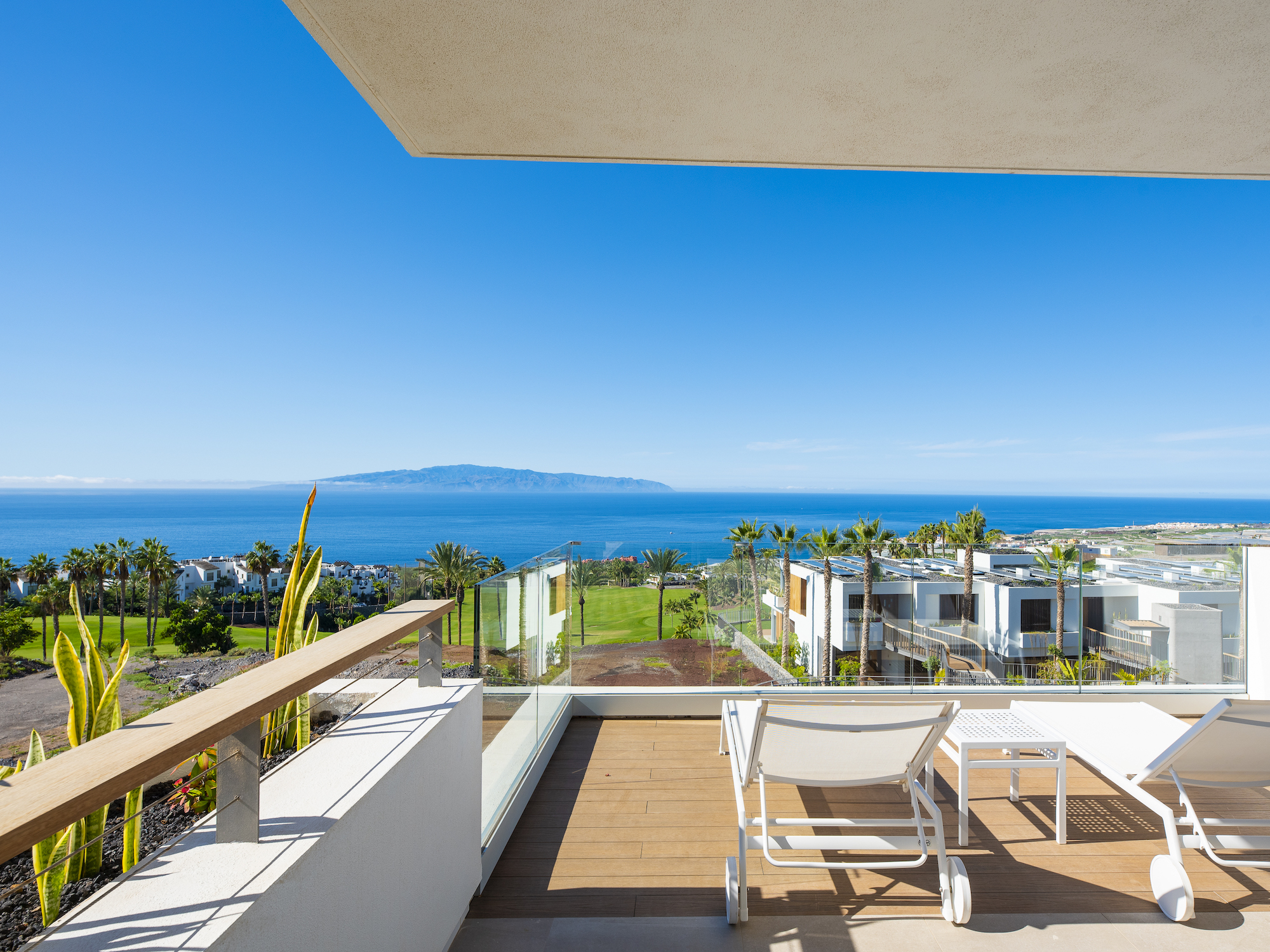 An exceptional climate year-round, welcoming people, and world-class gastronomy are just a few of the reasons to invest in houses for sale in Spain on the beach. Why worry about looking for homes available on specific weekends? Why have to book holidays well in advance to ensure accommodation? With your own property close to the sea, you won't have these last-minute worries and you'll make good returns on your investment. The tourism property model at Abama Resort Tenerife will give you peace of mind, as well, from knowing that your home is secure 24 hours a day.
An exclusive golf resort
Considered the top resort on the island of Tenerife, Abama offers all the services that guarantee unforgettable holidays and even make several months of remote work away from the city possible. We have one of the best golf courses in Europe, a tennis center that hosts professional tournaments, infinity pools, volcanic landscapes, 12 onsite restaurants, including two with Michelin stars, security for our gated community round the clock, and stunning sea views.
Showpiece homes
One of the greatest assets of Abama Resort Tenerife is its real estate offer. Our master plan includes four residential and three tourism communities, each with its own aesthetic and lifestyle. These luxury villas and apartments are distributed throughout our golf course and spaced out to provide privacy without renouncing easy access to all the resort facilities. Designed by some of the most renowned architects on the island, these properties have appreciated greatly in value thanks to their exquisite design and extraordinary quality.
Tourism properties
Los Jardines de Abama and Las Villas del Tenis are the resort's latest developments, with units for sale that were conceived as holiday homes in Tenerife. Owners buy a fully furnished home ready for their holiday use and, in addition, earn returns by letting them for tourism rental. Rental, property management, and hotel services are provided by MyWay Meaningful Hotels, a company specialized in the luxury accommodation sector. Bookings, marketing and administration are all handled by MyWay as well, meaning our owners never lift a finger.
Los Jardines de Abama
With a design that takes advantage of Abama's terraced terrain, all the Los Jardines de Abama apartments have excellent ocean views. This integration with the landscape was one of the top criteria for architectural firm Coderch when designing these luxury apartments in southern Tenerife. With one-, two- and three-bedroom layouts, the properties share a swimming pool and are located very close to Plaza Abama, the resort's social and commercial hub.
Las Villas del Tenis
Las Villas del Tenis offer a unique experience of privacy in an environment surrounded by nature. With options of two or three bedrooms, each of these villas has its own pool and unique views of the island of La Gomera. An architectural design by the award-winning Virgilio Gutiérrez Herreros and Eustaquio Martínez García, Las Villas del Tenis leverage natural light to the maximum, have spacious terraces for sunbathing, and boast green roofs that enhance the design and save energy.
Heavenly and exclusive, Abama Resort is an unforgettable experience both for tourists on holiday and investors looking for coastal property for sale. Houses for sale in Spain on the beach have never offered as many luxury facilities and services as those you'll find here on Tenerife.