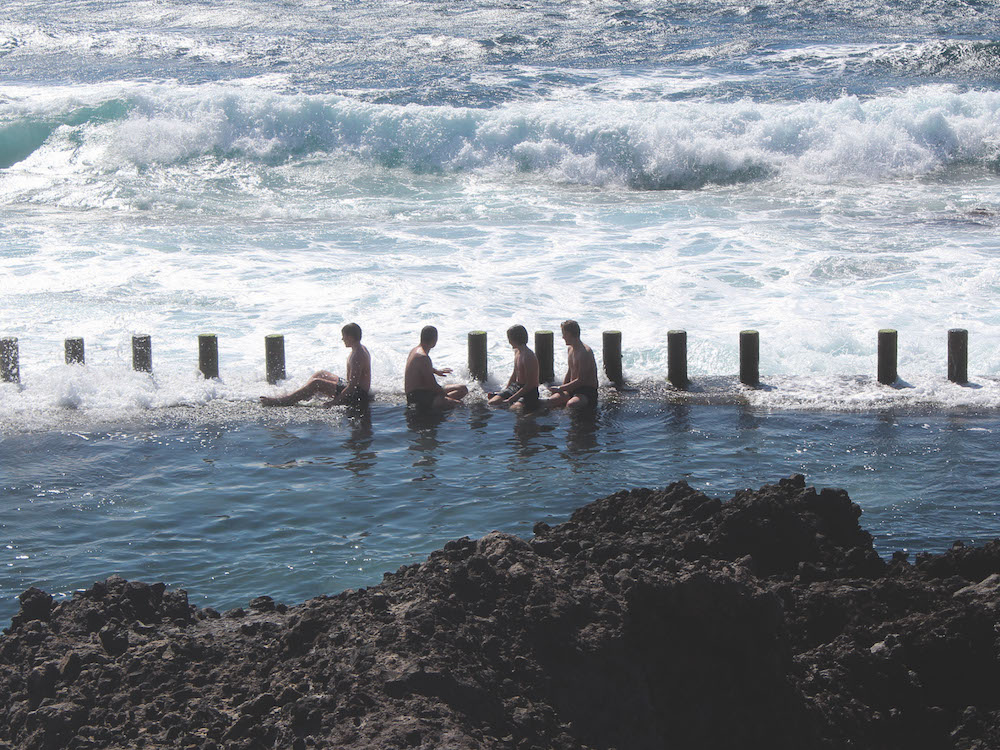 Our island holds an incredible number of treasures, including natural pools, Tenerife's most special places. The exotic landscapes of the best Tenerife volcanic coasts meet the crystal-clear waters of the Atlantic Ocean, offering these hidden spots you won't find anywhere else on Earth.
The coast of the island is dotted with an infinite number of natural reservoirs or pools where water enters through the irregular formations of the volcanic rocks. These natural spaces have escaped the influence of man and may be the perfect place to take refuge from the world.
Very close to us, within Guía de Isora, the La Jaquita natural pool will transport you to an oasis of calm. The studio Coderch-Urbanismo y Arquitectura, the same firm responsible for the design of Los Jardines de Abama, was tasked with making La Jaquita the perfect place to spend an afternoon. They created access for people with reduced mobility, garden areas, and facilities for swimmers. Their work won them the Agustín de Bethencourt prize for the best Civil Works Project in the Canary Islands (2010-2013) and has contributed to the beach maintaining its "blue flag" status as a safe and comfortable place to enjoy the ocean.
Dive into this pool with abandon, float for as long as you like, or take in the sight of the sun sinking over the island of La Gomera. Afterwards, take a stroll on the waterfront walk of Alcalá, also designed by Coderch-Urbanismo, and access additional natural pools along the Costa Adeje. And if you still have a hankering to explore, try some more Tenerife excursions that will allow you to discover places like the Charco del Viento in Santa Catalina.
Here are some more of our favourite and most beautiful natural pools on Tenerife. We're sure they'll provide temptation enough to leave the comforts of your luxury home at Abama to go walking in Tenerife and find a special place to relax:
El Charco del Viento in Santa Catalina, La Guancha
An hour away by car, this is a group of 4 natural pools in La Guancha that are easily accessible. Parking is relatively easy and at your destination you'll find a beach bar, an area for sunbathing, and very pretty sandy areas. The waters are calm and possessed of great natural beauty, making them the perfect choice for enjoying a day at the beach with the whole family.
El Caletón (Garachico – North)
Declared a destination of interest within Tenerife, El Caletón is also an hour away by car, just next to the Castillo de San Miguel (dating to the XVI century). It's presided over by the imposing presence of a famous rock, the symbol of the eruption of Garachico in 1706. Because it's an area of pure lava, it's a landscape that looks like no other. It also offers plenty of services, making it ideal for a day trip.
Piscinas de Bajamar (Santa Cruz de la Laguna – Northeast)
Next to its lovely sand beach, some 90 km from Abama Resort, there are two large natural pools, Tenerife made, and one smaller one, perfect for children. Located in a protected area, there is a water park, both natural and safe, and there are numerous restaurants in the immediate area. It provides easy access thanks to the numerous ramps and railings that have been built and is one of the easiest trips in Tenerife to make.
Charco de la Araña (Puertito de Los Silos – Northwest)
This is one of those enigmatic natural pools, located less than 40 km from your residence, that appears at low tide and disappears again when the ocean washes back in. Beautiful surroundings and a marvellous landscape with the Acantilados de La Culata make this part of the coast the perfect spot to travel lovely walking routes after a relaxing day at the beach.
Charco de la Laja (San Juan de la Rambla – Northwest)
Located in the middle of San Juan de la Rambla, one of the most beautiful areas of Tenerife with one of the best microclimates, and only an hour away by car, the Charco de la Laja offers an otherworldly volcanic landscape made of lava rocks. In terms of its facilities, it offers a sunbathing area, three bars, and numerous restaurants.
Piscina Natural de El Pris (Tacoronte – North)
A bit farther away (you'll have to drive for a bit more than an hour), this pool has a dark sandy beach. Located in the midst of a very active area, its waters are always crystal clear thanks to the refreshing ocean waves that enter constantly. Close to the natural pool there are various bars and restaurants that serve fresh fish.
Piscinas Naturales de Mesa del Mar (Tacoronte – North)
Also a ways away, the grouping of the Natural Pools of Mesa del Mar, located on the coast of Tacoronte, is our last recommendation. It has two pools, one of which can only be used in summer months, and the other that is full year-round. There is a nearby parking area with easy access, an area for children, and a wooden constructed area that can be used for sunbathing.
The offer of natural pools, Tenerife, is varied, so all you need to do is choose the one that best adapts to your needs and the day in the calendar you want to have an adventure. Plan your day, choose among the charming restaurants that you'll find on your route and get ready to experience the exuberant nature of the Canary Islands archipelago. It's one of the true benefits of living at Abama Resort an discovering what to do in Tenerife.