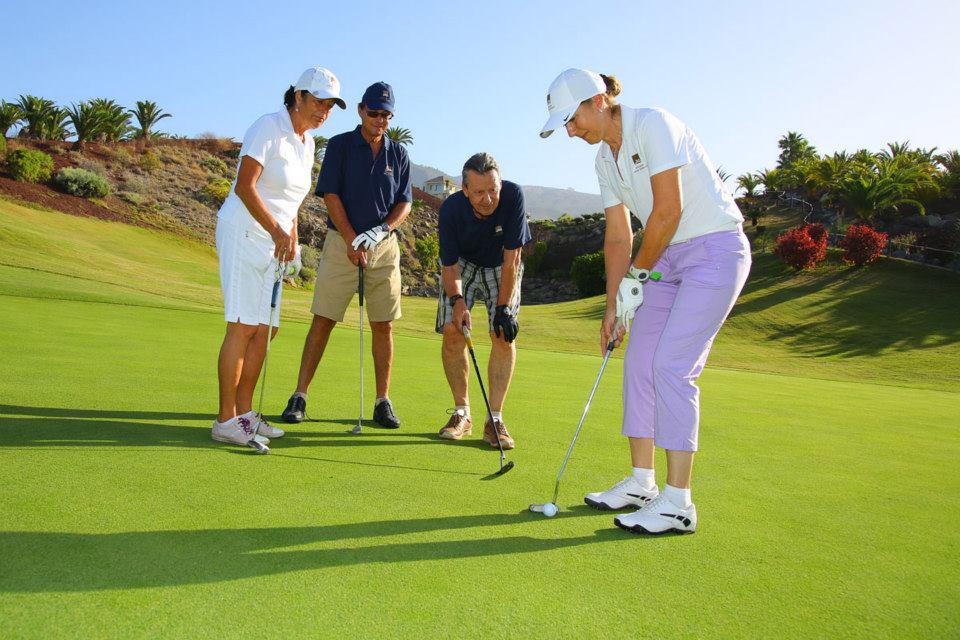 Known as one of legendary Dave Thomas's masterworks, the Abama golf course is simply a work of art. Its 18 holes, adapted to the Tenerife terrain, use the ancient lava deposits from the Teide Volcano and offer incredible vistas over the sea and La Gomera island. Its 22 lakes, waterfalls and more than 90,000 palm trees create a truly breathtaking environment in which to play. What's more, this centerpiece of Abama luxury golf resort is known as one of the most challenging courses on Tenerife, with surprises around every corner.
We constantly strive not only to uphold our golf standards but to improve the offer in our luxury golf resort. This past year Abama signed a contract with David Leadbetter for the management of our Golf Academy, and our gorgeous Clubhouse remains the perfect venue for relaxing after a round. We're also spreading our wings internationally this year by sponsoring golf tournaments in other parts of Europe. Here are a few of the exciting events on the immediate horizon.
Keerbergen Golf Tournament
15th of September
This one-day tournament will be the first golf event sponsored by Abama Luxury Properties in Belgium, but we certainly hope it won't be the last. 100-150 players are expected to participate in the tournament, located just 45 minutes from Brussels, and there will be an Abama weekend package prize for the winner, as well as other prizes. The event is designed to consolidate the excellent relationship between Abama and Belgium, whence hail the largest group of our owners.
2nd Annual Owners Cup & Gala
2nd-3rd of October
Our Owners Cup & Gala is back! This very popular event saw 60 participants in its inaugural year, and this season we're expecting between 80 and 100 players for our two-day tournament on Abama's grounds. We'll be hosting a casual BBQ dinner with live music for owners at the Las Terrazas Club the night of the 2nd, as well as the pièce de résistance, our Gala Dinner, on the evening of the 3rd. Like last year, the Gala will take place in the beautiful Mirador restaurant in the Ritz-Carlton, Abama, and will be accompanied by a live band. Proceeds will go to support the Alda Foundation, a charitable NGO that promotes education and children's welfare in Paraguay.
IGTM
5th-8th of October
Tenerife is hosting the IGTM this year, and we're extremely happy and honoured to have been invited to participate. This is the most important yearly event in the golf tourism sector, and we'll be celebrating it from the 5th to the 8th of October, with the inaugural tournament on the 5th. We're expecting about 1,300 delegates between tour operators, exhibitors and specialized golf press, and this will be an amazing opportunity to show off our resort and our facilities, of which we're very proud.
Published in category
News
Share this post