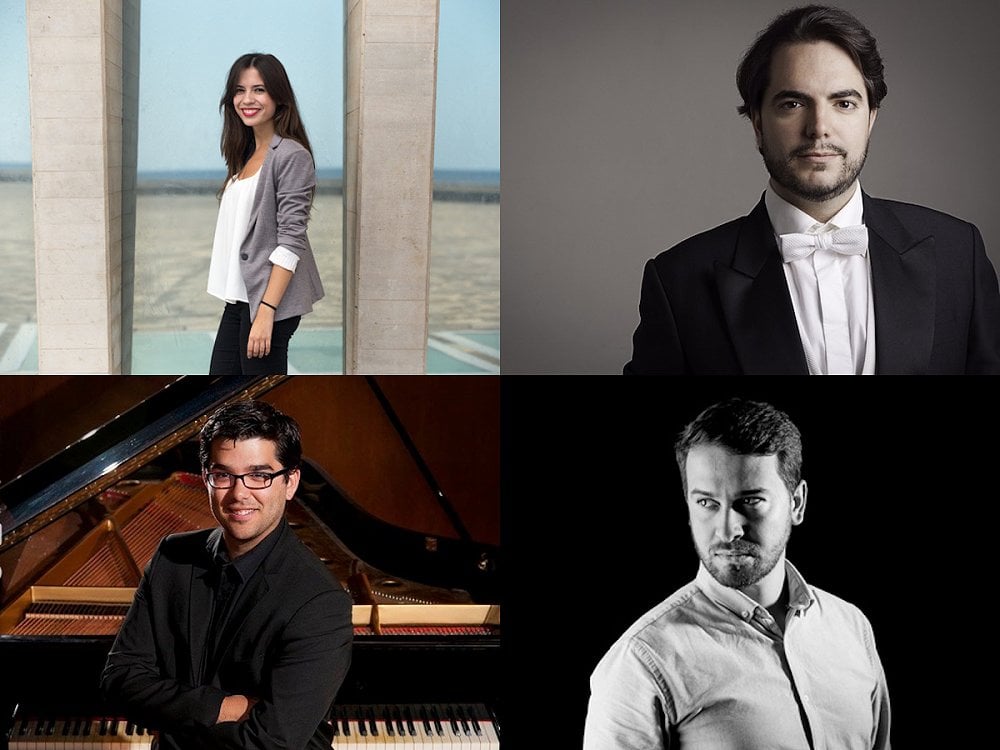 As we mentioned in our earlier post, this year's Owners Cup & Gala at Abama Luxury Residences in Tenerife is diving into the world of opera. We are delighted to welcome four guests who, despite their youth, are no strangers to the stage.
Today we bring you more information about the artists who will perform for our owners in The Ritz-Carlton, Abama ballroom on the 27th of October. Their international careers are just taking off, but their impeccable training is sure to make for an evening of lyrical and instrumental excellence.
We look forward to seeing all of our residents and their guests the night of the Gala!
Carmen Mateo, soprano
Carmen Mateo was born in Alicante and studied in the Conservatorio Superior de Música del Liceu under Enriqueta Tarrés, Ana María Sánchez, soprano Dolors Aldea, and the repertory pianist Marta Pujol. She has additionally received training from some of the most high-profile figures in opera, including Edith Lienbacher, Niels Muss, Cindee Sanner, Josep Surinyac, Ángel Soler, José Van Dam, Jacobo Kaufmann, Wolfram Rieger, and Ulrich Eisenlohr.
Her debut was as Barbarina (Le nozze di Figaro, Mozart), which she followed with the role of Almirena in Händel's Rinaldo. She has performed in a variety of theatres, including the Schlosstheater Schöbrunn in Vienna, the Gran Teatro de Elche in Alicante, the Reial Acadèmia Catalana de Belles Arts de Sant Jordi, and the Gran Teatre del Liceu in Barcelona.
Ms. Mateo's upcoming work includes the debut of the role of Violetta Valéry in Verdi's La Traviata at the Tenerife Opera.
Koldjan Kaçani, tenor
Koldjan Kaçani, born in Albania, was graduated with a degree in Vocal Performance from the Academy of Arts in Tirana, studying with Nina Mula. He then completed a master class in Opera Performance with Giuseppe Gipali and other finishing courses with Ermonela Jaho and Angelo Gabrielli.
He received a special prize in the eleventh edition of the Marie Kraja International Competition in Albania in 2010.
Past roles have included Third Jew in Strauss's Salome under the direction of Wiktor Bockman at the Apollo Theatre in Syros, Greece, and Robert in Lortzing's singspiel Ali Pascha von Janina, directed by Zhani Ciko, at the National Theatre of Tirana in 2013. After the latter role, he began a fruitful collaboration with the Theatre of Tirana, debuting, over the subsequent years, in the roles of Goro (Madama Butterfly), directed by Bujar Llapaj; Gherardo (Gianni Schicchi), directed by Sebastiano Rolli; Peppe/Arlecchino (Pagliacci), directed by Michelangelo Mazza; and Don Ottavio (Don Giovanni), directed by Paolo Carbone.
This season he premiered as Tebaldo in I Capuleti e I Montecchi, directed by Elda Laro, and took part in a performance of Beethoven's Symphony No. 9 under the direction of Gerard Akoka. He also played Alfredo in La traviata and Tamino in Die Zauberflöte.
Mr. Kaçani recently won first prize at the As.Li.Co Competition for the role of Tamino, which he toured with in the north of Italy. He also took part in a new production of Die Zauberflöte with Opera Nomade on a tour in France and Tirana, and has just completed his involvement with a production of Macbeth at the Teatro Regio in Parma for the Verdi Festival 2018.
Pablo Ruiz, baritone
Pablo Ruiz was born in Huelva and studied in the Conservatorio Profesional de Música Cristóbal de Morales in Sevilla before he was graduated in Opera from the Escuela Superior de Canto in Madrid. He complemented his training with master classes at the Rossini Opera Festival in Pésaro, Italy; the Accademia Musicale Chigiana in Siena, Italy; and at the Tenerife Opera.
Some of his most important roles to date have included Don Alfonso (Così fan tutte, Mozart), Dandini (La cenerentola, Rossini), Don Profondo (Il viaggio a Reims, Rossini), Dottor Malatesta (Don Pasquale, Donizetti), Albert (Werther, Massenet), Wagner (Faust, Gounod), Zúñiga (Carmen, Bizet), Marcelo (La bohème, Puccini) and Don Bartolo (Il barbiere di Siviglia, Rossini).
Mr. Ruiz has performed in many of the great opera houses, among them the Teatro Gaetano Donizetti de Bergamo, the Teatro Pergolesi Spontini de Jesi, the Teatro Fraschini de Pavía, and the Teatro Amilcare Ponchielli de Cremona. His international awards include first prize at the Associazione Lirica Concertistica Competition in Italy.
José Miguel Román, pianist
José Miguel Román hails from Andalucía, where he began his piano training in the Conservatorio Superior de Música Manuel Castillo in Sevilla under Arnold W. Collado and Tommaso Cogato. In parallel, he studied orchestra direction with maestro Juan Luis Pérez. He completed his training in the Barenboim-Said Orchestral Studies Academy with piano accompaniment classes under Alexander Vitlin from 2008 to 2012.
Today he is an experienced musical director and coach of instrumentalists and vocalists. In the summer of 2017, he received a scholarship from the Berlin Opera Academy as a répétiteur and assistant director, and worked there on Die Zauberflöte and Le Nozze di Figaro. Since 2017, he has collaborated as répétiteur with the Tenerife Opera on productions such as I Capuleti e i Montecchi, Faust, Don Carlo, La Traviata and Luisa Fernanda. He has also worked as répétiteur since 2014 at the Teatro Villamarta in Jerez de la Frontera on Lucia di Lammermoor, El dúo de la africana, Tosca, Aida, Verdi's Othello, Cavalleria Rusticana, Pagliacci, La Traviata, Norma and Faust. Prior to that, he was the accompanying pianist for the Chorus of the Teatro Villamarta from 2013 to 2017.
As a musical director, he is also heavily involved with the Teatro Villamarta, directing the Young People's Chorus since its establishment in 2017 and directing the opera Noye's Fludde, by Benjamin Britten, in 2018. He also worked as the musical and artistic director on Daniel García Gallardo's opera Gilgamesh in 2018 in Jerez's Delicatessen Festival.
Since 2007, Mr. Román has formed part of the Young People's Chorus of Andalucía, and from 2010-2017 he was the principal harpsichordist for the Young People's Baroque Orchestra of Andalucía.
Published in category
News
Share this post