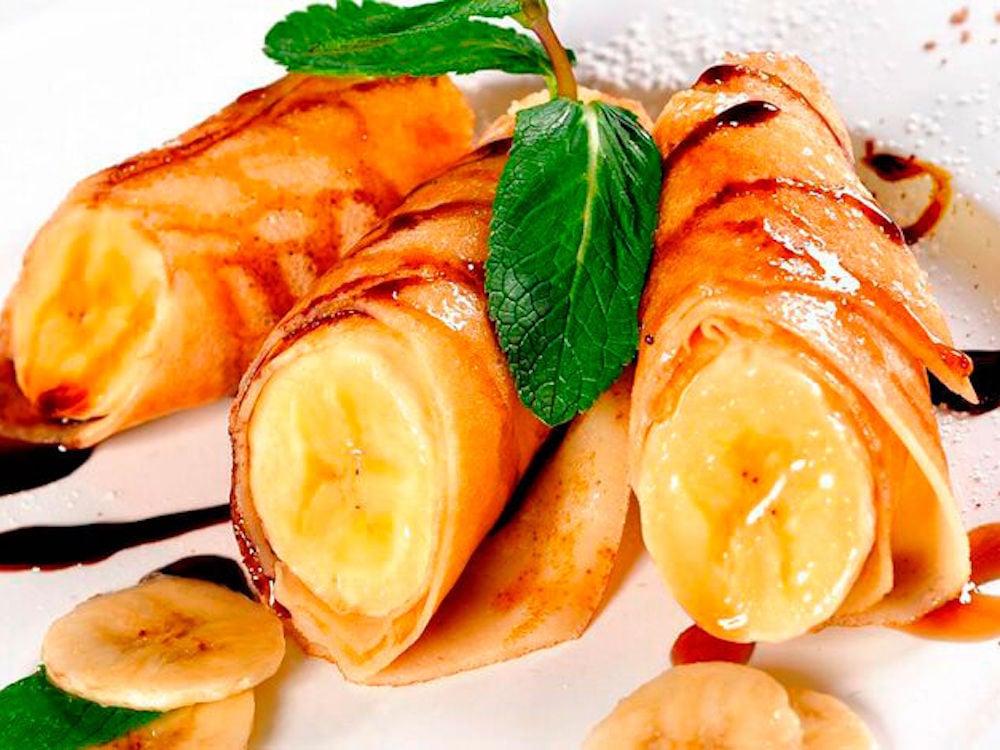 Tenerife bananas, the island's most important product, have a denomination of origin that attests to all the quality and flavour of a local variety that rewards any islander that knows how to use it. Awake your senses and don't miss the chance to spin delicacies at your own hands and bring the celebrated Canary Islands banana to your table. Here's an open invitation to activate your palate and delve into the 1001 culinary possibilities of the island's greatest fruit star.
Banana lasagna
If you want to turn your guests' world on its head, here's an surprise that proves that Tenerife bananas aren't just for Canary Islands desserts. Peel half a dozen, cut them in rounds and fry them on both sides until they take on a golden colour. Meanwhile, stir-fry tomato sauce, green pepper, onion and garlic, and add a kilo of ground beef. Beat together four eggs and pour half into a pan greased with butter, then layer the pan first with banana rounds, then with the beef mixture, then bananas, and so on until the ingredients have all been used up. The last layer should be bananas. Cover it with the rest of the egg, then bake to finish at 180°C for half an hour.
Fruit brochettes with a Pedro Ximénez reduction
Fruit is the main player in this dish, in which potassium, folic acid, and vitamin B6 from the banana are supplemented with vitamin C from oranges and kiwis. We'll need two pieces of each, and the same of peaches and apples. Peel everything and cut into cubes of equal size, put the cubes in a bowl, and cover with Pedro Ximénez sherry to marinate in the refrigerator for at least an hour. Then it's time to make our brochettes, alternating the fruit, and then pop them into the oven briefly to give them a golden colour. While they bake, make a reduction with the sherry by adding a few mint leaves and heating it in a pot on high flame until it forms a caramel. It'll be the perfect final touch on the presentation of our brochettes. Be sure they arrive warm!
Banana chips
If you've bought bananas and they're still not ripe enough to eat, this is the perfect recipe to use them to best advantage and deliver an original side dish to accompany your tea. Take as many bananas as you like, and sprinkle them with extra virgin olive oil, salt, and powdered garlic to taste. Set them apart from one another on a sheet of parchment paper so they won't stick, bake them at 180ºC in the oven for 15 minutes, then flip them over and bake another 10 minutes. Enjoy!
Banana and chocolate cakes
Because when we let our taste buds dictate what arrives on our table we almost always want something sweet, these easy-to-prepare cakes will please even your most demanding guests. Begin by melting a bar of chocolate – in a heatproof bowl set over a pan of simmering water or in the microwave – and covering 8 bananas cut into pieces with the melted chocolate. Wrap each in pieces of flat pastry dough, brush with beaten egg, and dust with ground almond. Preheat the oven to 180ºC, and bake for 5 minutes once the oven has reached the correct temperature. What are you waiting for?
Banana bread
A food as obligatory as bread had to make this list, because it can be elevated thanks to our friend the banana. First make a banana purée by cooking 200 grams of it in water with a bit of salt. Mash the mixture, add half a sachet of yeast and 300 grams of flour, and knead it together until you have a stretchy dough. Let it rest until it has doubled in volume. Grease a pan, pop in the dough, and let it rest another 30 minutes before putting it into the oven, where it will need to remain another half an hour at 200ºC for best results.
The versatility of Tenerife bananas, one of the best of Canary Islands food, and which you can get from any good local producer, is undeniable. At the nearby Adeje market you can find not only great bananas, but the rest of the ingredients you need as well, ensuring that your dishes will be complete…and a complete success. You can enjoy the islands even without leaving your exclusive home at Abama, making a table full of delicious Tenerife food using the best native products.