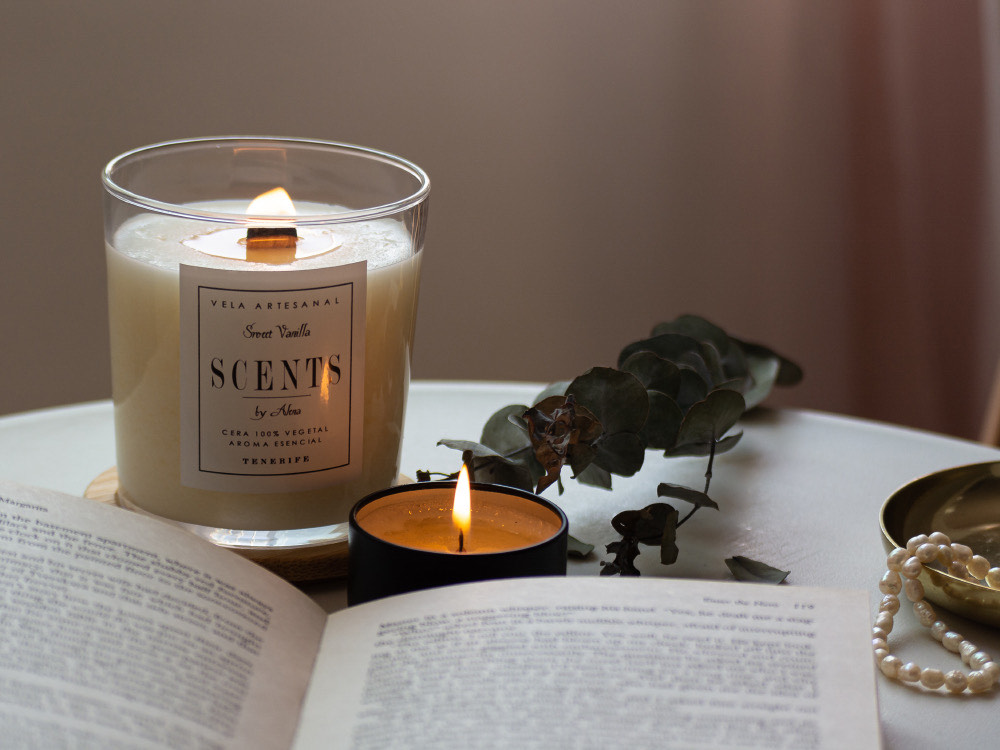 In our continuing quest to make Abama as Earth-friendly as possible, we've been looking with ever greater interest at the local sustainable products crafted by artisans here on Tenerife. We're lucky we have so many to choose from. If you take a stroll through the Gourmet Shop in the Las Terrazas Social Club, you'll find several of the treasures we've unearthed: local wine, award-winning cheeses, and ones of our newest additions, natural candles from Scents by Alena.
Alena Shvets, the founder of the business, has lived on Tenerife for six years, having fallen in love with the island almost a decade ago. With a degree in psychology from her native country that wasn't accepted in Spain, she struggled to find work that gave her a feeling of purpose, but she was determined to keep trying.
The answer came, as it often does, in a moment of trial. Like all of us, her life and sense of stability were drastically affected by the pandemic, and she looked for an activity that would give her a sense of relaxation, peace, and reconnection. On a whim, she began making candles, and stumbled into a craft that was therapeutic in more ways than one. Not only did she fall in love with the process of making candles by hand, but realized the end product was one that would help you slow down and take time for yourself. Being able to give other people this "candle moment" made the work a celebration of happiness, joy, love, and emotion.
Alena first began making her candles with the aromas she personally gravitated towards, like the elegant power of Tobacco & Vanilla, but she's since expanded to 25 different essential aromas for people with many different tastes. In every case, though, she seeks scents that are complex and intriguing, inspired by nature and by the modern fragrance industry. Each aroma is carefully described on her website, and if you're lucky enough to visit Tenerife or other Canary Islands that sell her wares, you can give your nose the run of all of them. You may discover your signature scent, or that you like to create different ambiances in your kitchen, outdoors, and in your lounge or bedroom.
Scent is a powerful sense, one that can transport us out of ourselves and out of time. It's the ideal medium for communicating with yourself and disconnecting from the world. The essential aromas that Alena uses are all certified by the International Fragrance Association (IFRA), meaning they are guaranteed to be alcohol- and phthalate-free and non-toxic. They range from the comforting (Sweet vanilla, Fruit cake, Christmas cookies) to the floral (Ylang Ylang, Green bergamot, Lemongrass & Lavender) to the woody (Cedar and Sandalwood), with many other tempting choices in between.
The ambiance produced by these local sustainable products is heightened by offering two wick options: standard cotton or natural wood. The choice of material is yours. The cotton wicks are 100% organic, unlike many commercial candles that have wicks that contain lead or other metals. The natural wood wick is also interesting if you've never tried one. It introduces an auditory aspect to the experience, akin to sitting next to a small crackling fire.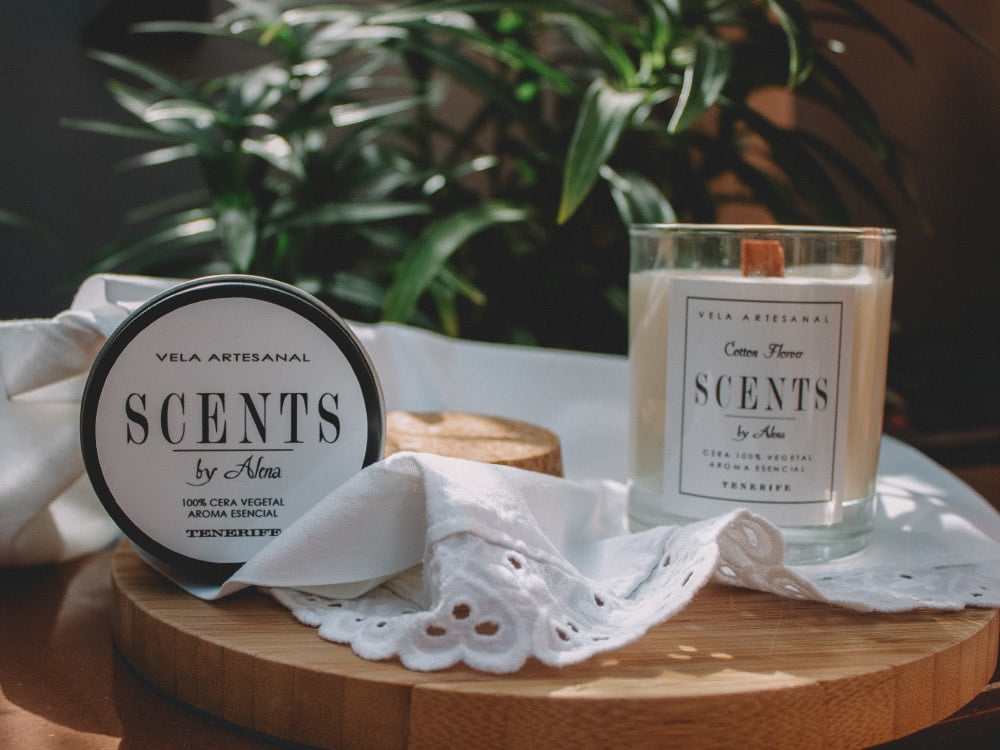 All Alena's candles are made of soy wax and 100% vegan, which is a far better choice than many commercial candles that use paraffin, a byproduct of petroleum that lets off carcinogens like toxic benzine and toluene when it burns. Artificial aromas and colors can also use chemicals that are bad for our health and the environment. By contrast, soy wax is a much cleaner burn, and has the added benefit of melting at a lower temperature. This means that your candles will last longer and also release scent more potently, even when they're not lit.
In terms of the company's sustainability objectives, Scents by Alena has put considerable thought into how their products are packaged. If you live on a Canary Island, you can return the packaging to Scents by Alena and they will recycle it for you, or you can bring back the container once your candle is finished, and they will refill it for you at a discounted price. As a lovely addition to their gift boxes, the sets of 4 mini candles come with matches and a little piece of chocolate to better enjoy your candle moment.
Visit the Scents by Alena website to explore all the options or order candles, or come by the Abama Gourmet Shop to try this and others of our local sustainable products. We put a Scents by Alena candle in our Welcome Packs for Abama Wellness Week and we're still receiving praise for these lovely little handmade goods that will give you the gift of time and self-care when you stay in our sustainable homes or travel anywhere else in the world.