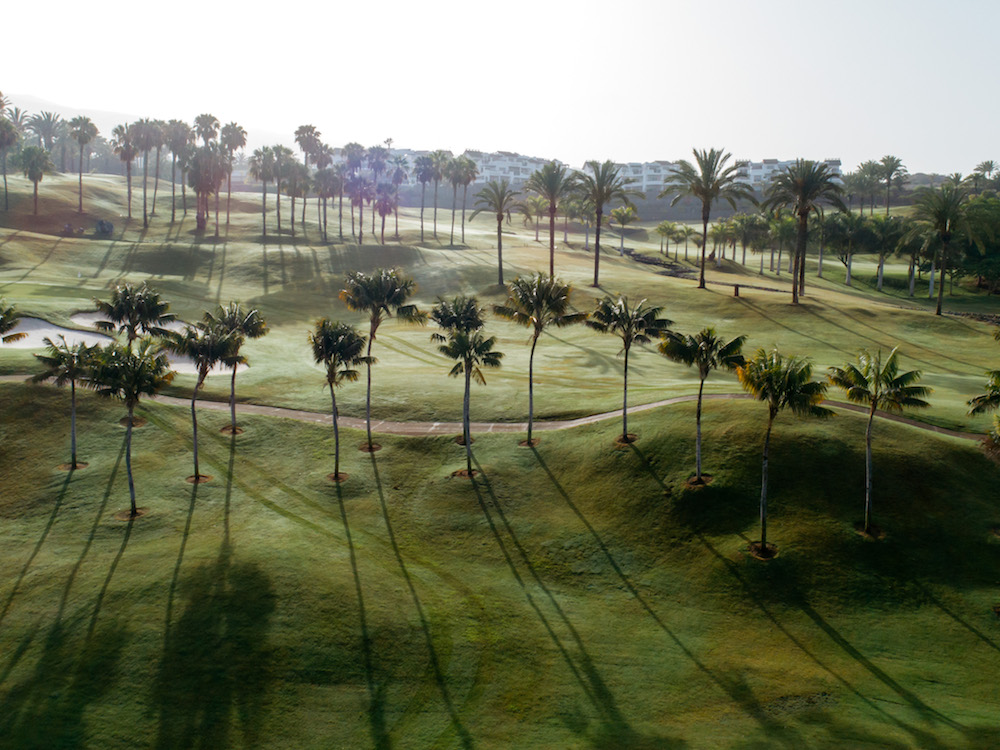 The IESE Business School published a new book, Outstanding Resorts in Spain, at the beginning of November, and we're pleased to announce that Abama was included among the select group of eight of the best resorts in Spain. We sat down with one of the book's authors, Professor Diego Donnelly, and he was kind enough to answer some additional questions.
In your book Outstanding Resorts in Spain, what criteria did you use to choose the 8 best resorts in Spain that you cover from the wide variety of destinations in this country?
The criterion used, as the title of the book indicates, was that the resorts stand out from their competition in terms of the quality of products and services that they offer their clients. We confirmed this by visiting the resorts and evaluating the facilities, both in terms of amenities and also residential products.
The word "resort" can mean many different things: sometimes it refers only to a hotel with tourist apartments, a pool, and little else. In our case we opted to define "resorts" as real estate projects that were developed and designed by a master developer, offering proximity and easy access to natural and recreational amenities that make the destinations attractive to visit and that include places to live, whether these be hotels, apartments or villas. They can be used by tourists, vacationers, weekend travellers, residents who stay for a longer period or people for whom they are a primary or secondary residence. And all our chosen resorts include at least one golf course.
Can you identify some trends in the business of present-day resort development? Which do you think are most significant?
The trends that we detected in the analysis of the different resorts and that we consider the most significant are:
a. The use of new technologies (Internet) to work remotely, plus the increasing frequency and decreasing cost of airline travel, has fomented a culture of "commuting", that is, living with your family in a resort and working in a different country that you travel to a few weeks per month. There are families that choose to establish their primary residence in a resort. Many of these destinations have responded to this situation by helping to bring in bilingual educational institutions to meet the educational demands of these families.
b. There is an increase in travel conducted by family groups, necessitating the services of Kids' Clubs.
c. In the last few years, there has been an increased tendency for well-off individuals and those who have the economic means to purchase a second or third home to vacation in resorts.
d. We have observed an increased sensitivity towards the protection the environment and indigenous flora and fauna. Natives of more developed countries like Sweden, Germany and the UK value zero-emission policies for carbon monoxide, avoiding the use of chemical products to control undergrowth, etc.
e. Though traditional sports like golf and tennis continue to carry the most weight, there is an increased demand for facilities for alternative sports like running, walking and biking.
f. Cultural tourism is growing: there is more demand for experiences that contribute to personal growth through interaction with the environment rather than isolation with the objective of relaxation. This is why natural parks and contact with a destination's cultural elements have become more popular than, for instance, going to theme parks. Integration is more sought-after than isolation.
It appears that the resort real estate sector is growing faster than the normal real estate sector. To what do you attribute this phenomenon?
There are factors that encourage many residents from the center and north of Europe, particularly Germans and the English, to buy a second property in Spain, which often leads to sales of vacation properties being higher than those of regular properties. Demand for these regular properties or primary residences is principally fed by local demand, which depends in part on demographic growth and which varies little in the short term.
The good climate and the more than 8,000 km of coastline; a cost of living that is relatively lower than in the aforementioned countries; and quality of life factors contrast sharply with the 9 months of cold and rainy weather one experiences in northern countries. There are areas of Spain, like the Sun Coast, the Balearic Islands and the Canary Islands, where the great climate persists 12 months of the year. In those cases, the purchase of a home can be for investment purposes. It can bring in additional income or, at the very least, pay its maintenance costs. This mentality is very widespread in the Anglo-Saxon population: buy a property with 50% leverage and rent it to third parties when not in use by the owners. It's not surprising that investment in the tourism apartment sector is growing, especially those flats that have a condo hotel configuration or offer hotel service to owners and guests as well as maintenance and property rental services.
Spain has always been an attractive destination for English and German citizens who have the means to buy a second home. The current growth trend is based on the aforementioned characteristics of destinations in Spain and backed by the security and value of remaining in the EuroZone.
Do you think that levels of foreign investment in these best resorts in Spain will be maintained and even increase in the coming years?
The observed trend is towards an increased demand for the services offered by resorts, which translates into an attraction for foreign investment. Spain is a tourism destination with high levels of purchasing power and few direct competitors.
The markets that could compete with the Spanish resorts are basically two in number: the state of Florida (USA), Mexico and the Caribbean in the West; and the eastern Mediterranean countries like Turkey and Greece. In reality this is only a theoretical competition, as both of these options have structural disadvantages that will not be easy to overcome in the mid-term.
The countries in the first group have the structural disadvantage of being very far from the tourism supply markets in the center of Europe. A trip from London to Mexico can take 14 hours and then additionally require another mode of transportation to take you to the city close to the resort, from which you will still have to rent a car and travel another hour. In the case of Spain, a flight from London takes between two and three hours. As an example, between London and a secondary Spanish city like Alicante, there can be more than 10 daily flights during high tourist season. The jet lag produced by a trip to Mexico, Miami or the Caribbean can persist for two or three days, perhaps 25% of the total vacation time, and this doesn't even begin to take into account the difference in the flight costs, which, in the case of travelling with your family, can become prohibitive.
In the second group of countries, the eastern Mediterranean nations, the governmental instability and the lack of personal security make putting down roots less attractive. Because they are close and their destinations attractive, they continue to receive visitors, but even this cohort is decreasing because of the lack of security. Additionally, EuroZone investments are more certain to be backed by one of the main global currencies.
The only serious competitor for Spain is Portugal, which shares a number of the service and climate conditions offered by Spain, but the volume of resorts in this neighboring country is much lower.
Due to its central importance in job generation, Spain has turned tourism and the sale of properties to foreigners into state policy, and has put programs into place, like the Golden Visa, that facilitate the entry of foreign capital.
As an expert on the subject, what advantages would you point out to a potential investor between a resort and an independent property?
The resorts have a professional structure that caters to their owners, especially foreigners, and to renters. For example, to the degree possible, owners and potential buyers are tended to by people of their same nationality. This level of service was one of the things that most surprised us as authors of the book. When you go on vacation and you have only a small amount of time to enjoy your dream house, it's one thing to arrive at a place that for lack of preparation isn't at an optimal temperature, needs cleaning, and where the icebox is empty. Resorts, on the other hand, have teams dedicated to welcoming residents and tourists, and they organize the best reception possible so that you can enjoy your vacation from the first day you arrive.
Another equally important issue is the security offered by resorts, not only while you're there, but also, in the case of owners, when you're away at your primary residence thousands of kilometres from your vacation home.
Many homes form part of owners' communities, sometimes grouped by nationality, and these are the true safeguards of the resorts. These communities make sure that the paint jobs and house façades, the streets and the gardens are kept in top form so that you don't note the passage of time and everything remains clean and well-kept.
These are things that you can only enjoy in the context of a resort community. Rental services and hotel service are additional amenities that offer advantages in comparison with owning an independent property.
The resort concept conceives of the home as a place marked by strong elements of community and leisure. Do we form part of a generation of buyers who are more concerned about protecting their quality of life?
The generation of baby boomers, those who were born between 1946 and 1960, are very concerned with maintaining their health and their quality of life, in part because they want to remain active so they can continue to play sports. It's also the generation that has the most purchasing power. Some statistics indicate that 80% of countries' wealth is in their hands. It's due to them that demand for spa and gym services continues to rise, and these generate great demand for property sales, in addition to being good business ventures in themselves. Some resorts have developed health care centers in association with local universities that are specialized in these kinds of medical issues, offering programs for athletes and analyses that reduce the risks of sports practice for older people or those with reduced physical capacity.
In your book, Abama is the only resort located outside the Spanish mainland. What features of Abama distinguish it from other options in the Canary Islands?
To understand the features that distinguish Abama from the rest of the offer in the Canary Islands, it's essential to look back. In 1985 Abama's developers created the 4-star Jardín Tropical Hotel, designed by famed architect Melvin Villarroel, which for years was the principal luxury destination in the area. As a continuation of the project, the same architect created Abama's hotel in 2005, operated today by Ritz Carlton. Both hotels were known for the quality of their service, and particularly their gastronomic offer. Jardín Tropical was the the first hotel on the island to earn a Michelin star, and today Abama has more than 10 restaurants, two of them sharing three Michelin stars between them.
Abama also has two amenities that can be considered unique: a spectacular golf course with views of the ocean from every vantage point, and a beach cove with sand imported from Fuerteventura, another of the Canary Islands, located 300km from Tenerife.
Abama's resort services are geared towards exclusive but sustainable luxury. Do you think that the Canary Islands are beginning to look towards this market?
I believe that the success that Abama is having will encourage others to imitate its approach. The Canary Islands have the right geography, climate and services for the industry to prosper, and I am convinced that the development of new resorts will benefit everyone because the Islands are becoming a destination with an ever-more varied leisure offer.
If you had to pick one, what service or particular aspect of Abama makes it stand out from other resorts?
It's very subjective. When I visited Abama for the purposes of writing the book, I was able to enjoy its food and hotel, visit the beach club, play golf and observe the quality of the villas' architecture. Everything struck me as top-notch, particularly the gastronomy. But as an amateur golfer with 20 years of practice under my belt, I have to point out that the Dave Thomas-designed golf course is the most beautiful course I have ever played on, an opinion in which I am not alone.
We are proud that Abama Resort Tenerife has been named one of the best resorts in Spain, and we remain motivated to maintain our status, always seeking new ways to delight our owners and guests.