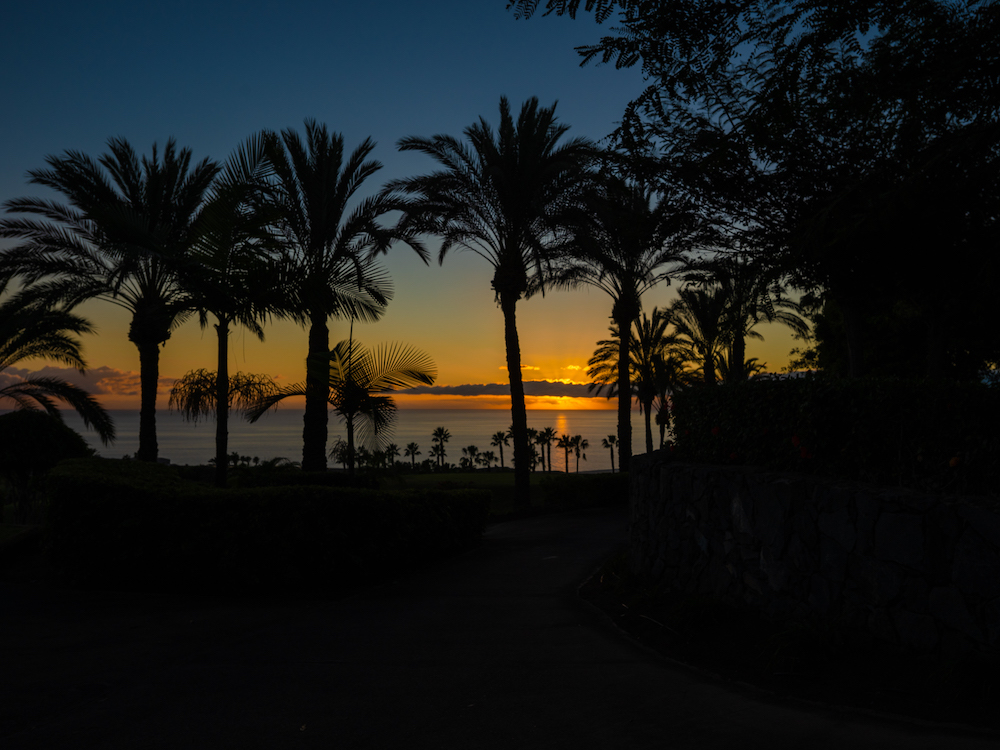 Perfection tends to reveal itself unobtrusively and over time, and nowhere is this truer than at Abama Resort Tenerife. This jewel of the Canary Islands is known for its tranquil ambiance and stunning landscapes, but a visit will uncover ever more treasures the longer you stay.
The unparalleled offer of Abama Resort Tenerife is the combination of its elements, all geared towards sublime comfort and oneness with the unique natural environment that surrounds it. It is both removed from the urban chaos and deeply connected to the island community. It strikes a balance between retreat and easy access to every attraction one could want in holiday accommodations or a second home. The history of Abama is an interesting one.
In short, Abama is everything you could want. While well known among discerning European citizens and travelers, it manages to avoid the fanfare that attracts throngs and disturbs the peace. Casual elegance, oneness with nature, and a relaxed pace are the calling cards at Abama. Here are just a few of the parts that come together to express the art of simplicity.
Hotel accommodations
The cornerstone of our resort, The Ritz-Carlton, Abama, brings a trusted international brand and its world-class service to Tenerife. Designed by architect Melvin Villarroel, its earth tones and terraced layout provide a recognizable silhouette from a distance down the coast of Tenerife. Once arrived on the grounds, however, the structure reveals itself to be a labyrinth of wonders to explore, from the gorgeous Koi pond in its sun-soaked atrium to the many terraces where you can enjoy a meal or a drink.
The hotel Ritz-Carlton Tenerife caters to many different types of guests. Whether you are a couple seeking solitude who might enjoy the adults-only Tagor Villas, or a family planning seeking to play tennis, golf, or swim at the beach, there is something for everyone. The hotel's luxury amenities include a wonderful spa and boutiques as well.
Guests seeking more privacy or larger spaces may opt instead to stay in Las Terrazas de Abama, our luxury apartments with hotel service. These fully furnished and maintained temporary accommodations are located adjacent to the golf clubhouse. And with three pools and several restaurants, as well as room service, housekeeping, and a fitness center, guests won't want for anything during their stay.
Golf
Our Dave Thomas-designed golf course has long been one of the great attractions of Abama Resort Tenerife. The spectacular fairways anchor and tie together the holiday accommodations and our premium properties, as well as providing beautiful landscaping throughout the resort.
The 18-hole course has thrice been named among the best European courses and resorts by popular industry magazine Golf Digest, as well as having won numerous other accolades and having hosted important tournaments and industry events.
Most importantly, the experience of playing Abama Golf is unlike any other you'll have. Driving that first shot framed by the Atlantic Ocean and the island of La Gomera in the background is a unique moment. And it's a moment that, thanks to the year-round springtime temperatures on the island, you can have even in the dead of winter.
Fine dining
Another standout feature of Abama is its fine dining. Not only is the offer varied with a total of 12 dining establishments on the grounds, but the level of the offer is without compare.
Two of Abama's restaurants hold three Michelin stars between them, and these Michelin star restaurants, Tenerife, are a true attraction for gourmands and casual diners alike. Among the South Tenerife resorts, there's no better place to enjoy a special holiday with your loved ones, or try something completely new that will surprise you.
Martín Berasategui, one of the most famous and critically acclaimed chefs in Spain, has made a veritable playground of Abama, with three restaurants here, run in conjunction with a handpicked team of culinary geniuses that include Erlantz Gorostiza, Diego Dato, and Sergio Fuentes. Their restaurants, the signature and two-Michelin-star M.B; the Basque tapas hideout Txoko; and the Mediterranean Melvin restaurant offer guests and residents a broad range of delights to dip into again and again.
And as is to be expected in a resort of Abama's caliber, there are special services offered by our restaurants that will allow you to bring their unique fare into your very home. The hotels both offer room service, with Las Terrazas de Abama being catered by Melvin. And Melvin also provides an even more personalized option, Chef at Home, which allows our residents to plan a customized menu and have it served to their guests in the privacy of their home at Abama Resort Tenerife.
Luxury properties
With such a wealth of attractions, it's no wonder that repeat guests of The Ritz-Carlton, Abama and Las Terrazas often decide to make Abama their permanent holiday destination, or even their permanent home, by purchasing one of our luxury properties. One of the elements that puts Abama among the best resorts in Tenerife is the vibrant ambiance and our warm community of residents. This is an ambiance carefully cultivated by taking excellent care of our owners, and attracting potential buyers who are seeking something special.
Besides the aforementioned tranquil ambiance, the properties offered at Abama are true design pieces built to the highest quality standards. For families seeking the perfect holiday apartment, we offer Los Jardines de Abama, spacious 2- and 3-bedroom abodes that are fully furnished and always prepared for our owners' arrival. They are managed by our in-house management company, and they also handle the rental of these establishments while owners are away. It's a way to make a real estate investment that you can still enjoy yourself, and avoid any of the ancillary work of housekeeping and maintenance.
We also offer villas with private pools under the same sort of scheme, for those who want even more private space and a garden. The Las Villas del Tenis are located adjacent to our Tennis Center and have a beautiful design aesthetic that melds seamlessly into the surrounding environment while still offering beautiful ocean views.
Our Las Atalayas villas are another option for buyers looking to spend more time at their home every year. These freehold properties have private pools and a modern design aesthetic whose clean lines and copious natural light make them a comfortable retreat in the middle of one of the best resorts in Spain.
And finally, for those who want to build a home to their own specifications, Abama offers large plots for Custom Villas. Our architectural teams have helped numerous owners construct stunning luxury homes that enjoy every amenity and front-line positions on our golf course. They are the largest and most personalized of our residences, designed to be true showpieces.
Leisure
Besides golf and the spa, Abama also has several other leisure options that put it in a class of its own. Our beach cove, accessible only through the resort, is a sheltered jewel where golden sand, a beach restaurant, and a pier come together to provide our residents and guests with a well-serviced enclave for a quiet day of relaxation or swimming.
For tennis players, our Tennis Center, which also provides exceptional views over the island and the Atlantic, has professionally equipped tennis and paddle courts, as well as offering lessons and classes in a variety of different configurations. We have also had the opportunity to host a number of professional tennis events in our facilities.
Families can enjoy our Kids' Club, which is a highly developed program designed to entertain and educate children of all ages. There are multiple different programs that will help children understand the island of Tenerife and its unique culture and nature, as well as providing a mix of manual and physical activities.
Our new leisure, commercial and social center, Plaza Abama, is currently under construction. When completed in 2021, it will provide a new hub for Abama residents and visitors to meet, dine, and shop in beautiful surroundings at the heart of the resort.
The island
And all of the above doesn't even begin to touch what might be the single biggest attraction of Abama: the island of Tenerife itself. The cultural options are endless, and can be enjoyed on the dozens of festival days and special local celebrations all over the island. As a small part of our celebration of this culture, Abama and its municipality have recently given Abama's streets new names that honor famous Spanish writers.
The natural environment is truly special, with many plants and Canary Islands animals that cannot be found anywhere else on Earth. These indigenous species live here thanks to a number of unique ecosystems and microclimates that have enabled them to thrive for millennia in places untouched by human development.
And from the spectacular Teide volcano to the amazing cliffs to the ancient laurel forests, there are so many amazing sightseeing destinations that we have dedicated several sections of this blog to exploring them. You can too, and you'll come away ever the richer for it.
Abama Resort Tenerife: a truly spectacular destination unlike any other, and yet one that is also perfect for unwinding and getting away from it all. Here, where time stands still, you'll be able to dip in and out of histories, cultures, and interests in an environment where you'll always feel at home.