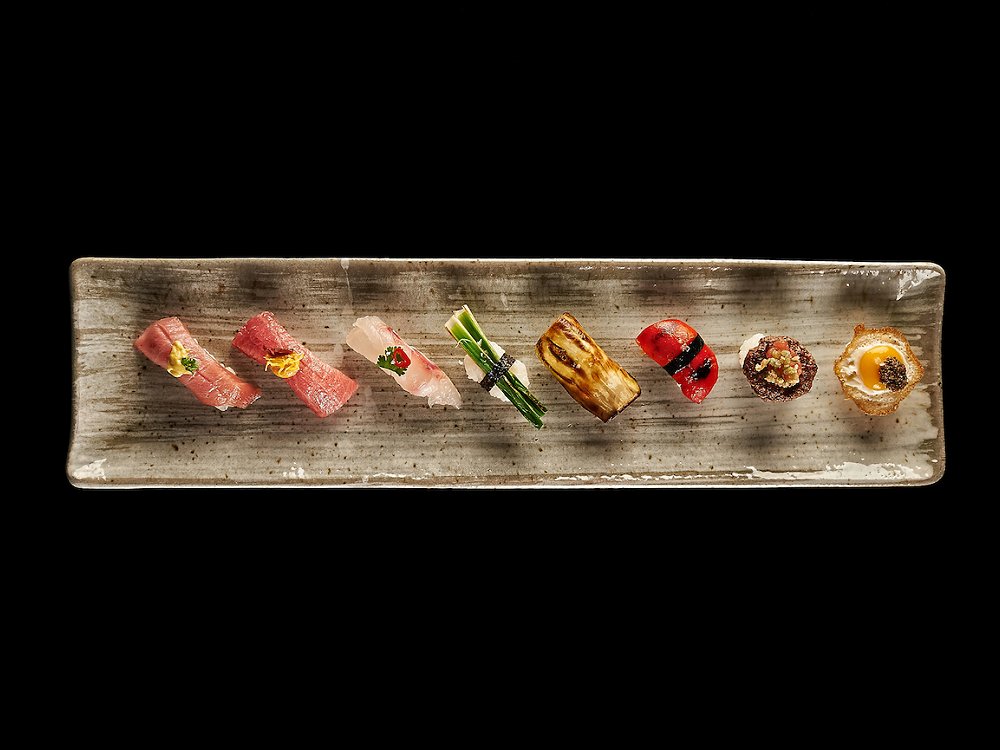 Abama will never stop chasing the stars; in this case, the gastronomic ones. The Michelin Star restaurants on the island continue to include three stars at Abama thanks to the culinary art of Abama Kabuki and Martín Berasategui's M.B.
Headed by David Rivero and Erlantz Gorostiza, respectively, these establishments make our resort a true culinary oasis that the residents of our homes on Tenerife know all too well. The renovation of these stars comes along with those of the other starred restaurants on the island: El Rincón de Juan Carlos, from brothers Juan Carlos and Jonathan Padrón in Los Gigantes in Santiago del Teide; the Japanese Kazan in Santa Cruz; and NUB, by Fer Fuentes and Andrea Bernardi in La Laguna.
As the oldest of the European hotel and restaurant guides, The Michelin Guide is a reference point for any gastronomy lover when it comes time to choose where to have a succulent lunch or a dinner by candlelight. And it has an influence, too, in the choice between residential offers or locations in which to buy a second home. Abama's two Michelin Star restaurants stand out not only for their sublime culinary brilliance, but also for the wonderful surroundings that their guests enjoy, including our extraordinary golf course by Dave Thomas and the beautiful architecture of our residential complex.
As our residents well know, Martín Berasategui's M.B restaurant is located in The Ritz-Carlton, Abama hotel and offers its delights in many forms. You can try a tasting menu or even a personalized picnic under the stars at the beach. The brainchild of critically acclaimed Basque chef Martín Berasategui, M.B demonstrates all the passion for food that has characterized this gastronomic giant since he first put himself to work at the ovens at the age of 14. The two stars at his Abama restaurant complement the 6 additional stars accrued at his other establishments, demonstrating his creative and innovative excellence when it comes to reinventing Spanish cuisine with a mix of first-rate ingredients, flavors, and textures.
Situated in the Abama Golf Clubhouse, Abama Kabuki offers the perfect combination of Japanese respect and Spanish hospitality. Headed by Canary Islands chef David Rivero, this restaurant takes culinary innovation as its everyday mission, combining a fusion of traditional Japanese and Mediterranean cuisines with the most deliberate of presentations. Guests can enjoy the Kabuki Experience with various premium services, thanks to the sushi bar and table service being accompanied by Kabuki Space and the Kabuki Bar. The wine list contains over 300 selections, as well as a great variety of sakes, beer, and cocktails.
If you're one to be led by the stars when it's time to decide where to enjoy the best cuisine, you'll be delighted to confirm that Abama's Michelin Star Restaurants on Tenerife deserve their hallowed place in the international gastronomic heavens. And don't forget that our resort also offers other marvelous culinary options, including Txoko and Melvin restaurants, Martín Berasategui's other two projects here on the Abama grounds. They're but a few of the reasons that our property for sale in Spain is like no other. Congratulations to M.B and Abama Kabuki for continuing the tradition of excellence at Abama!