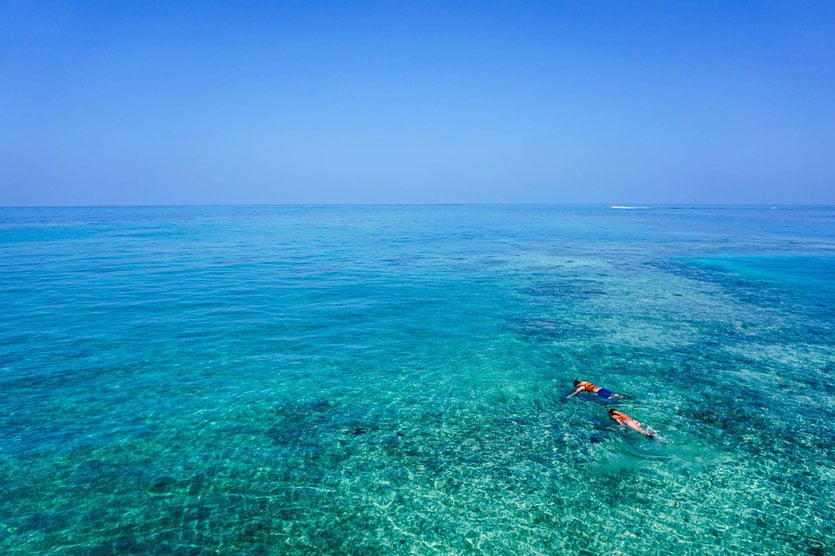 Today we bring you some advice for snorkeling Tenerife. If you're one of the fortunate who have bought a property for sale at Abama Luxury Resort, you are probably up to speed on the many Tenerife activities offered by this wonderful part of the Fortunate Isles. Endless beaches, ideal temperatures every day, and virginal natural areas are just waiting to be discovered. And it's all a short distance from a luxury tourism complex that's well recognized for the excellence of its services and installations available to residents.
There's no doubt that when it comes to leisure time, our sport facilities are part of the great attraction of our privileged setting. There's an infinite number of trips in Tenerife and routes around the Teide National Park, and our marvellous Abama Beach will let you enjoy some splendid days under the sun with crystal-clear waters at your feet.
Many of our residents have found that snorkeling is a way to have a lovely time at Abama Beach, taking a refreshing dip while enjoying this light version of diving. Ever done it? Snorkeling has become a hot summer activity over the past few years at many beaches where free diving has become common, and it's picked up more and more enthusiasts.
So if you're curious and thinking about getting started with this novel sport, here's a bit of advice for snorkeling at Abama Beach:
Figure out what equipment you will need
Unlike classic scuba diving in Tenerife, snorkeling Tenerife only requires goggles and a snorkel (hence the name), though those who are planning on getting really into it – or who advance to a certain level – can also outfit themselves with a pair of swimfins that will give them some propulsion under the water and help them to swim more rapidly.
Some people even use flotation devices like an inflatable tube or a buoy that allow them to rest for a while.
Weigh the option of wearing neoprene
With the simple outfit mentioned above, just a few metres from the Abama Beach you'll have an entire submarine world of extraordinary richness at your fingertips. Whether you're in an area with a sandy or a rocky seafloor, the marine fauna is tremendous all over the Tenerife coast. This means that often you'll lose track of time and being in the water for so long can take its toll.
Though the snorkeling conditions are excellent, thanks to the ideal climate and water temperature (the water temperature in summer is 22 or 23 degrees centigrade and 17 or 18 degrees in the winter), your body temperature can drop over time in the water and you can start to feel cold. If you take frequent short breaks, however, and come out to sunbathe every now and then, you can solve this problem. Or, you can opt to wear a neoprene suit that will let you prolong your excursion indefinitely without having to worry about getting out of the water or missing a thing.
Pick the right time
When engaging in any water activity, it's a good idea to find out the weather conditions that are predicted for the day (both whether it will be sunny and what the sea is going to be like). A day filled with waves or rough waters will ruin your beach excursion. Fortuntely, we're on a part of the Tenerife coast with very calm waters, and that favours the practice of snorkelling considerably. On a calm day, the visibility is quite good because there is very little plankton in the water.
Bring a good underwater camera
At Abama, we're sure that your day of snorkeling at our beach won't disappoint you. That's why we recommend that you bring an underwater camera. You're going to fall in love with the exotic sea depths of Tenerife and want to take a thousand photographs.
The past few years have seen a proliferation of forums and blogs published by lovers of our coast, and their photos rival professional contests. Come on! There are many aficionados on social media who would love to share their discoveries with you.
Who knows, maybe your affinity for snorkeling will end up being stronger than you imagine, because this has been known to happen. If that turns out to be the case, in the Adeje port, just a few minutes from your luxury property at Abama Resort, they organize excursions that combine walks along the coast with snorkeling. There are also all kinds of tourism companies that will take you out all over the island in search of turtles and other spectacular species (get more information at oceandreamstenerife.com and www.getyourguide.es).
Give snorkeling Tenerife a try during your stay and when you're looking for what to do in Tenerife, enjoy one of the activities that, for many, has become the best of the summer.
Published in category
Leisure
Share this post