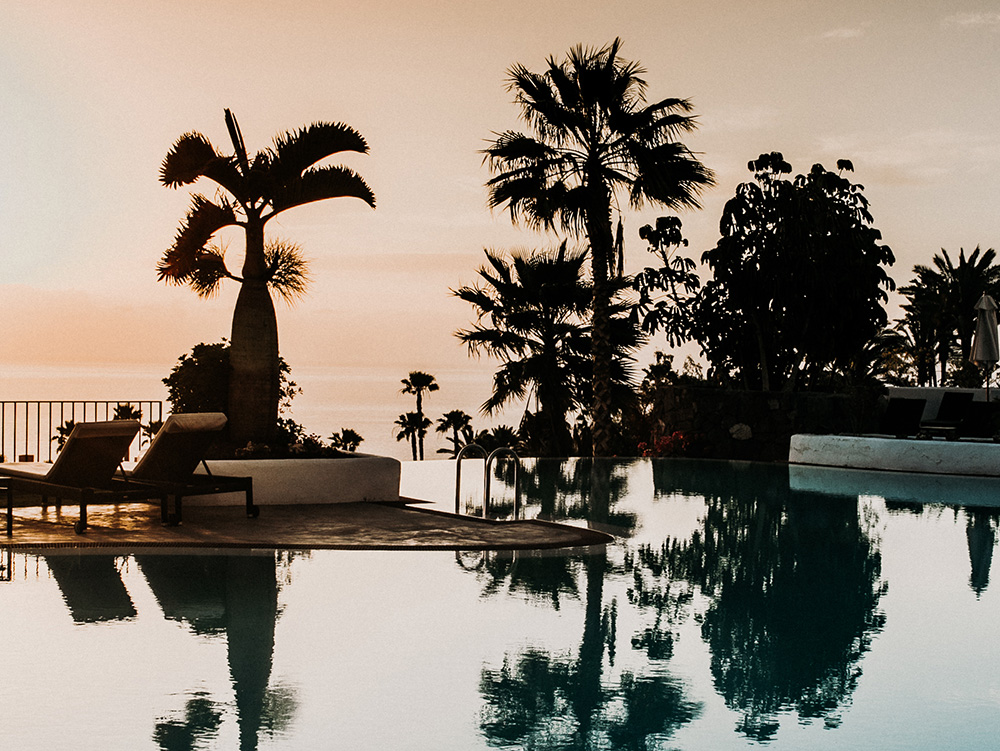 Imagine a week without meetings or phone calls… relaxing European holidays can make the dream a reality, and Abama Resort will fulfil all your needs. A secluded haven of elegance and tranquility, as a holiday destination it will tick every box for anyone in need of a respite from the bustle of city life.

Tucked into a corner of balmy Tenerife, Abama provides everything required for a peaceful island break. A world-class golf course, a Michelin-starred restaurant, a rest by the pool… we have something for everyone.
Golf
Selected by Golf Digest for their Editors' Choice List from 2018-2020, Abama's golf course (designed by former pro Dave Thomas) is one of the best places in the world to play golf.

Thousands of palm trees and immaculate greens combine with breathtaking views of the Atlantic to provide an oasis of tranquility while you putt your way to the perfect game. Designed to test and delight any golfer, no matter her level of expertise, there's nothing better than a day spent golfing in world-class facilities featuring electric buggies, equipped with personal water coolers and a GPS system, that provide information about each hole and aid in navigating our challenging terrain.

After a round, golfers can enjoy the refinement and amenities of our clubhouse or our pool bar, which fit in perfectly with the rest of our 5-star facilities.
Tennis and paddle tennis
If a leisurely game of tennis or paddle comprises part of your ideal relaxing European holidays, Abama can deliver on this front, too. Settled amongst stunning surroundings, our professional courts offer both quality and style. All the courts have artificial lighting so you can play when the mood strikes, and Flexi®-Pave surfaces in the style of the US and Australian Open courts. Changing rooms, car parking and restroom facilities form part of the complex as well. But the star of the show remains the breathtaking views, unlike any you've ever experienced.
Secluded beach and pools
While Abama's secluded beach can be your departure point for a variety of aquatic activities, it's also a paradise for those who want to relax under a parasol. The Abama Beach Club has towels and a refreshment service available if you don't have your own supplies, so you need only board our private funicular and head down for a day of lounging by the water. Sunbathe your stress away with a day spent at the shore and complement your indulgence with a cocktail at the beach bar. An afternoon watching the sunset will put the cap on a perfect experience.

Families can also enjoy the Abama Kids' Club and multiple swimming pools throughout the resort, while couples looking to escape may opt for our more out-of-the-way accommodations.
Retail therapy
If a round of golf or tanning on the beach isn't your idea of a relaxing holiday, you may be among the many who consider shopping an enjoyable way to pass the day. A study from the Journal of Consumer Psychology found that retail therapy not only makes people happier immediately, but can also combat stress. The boutiques on the resort grounds may prove the perfect cure for what ails you.
Unwind at the spa
A wellness and relaxation experience not to be missed, the Abama Spa boasts facilities designed by the team behind the Sanctuary spa in London and Chiva-Som in Thailand. Step into an oasis of elegance and calm and let yourself melt into an afternoon of pampering and repose.

With a variety of services available, you can choose which will best transport you to a place of calm and serenity. Eliminate your toxins and activate your immune system with a Wellness Experience that emulates that of the Roman baths; it's just one of many services on offer that guarantee undisturbed bliss.

Don't forget to book, as places are limited due to specialized and extensive cleaning, hygiene and sanitation protocols carried out between client visits. Let your cares can melt away as our dedicated staff manage all the important details.
Gourmet cuisine a short walk away
What better way to pass the afternoon than a long lunch at a Michelin-star restaurant? At Abama, we're fortunate to have two. Martín Berasategui, one of Europe's most famous chefs, has made a veritable playground of Abama, opening three restaurants here. The flagship is, of course, the two-Michelin-starred M.B, but you can also try his acclaimed Basque tapas restaurant, Txoko, or the Mediterranean-inspired Melvin, located in Las Terrazas.

If your tastebuds crave Asian fare, you could also try our one-Michelin-starred Kabuki. Its views from our Clubhouse are inspiring, and the interior décor a true marvel. And with some 8 more restaurants to choose from within the resort, you're not likely to go wrong!
Natural surroundings abound
Abama is a true green garden in the midst of the volcanic landscape. The outdoor spaces are as attractive as the indoor, and there are always new corners to discover. But one of the benefits of being located on a small island is the relative proximity of exciting attractions outside the resort as well.

The nearby Teide National Park, home to one of the tallest peaks in Europe, offers incredible vistas and hiking as well as countless activities in a natural setting. Many hiking pathways are readily accessible close to the resort, so step out into the stunning natural environment and relieve your tensions through a day exploring your surroundings.
A European hub
While travelling can be complex, the Canary Islands are fortunate to be an international hub with numerous direct flights to many destinations in Europe. The islands, thanks to their low population density and ability to better control flows of travelers, have also suffered the effects of the pandemic far less than most destinations on the continent. Tenerife is served by two separate airports, both within a convenient driving distance of Abama Resort.

If you're craving an escape, whether for a weekend or a week, there's nowhere that will give you better relaxing European holidays than our resort in Guía de Isora, Tenerife. At Abama, you'll find true peace in the contentment and security of our island paradise. And if you're looking for a luxury house to call your own, we can provide that too.

* Before you travel, make sure you are fully informed about travel, airline and airport restrictions in your country.