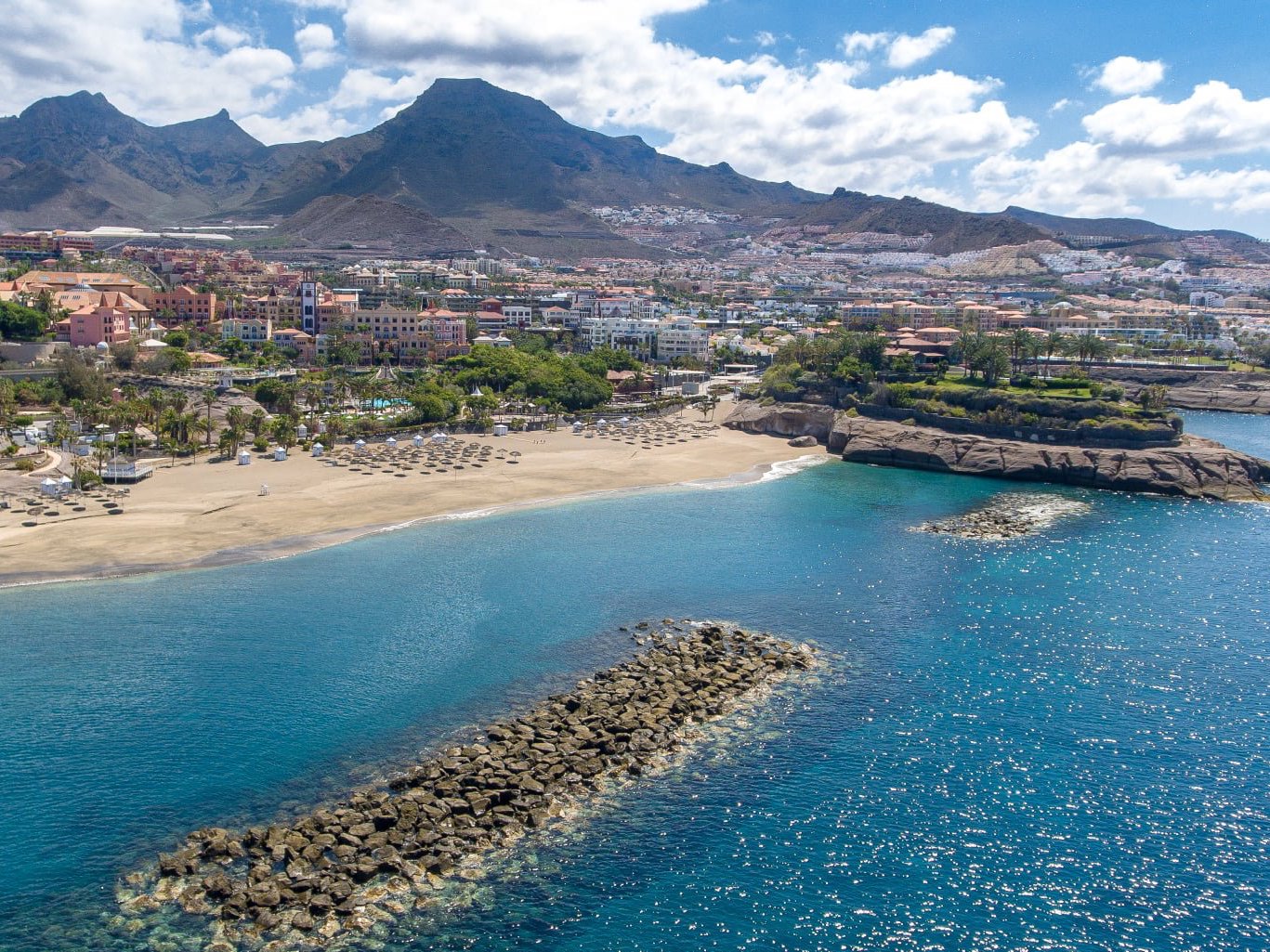 From the tranquility of the beach to the thrill of a ravine that drops more than 1300 meters, from commercial centers to the delights of a traditional coastal town, Costa Adeje holidays offer the complete package. If you're ready for adventure, you can make the most of every minute of your stay at Abama with the five ideas we've selected below. The year-round exceptional climate means that any season is ideal for strolling through the municipality of Adeje, in the southwest of Tenerife, and enjoying unique experiences that will pull you out of your routine and create unforgettable memories of your Tenerife accommodation on the Atlantic Ocean.
A relaxing day on Playa del Duque
There's nothing like the release of gazing out to sea at the endless horizon, and just a few kilometers from your home at Abama Resort in Guía de Isora, you'll find one of Costa Adeje's most calm and comfortable beaches. Playa del Duque's 390 meters of length provide the ideal venue for leisurely walks, sunbathing with a good aperitif or just watching the waves. The clean waters and various services it offers to visitors have enabled it to renew its Blue Flag certification every year. It's easily accessible by car and has ample parking and several restaurants right on the beach, so there are lots of ways to plan a good day. If you want to pack light, you'll find umbrellas, hammocks, changing rooms, bathrooms and showers at your disposal for rent. And if you fancy exploring your surroundings, you can go shopping in the nearby boutiques.
Boat trips and dolphins
Whale and dolphin watching is an unforgettable experience, and Tenerife is the place to do it. The waters off the southwest of the island are the perfect spot to set sail and look for native species like the bottlenose dolphin and the pilot whale. Although their behavior is unpredictable, the sea routes that begin in Costa Adeje offer high probabilities of seeing dolphins at close range. There are various excursions available departing from Puerto Colón, Puerto de los Cristianos and Puerto de Los Gigantes that last from two to five hours with meals included. Because the Tenerife weather is good year-round, you can try your luck in any season you happen to be on the island, although the months of May and June are especially recommended.
Water parks for family fun
If you have children and wonder what your options are on Tenerife, you'll be glad to know that there are two large water parks in Costa Adeje: Siam Park and Aqualand. Inspired by Thai landscapes and architecture, Siam Park is an 18.5-hectare complex with 18 attractions for all ages and tastes. And Aqualand offers 18 different attractions, too, as well as a dolphinarium with shows for the public and the possibility of interacting with these incredible animals.
Exclusive shopping in Plaza del Duque
Shopping is, for many, a form of entertainment unto itself, made all the better when you can do it in a pleasant environment. Plaza del Duque is one of the leading shopping centers on Tenerife, and it offers a sophisticated, comfortable experience and shops that feature leading luxury brands. The circular architectural design of the complex lends itself to a relaxing, aimless afternoon, and its three levels provide plenty of variety and interest. If there's something you need on your Costa Adeje holidays, you're likely to find it here. And it's also a good place to get Spanish products to take back home.
Barranco del Infierno, the door to paradise
Don't be fooled by the name: the extraordinary beauty of the landscape and the incredible variety of fauna and flora at the Barranco del Infierno will make you feel like you're in a lush paradise. Named a Special Natural Reserve of Tenerife, the Barranco del Infierno is the heart of Adeje. Among its unique features are endemic species that only inhabit this corner of the planet, and access is therefore limited to a maximum of 300 people per day and controlled through an entry fee and a mandatory acceptance of the park regulations. There are a number of hiking routes that offer different levels of difficulty that start at 350 meters above sea level and go all the way up to 1,300 meters. And if, in addition to an intense walk, you want to have an authentic Canary Islands experience, you can book a gastronomic tour. There's more information about the destination and the tourism options on the Barranco website.
Your next visit to Abama will open the doors to more wonderful Costa Adeje holidays, so begin your planning now. Landscapes, excursions and experiences await you that will stay with you forever and make your Tenerife holidays the best of the best. Whether it's a few weeks at your own home or a comfortable stay in our aparthotel Tenerife, there's so much to do, you'll have to return time and again.
Published in category
Tenerife
Share this post