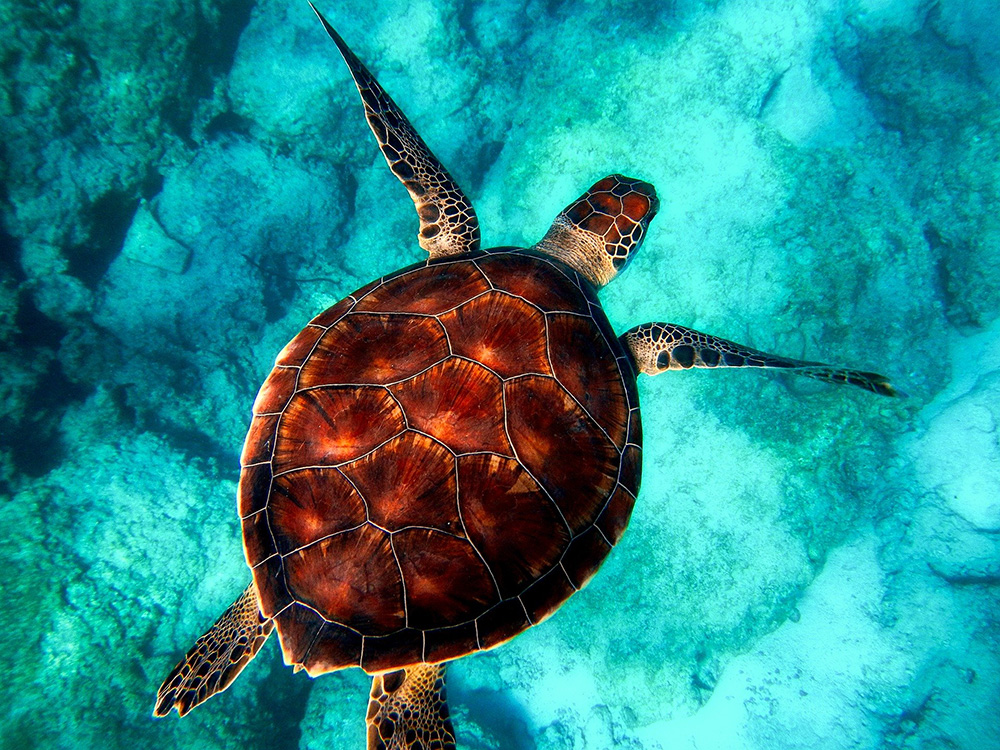 Due to its exceptional climate, the crystal blue ocean and the great diversity of the landscape, diving in Tenerife offers an incredible opportunity to enjoy nature and outdoor activities. Among the best Tenerife treasures that surround Abama, one of the top resorts in Europe, are spectacular seabeds featuring caves, volcanic reefs and unique species... a true attraction for diving enthusiasts (as well as for snorkeling Tenerife).
Our subtropical climate ensures a stable water temperature throughout the year (usually somewhere between 18º and 24º), the clarity of the water affords visibility up to 30 metres, and the more than 60 diving points of all levels attract both expert divers and those making their first foray into the sport. Today we offer some suggestions to enjoy amazing underwater volcanic formations and these incredible Tenerife activities.
La Catedral: discover the majesty of the volcanic landscape
If you are an advanced diver, your first stop should be about 600 meters away from the Puerto de la Cruz dock. Here you will find the La Catedral dive site, with depths that range from 20 to 40 meters deep (for the daring). Its rocky contours, complete with basalt arches, vaults, narrow walls and chimneys, reminiscent of a submerged cathedral, lend the site its name, and provide a unique opportunity to contemplate the majesty of a volcanic landscape in all its splendour.

Throughout your dive, native inhabitants of these waters like brown moray eels, moray eels, barred hogfish, and Island grouper will accompany you as they dart about between the cracks and holes. If you are lucky and look carefully, in the darkest places you may see underwater plant life, crayfish and shoals of yellow barracudas.

Remember: this dive is somewhat difficult due to the current in the area and also the depth. Therefore, if you are a beginner, it would be better to dive in another location more suitable to your level.
El Bufadero: swim with turtles
At the south of the island, just 9 km from your Abama property, near the Port of Los Cristianos, is another dive site that offers one of the most beautiful and unforgettable experiences of diving in Tenerife: swimming with the turtles.

This is El Bufadero, whose rocky bottom is barely ten metres deep and can be reached by descending a gentle slope of rocks accessible to divers of all levels. Upon reaching your desired viewing spot, the show will begin. Turtles, dozens of Bishop rays and other marine species such as eels, black stingrays and angel sharks will make their appearance and leave you so amazed that you will be sure to take these trips in Tenerife time and again to watch Nature in all her splendour.

Without a doubt, this is a dive not to be missed, regardless of your level. It provides the perfect opportunity to get into the world of diving and become captivated by the rich marine life you have at hand in the depths of Tenerife's waters.
The Punta Rasca Lighthouse: surround yourself with thousands of fish
We wind up our diving tour showcasing the wonders of El Faro de Punta Rasca. Located in the south of the island, halfway between the towns of Los Cristianos and Las Galletas, hidden in the depths is another of Tenerife's most impressive underwater volcanic landscapes. Ravines with erratic shapes, formed thousands of years ago by tongues of lava, numerous caves, tunnels, arches and lush black coral forests make up the habitat of an enormous and varied amount of marine wildlife. Island groupers, stingrays, barracudas, the curious and well camouflaged "frog" fish, and puffer fish are just some of many species that can be seen on dives in the area.

Dives are varied and can be adapted to your level. If you are a beginner, we recommend that you go to one of the many dive centres in the south of Tenerife that will transport you by boat to the area, equip you with everything you need and accompany you throughout the experience so that you can enjoy it to the fullest and safely. The wide range of schools will introduce you to the world of diving, renting equipment and booking guided tours.

Once you have started to delve into the delights of diving in Tenerife, you'll fall in love with these idyllic waters and want to take advantage of all 365 days of the year to discover the impressive biodiversity of this part of the Atlantic. This is only one of many options when you're trying to decide what to do in Tenerife. It's a magical place to disconnect, year-round, from stressful routines or even make your home in a unique natural environment.