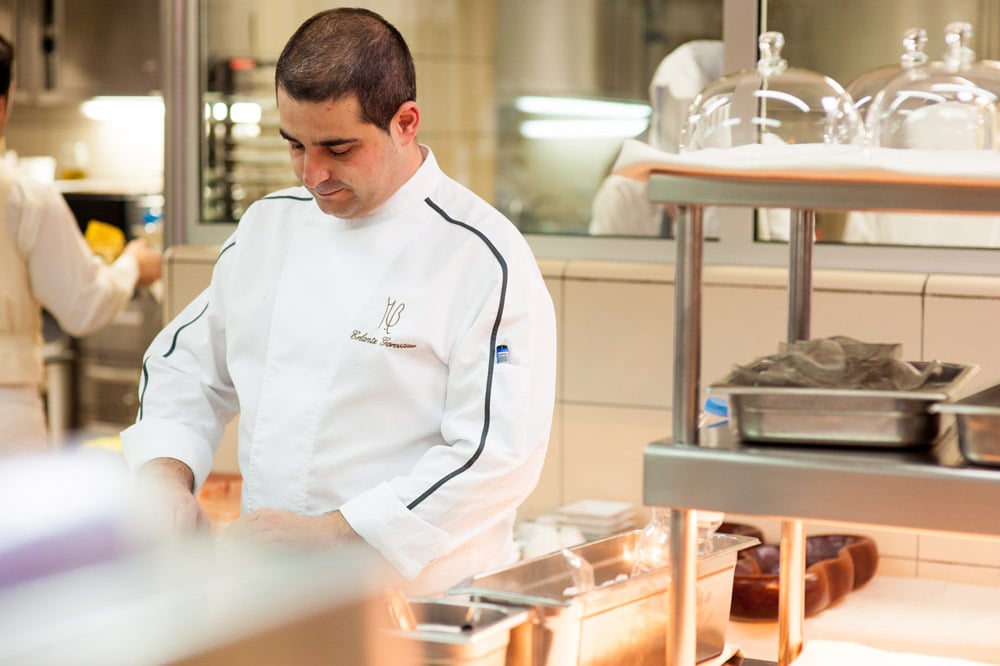 At the helm of one of Tenerife's Michelin star restaurants, right hand of the genius Martín Berasategui, lover of cuisine by vocation and personal inclination, for five years Erlantz Gorostiza has been head chef of the restaurant M.B, one of the jewels in the crown of our luxury resort in Tenerife.
What do Abama's visitors and residents make of having a 2 Michelin star restaurant in the resort?
I think the clientele here at Abama are very attuned to gastronomy. They value an excellent meal and one of the primary attractions of the hotel is the high calibre of cuisine on offer. M.B and the Kabuki restaurant are the mainstays, but there is an enormous variety of options available throughout the more than ten food establishments on the grounds of the resort.
What was the impetus of your move from the Basque Country to Tenerife to open the M.B restaurant at Abama?
Without a doubt, the reasons were the M.B restaurant and the incredible luxury resort of which we are a part. It is a true pleasure to work here and I'm proud to be with Abama. I have travelled a fair amount to various places and I have to say that there are very few resorts in the world like this one, if comparisons can even be made.
Have you adapted any parts of your menu to the local gastronomy? Which local products do you use, if any?
Everyone who comes to the M.B restaurant will enjoy a wide variety of local products, from organic and biodynamic fruits and vegetables to cochino negro, and including a range of cheeses from all over the Canary Islands. We make a fair number of dishes with them and we have also adapted them into our recipes. For instance, we incorporate them into the bread we make, like the one with papa and red mojo or the one with gofio (a type of corn flour) and walnuts.
Do locals from Tenerife and the Canary Islands come to M.B?
Yes, of course, daily. Many of them tell me that it is a source of pride that this restaurant is located here on the island.
Erlantz Gorostiza, a true standard-bearer here at Abama Resort Tenerife, continues to amaze us every day with his creativity and consistency. We can't wait to see what happens next!