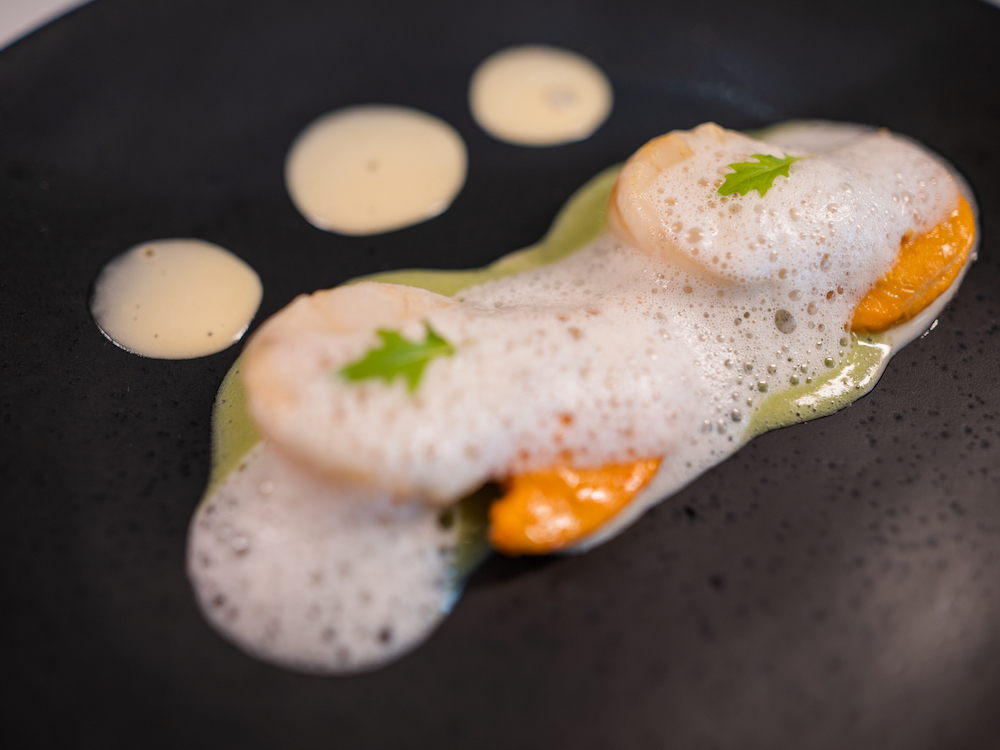 Having a Tenerife New Years is a great opportunity to disconnect and spend quality time with those you love most; a unique chance to experience winter together in an idyllic setting with springtime temperatures. At Abama we treasure the great privilege of the constant 20ºC - 22ºC Tenerife weather that permits outdoor activities year round, and you, too, should give in to the delights that await you on some of the most special nights of the year.

At our resort, Christmas Eve and Tenerife New Years stand out not only for the calm atmosphere that surrounds us but also for the spectacular tasting menus offered by our dining establishments.

Las Terrazas de Abama Suites, one of the best Tenerife hotels, is the home of Melvin by Martin Berasategui, a culinary powerhouse backed by this great Spanish chef with 12 Michelin stars to his name. He leverages distinctive local ingredients to deliver world-class culinary ideas with traditional flavor; dishes that, according to Head Chef Sergio Fuentes, express the generosity of the island and offer something new to the most discerning palates.

For dinner on December 24th, Melvin's meal will begin with its traditional slow-fermented sourdough bread with a selection of homemade butter. The tasting menu continues with a red shrimp tartare with coconut milk cream, caviar and a mint froth that will bring a freshness to your palate. Next is a grilled scallop with lacquered jowl in green sauce and truffled carbonara-style broken eggs with black potatoes. The latter is typical of the Canary Islands and stands out for its intense flavor and consistency. The skewered hake next on the menu is served with a yuzu gel that lends an acidic touch to the dish, as well as clams and a fennel froth. Last among the entree dishes is a rack of lamb with papaya tatin, pumpkin and cumin puree, a lentil froth and an au jus reduction. And finally, for dessert, Melvin will serve caipirinha melon spheres with lemon peel ice cream in a cold yogurt soup.

If you've scheduled a Tenerife escape for the last night of the year, December 31st, Melvin offers a second tasting menu alive with contrasts. It begins with an oyster with citrus granita and cucumber spheres, fresh ravioli stuffed with truffles, emulsified mushroom juice and macadamia nuts, and a creamy squid tagliatelle with shrimp and sweet potato purée with roasted garlic. Next is a roasted sea bass with artichoke confit, foie cream and a squid-ink biscuit, and finally a sirloin with creamy truffled potato, mushroom duxelle, and crispy beetroot. The dessert is sponge cake with white chocolate cream, cocoa powder, and chocolate ice cream.
Full menu 24th (English) | Full menu 31st (English)
Full menu 24th (français) | Full menu 31st (français)
All this paired, of course, with select Spanish and French wines. To book, just send an email to restaurantemelvin@myway-hotels.com or call 922 839 012.

We know you're dreaming of the perfect Tenerife holidays, and you can have them with this fine dining experience and Tenerife New Years you'll never forget.