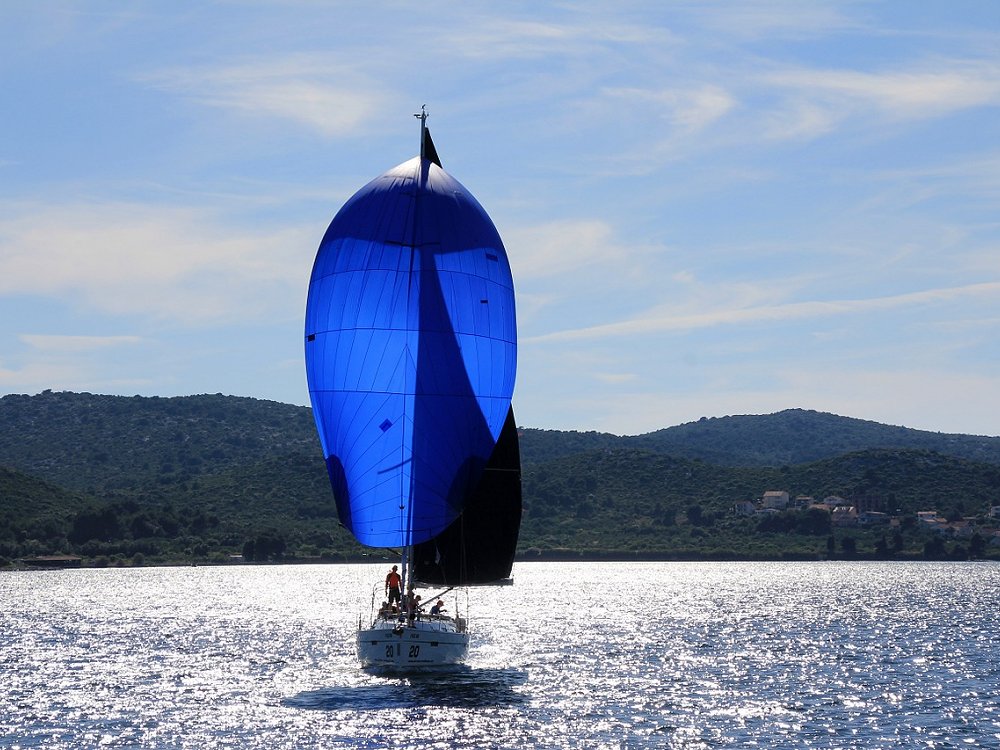 The view of the incomparable Atlantic seascape has to be one of the principal draws of Abama, but if you are an aficionado of the ocean, you must learn about Tenerife sailing. The geographic location of the Fortunate Isles provides unbeatable climatological conditions. The salty breeze fills the air, lungs, and sails with the taste of the ocean, and there are mild and warm temperatures throughout the year, with a sun that staves off storms and makes rainy days few and far between.
The island of Tenerife is open to the ocean, which offers sustenance, transport, Tenerife tours, and leisure. Navigation was long the foundation of its economy and way of life and today, in the era of airplanes, it has become a refuge for the nostalgic who weather their skin in the sun and lose themselves in the intense blue of the ocean.
If you want to jump in too, and enjoy the haven of a wind sail in the midst of the ocean's immensity, you should know that the Tenerife Nautical School is very close to your luxury home at Abama. In the port of Playa San Juan you'll find a team of people with qualified technical training who can offer you an infinite number of services, from courses and Tenerife activities to craft rental. You'll want for nothing to help you enjoy the ocean just the way you like to and as never before.
If this is your first venture out to sea, you can try one of the multipacks to enjoy a leisurely day on the waves with your family or friends. There are four different ways to combine three aquatic activities that include light sail, kayaking, paddle surf, windsurfing, diving, or water skiing, among others, as well as pure leisure activities for the whole family like the celebrated Banana Boat.
If you know that Tenerife sailing is your thing and you want to enter the nautical world for the first time or perfect your technique and broaden your knowledge, you can sign up for one of the courses offered by this great school:
The beginners' course is done on a Beachcomber-type boat with a qualified instructor. You can do either a 5-hour course or a 10-hour.
The intermediate course offers training in maneuvers (Spinnaker) and techniques. These courses are carried out on a Laser boat and students can navigate solo.
In addition, if you already have a certain level of training, you can opt for a sailing course on a cruiser. These use a Dehler 28 with a captain and a sailor. There are 10-hour and 20-hour classes (5 hours per class), which include whale watching.
Finally, another service offered is boat rental of light craft and cruisers. You can take Tenerife tours in light craft like Optimists, 1-man Lasers and windsurfing boards. In cruisers, they have an Oceanis 41 and a Dehler 28 available, and even if you don't have the proper qualifications to man these craft yourself, you can rent them with a captain. What's more, if you would like to rent a group boat, there is a Beachcomber that can accommodate up to 6 people ready for you to enjoy an ocean voyage with friends and safety guarantees close to your luxury home on Tenerife.
If you need more information about the length and prices of the different courses and activities, you can send an email to info@velatenerife.es or have a look at their webpage and access info about all their activities for adults and children.
So there you have it! If you've dreamed of a life at sea filled with maritime adventures and the spirit of the ocean, take an excursion from your luxury home at Abama and enjoy a day on the waves with some Tenerife sailing. On this island, as you know, there's absolutely nothing you have to do without. And you can discover more about what to do in Tenerife in the rest of our blog!