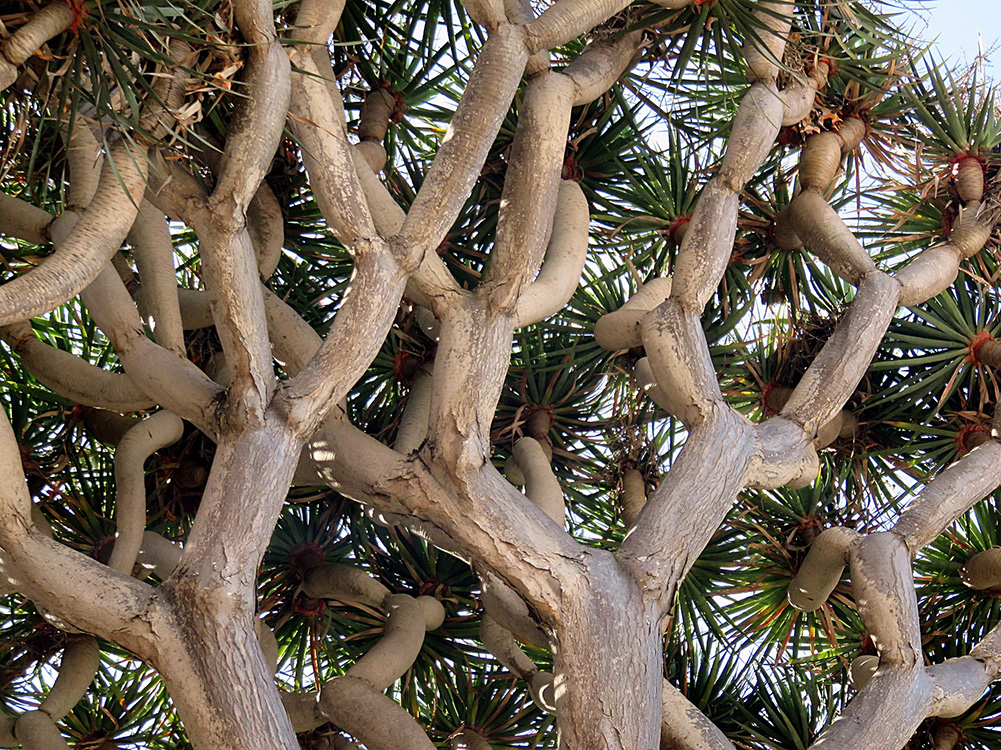 Not far from Abama lies a unique park in Tenerife, which contains one of its most interesting medicinal plants. This Parque del Drago is dedicated to one very special natural specimen within it, a mythical tree unlike any other in the world.
The mythology surrounding the Drago of Icod de los Vinos, a town located in the north of the island, is a fascinating one, and this famous tree was declared a National Monument in 1917. Legend has it that Ladon, the dragon that watched over the Garden of the Hesperides and was killed by Atlas, remains alive through his descendants, which take the form of a tree: the dragon tree. Also called the Dracaena draco or Drago, the dragon tree is a species of plant typical of the subtropical climate of Macaronesia, particularly the Canary Islands.
The ancient Drago of Icod de los Vinos is estimated to be 800 years old, and is characterized by its robust stem, its intricate branches and, of course, its longevity and size. With a perimeter at the base of the trunk of twenty meters, it reaches a height of 18 meters and has more than 300 branches. It blooms every four to seven years with small, numerous flowers and stamens of creamy green or very pale yellow. In optimal budding years, it can produce up to 1500 branches.
Drago Park (El Parque del Drago)
If you want to take a look at this magnificent tree up close, travel to the town of Icod de los Vinos, which is 40 kilometres from Abama Luxury Residences. Here you will find the 3-hectare Parque del Drago, home to a comprehensive sample of the beautiful and evocative Canary Islands flora including other medicinal plants like aloe vera. It is a space created exclusively to protect the dragon tree from contamination by cars and acts of vandalism.
Designed by architects Felipe Artengo, Fernando Menis and José María Rodríguez-Pastrana, University of La Laguna biologists and professors also participated in the selection of the flora in the park. Specimens range from Elephant cactus to cevines, and include tabaibas, beeches, heathers, palms, olives, vines, lindens, laurels and, of course, dragos. Visiting the park is a special experience that will allow you to immerse yourself in a unique natural setting. In addition, there is an area dedicated to the youngest drago specimens, called the "Dragos Nursery", where you can clearly appreciate the evolution of this renowned species.
Drago Park is also a space for the family to enjoy some leisure time, exploring a small volcanic cave that contains a representation of an ancient Guanche mummy's burial, a space with picnic areas and some coal bunkers. So, if you have children in tow and need extra incentives for them to visit parks in Tenerife, you have some of those as well, particularly if you enjoy outdoor activities in natural surroundings.
A tree among the most interesting of medicinal plants
There are plenty of examples of nature and society in Tenerife contributing to wellness, and our ancient tree adds yet another to the list of therapeutic species. The cosmetic and healing properties of the Drago tree are as old as its own history. Since ancient times, Phoenician, Greek and Roman merchants travelled to different islands in search of this pharmacological tree. The so-called "Drago's blood", the sap of these medicinal plants, despite being transparent, turns red upon contact with oxygen (hence the name).
Beginning in the 8th century, it became a highly valued product in Europe for its healing properties and the magical characteristics that were attributed to it. It was also used as a red pigment to dye fabrics, metal objects, marble, ceramics and wood. With the passage of time, the over-extraction of this highly valued "blood" intensified, causing these trees to become sick and disappear. From around the 18th century, their cultivation fell into oblivion, almost up to present day.
Thanks to the recovery of the Canary Islands Drago, its regenerative and antioxidant properties have been studied, as well as its anti-inflammatory, healing, re-firming and elastic properties, which makes it an exceptional natural ally against loss of elasticity and aging.
So, the next time you're looking for an excursion to a park in Tenerife or want to learn more about its medicinal plants, reserve a day to tour the Parque del Drago, where you'll get a good dose of both. Get more wellness tips and ideas by perusing our other posts.