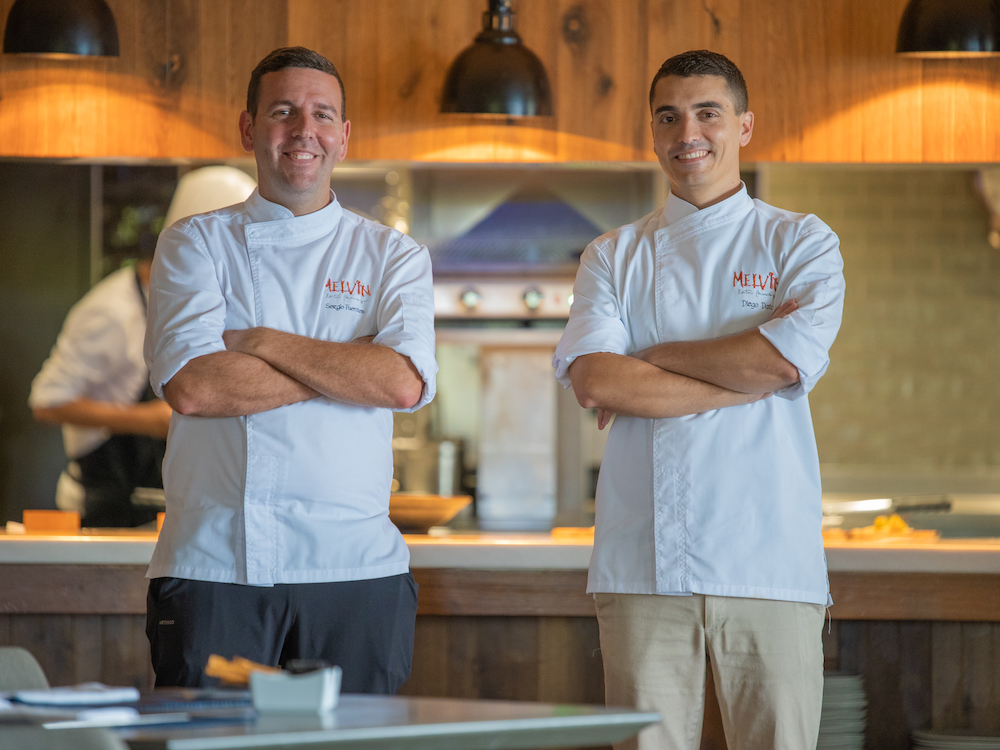 This month Abama's Melvin restaurant says goodbye to Head Chef Diego Dato and welcomes his successor, Sergio Fuentes; the two chefs have worked together since 2017 on this special Martín Berasategui project.
For Dato, leaving to embark on a new personal and professional path, it's a bittersweet moment. He looks forward to his new adventures, even as he says that, "Being part of a project with the support of Abama Resort and Martín Berasategui behind it has been one of the greatest opportunities of my life." From the perspective of Abama, it was support well placed. Dato has brought a fresh perspective, youth, elegance, and exquisite service to his work at Melvin, all essential elements of this fine dining experience. "The most important thing has always been that our guests feel at home, welcomed, and respected. And then we do our best to surprise and impress them. You can't speak about individual success in the context of a restaurant. We are a team and we work together in harmony. I'm very proud of what we've achieved."
The Alicante native, who worked under great chefs like Santi Santamaría and Berasategui himself before taking the helm at Melvin, remains an ardent admirer of the gastronomy of Tenerife. "I've tried delicacies here I could have never imagined: the potatoes, the tomatoes, the seafood tradition. The wine, especially, has great stories to tell, and is recognized the world over."
Dato knows that his legacy will remain intact with the entrance of Sergio Fuentes as Head Chef. His friend and colleague has served as Melvin's sous chef for the past five years, pairing the guarantee of experience with the enthusiasm of bringing new ideas to the table. Fuentes has a profound respect for local ingredients and for the incredible discoveries he makes every day on Tenerife of new ways to use the products of the sea and the land. "For me," says Fuentes, "it's a privilege to express my personal interpretation of the extraordinary fruits of these islands. Most of our guests are foreigners, and it's an honor to bring them into the world of Canary Islands cuisine, offering them things they have never tried." He especially loves the Lanzarote sweet potato and the La Palma pepper: "We use the sweet potato in our restaurant in our prawn ceviche and our red mojo, of which I've been a fan since I tried my first on Tenerife." Rising with Fuentes is Jose Santamaría, who will become the new sous chef.
Melvin fans need not worry. Sergio Fuentes' love for the project they've built will ensure continuity even as exciting new items are added to the menu. You won't lose the classics you love, but Fuentes will be sure to infuse his personality into Melvin dining, renewing, expanding, and reinterpreting the gastronomy of these extraordinary islands and adding new flavor to your experience at Abama Resort Tenerife.