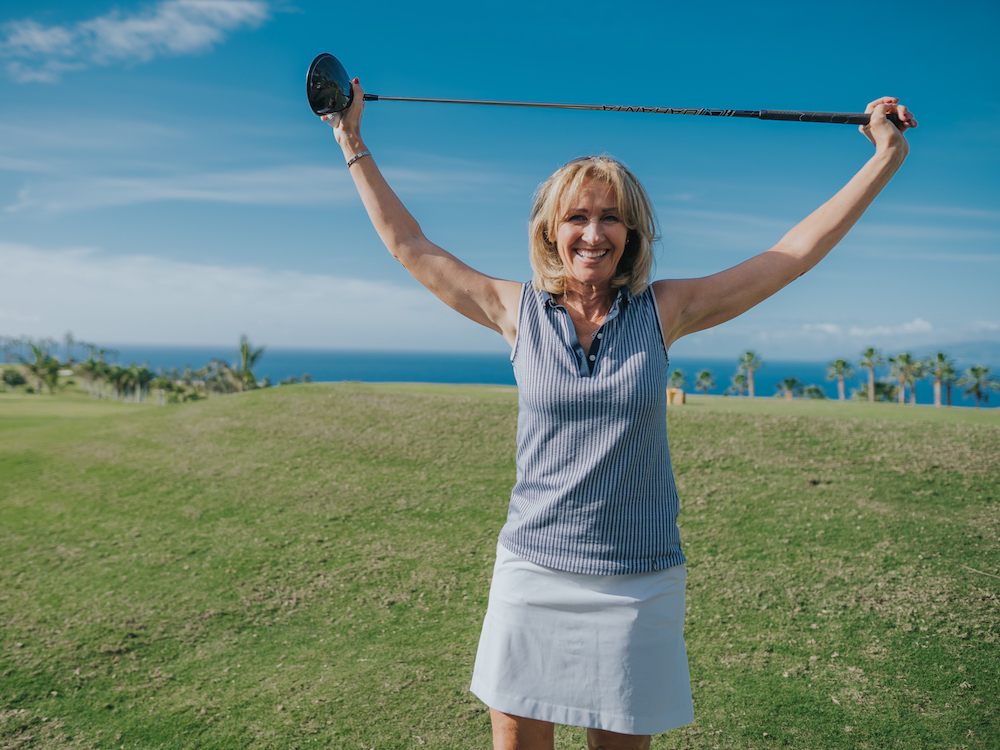 Enjoying the sun and springtime temperatures of Tenerife accommodation in winter is a pleasure even snow lovers revel in. Case in point: Michaela Gerg, one of the most successful German ski racers of all time. Between 1980 and 1996, Gerg was in the top 10 of skiers over 100 times and in the top three 41 times. She won four World Cup races and World Cup bronze in the Super-G in 1989. She was in the Olympics four times. And this winter, we found the former professional athlete lounging on the terrace of her holiday destination at Abama Resort, taking in the views and the ocean breeze.
"It's the first time I've been away from home in winter," said Gerg. "That's because of Coronavirus. Normally I would be in Lenggries by now, where I have been running a ski school with about 60 instructors since 2008. In the fall, I'm usually busy for weeks preparing for the ski season, as was the case last year. But the start of the season has been delayed due to the lockdown."
Post-skiing career
Never one to shy from new challenges, Gerg has been busy since retiring from professional racing. Seeking enjoyable projects that would allow her to meet people she would like to spend time with, she created the Schneekristalle Foundation to help socially disadvantaged and disabled children. In 2012, the year it was founded, the organization supported 500 children, and since then the number has swelled to 6,000. "My partner, Achim Winter," said Gerg, "is a great help with the project, and his daughter Vanessa works side-by-side with me to find donors."
Since 2013, Gerg has also been a successful speaker. She gives 20 or more talks a year, appearing at skiing events and other gatherings to talk about her eventful life. She encourages people to pursue goals and set their own paths, reminding them that success depends greatly on one's personal attitude, but that team building and teamwork are crucial in every aspect of life, whether or not related to sport.
Remote work in beautiful surroundings
Recently, though, Gerg has been enjoying her relaxing days at Abama Luxury Residences in Guía de Isora. In her Tenerife accommodation, which she shares with partner Achim Winter, "We sleep in, have a nice breakfast at Melvin restaurant, go for a walk, or shop down in the village of Playa San Juan. Every other day we golf on the fantastic course, enjoying views of the ocean and the island of La Gomera. We're going to drive over there sometime as well, and visit the north of Tenerife. On a previous trip, we explored the National Park around the Teide volcano. I'm also doing yoga and Pilates with a personal trainer here," says Gerg, "but work continues. Actually, I'm always working, but that doesn't bother me. I enjoy my work and I don't perceive it as an obligation."
She can do what she needs to largely from her laptop: answer emails, prepare speeches, work out new concepts for the ski school and the foundation, and more. "I can do all that perfectly well here from our Tenerife accommodation. The Tenerife weather is wonderful, the sun provides light; I'm even more motivated in these great surroundings. We are even considering buying an apartment here, and are looking at a few properties at Abama right now."
Charity golf tournament
Gerg is also beginning to think about a golf tournament to be hosted with Abama Luxury Residences to benefit her foundation. With the experience of two similar tournaments behind her in other locations, it's an enticing prospect. "We've just begun the planning, probably for 2022. We would like to host the tournament here at Abama and invite up to 80 golfers to support Schneekristalle. Since I golf myself, I have a long list of potential participants, and Abama has many regular golfers, of course. I think together we can create a great event that the participants will enjoy, and that will greatly benefit the disadvantaged and disabled children we serve."
Gerg seems to have joined the ranks of those making their Tenerife holidays into something more. The circumstances of the past year have forced us all to be more flexible and to adapt to changing conditions even as we pursue the goals that are most important to us, and for Gerg, with her honed iron will, it is just the latest set of challenges to face and overcome.