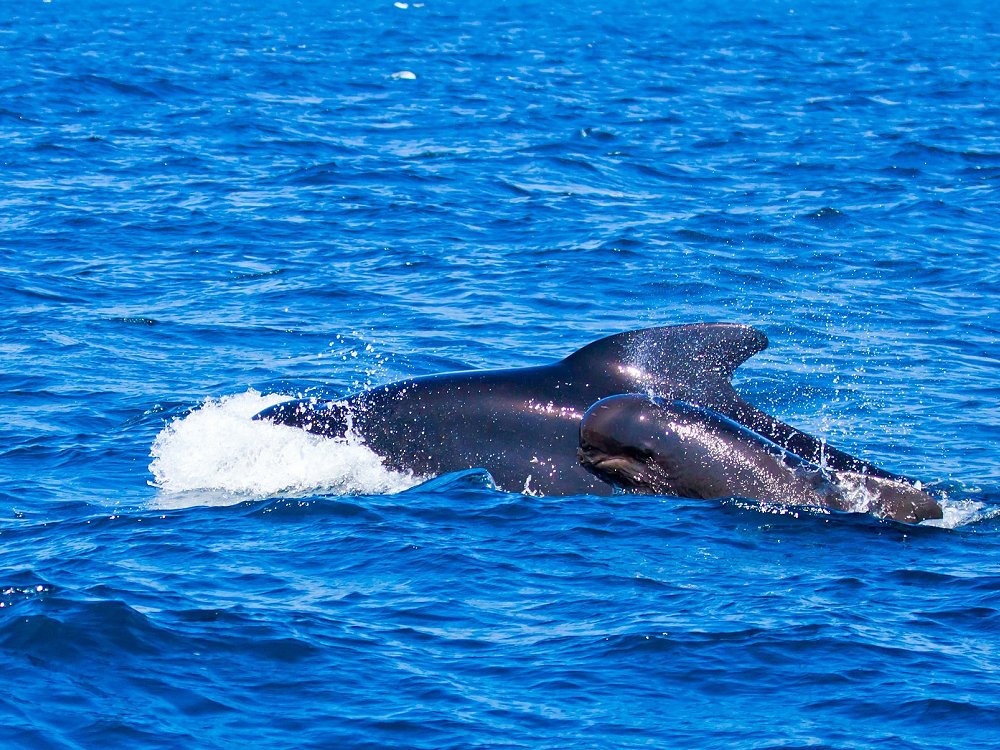 Looking to see some of the famed Tenerife dolphin and whale populations? Deciding to settle in or pass a season at your exclusive Tenerife property will give you the pleasure of enjoying a springtime climate year-round, disconnecting on heavenly beaches, and taking in the impressive scale of the volcanic landscape. And thanks to a varied leisure offer, you'll also be able to have new and unforgettable experiences.
Among the thousands of Tenerife activities on the island, one of the most impressive has to be seeking out ocean mammals like dolphins and pilot whales that spend part of their year in our waters. Did you know that, thanks to the richness of our ocean depths and their ideal temperature, there are up to 30 such species that can be found here? Today we'll tell you not only how you can have a unique Tenerife sailing adventure in privileged surroundings, but how to do so responsibly without disturbing the animals' habitat. Get ready to set sail from your luxury property in Tenerife and enjoy marine life whose beauty will captivate you!
The first thing to know if you want to see Tenerife dolphin and whale populations is that you have to book a boat tour with a local company. There are many to choose from near your residence at Abama, but not all have the "Barco Azul" certification. This is a license possessed only by those companies authorized legally and officially to give whale watching tours. These companies work with experts with a profound knowledge of the Canary Island waters where these extraordinary animals live and the behavior of the mammals themselves. Thanks to their work, feeding the animals or swimming with them is totally prohibited, guaranteeing the complete respect of their habitat and their freedom.
The tours leave from the ports of Los Cristianos, Puerto Colón and Los Gigantes, and the routes are usually about 2 or 3 hours long, which is plenty of time to see these magnificent creatures up close. Depending on the type of excursion you book, you might be able to have a swim afterwards or try snorkeling Tenerife near the impressive cliffs of Los Gigantes, one of the largest basalt formations in all of Europe. Getting a view from the ocean of the towering walls, gorges, and layers formed by multiple eruptions is truly a sight to behold.
If you want to have an even more impressive experience and you have more time, we recommend that you opt for a 5-hour tour. These often include lunch, two swims, and a full run of the south coast of Tenerife that takes you into the channel that separates the island from La Gomera. These waters, characterized by their high concentration of nutrients, as well as their ideal temperature, cleanliness, and depth, are where you will find the largest diversity of fauna, including dolphins and pilot whales.
The pilot whale is one of the most well-known and, at 20 meters in length, one of the largest whales on the planet. They live in deep waters where they feed on giant squid, and you can sometimes come upon them stopped and resting, especially when the ocean is calm. They are easily recognizable thanks to their broad, arched black dorsal fin and for their particular way of moving at the surface. This mammal also has a characteristic dark grey color that fades towards the underside. They are the most common species of whale in this channel of temperate waters separating La Gomera from Tenerife, and you'll be happy to know that you can find them easily throughout the year, quite close to the coast.
There's no doubt you'll feel excitement when you see those first Tenerife dolphin dorsal fins break the surface at a distance as your boat approaches and you feel the ocean breeze on your skin. And once you stop the motors and find yourself surrounded only by the sounds of the animals and the ocean, you'll feel that connection between man and nature that no words can describe. But this is just the beginning of what to do in Tenerife...read on for more!