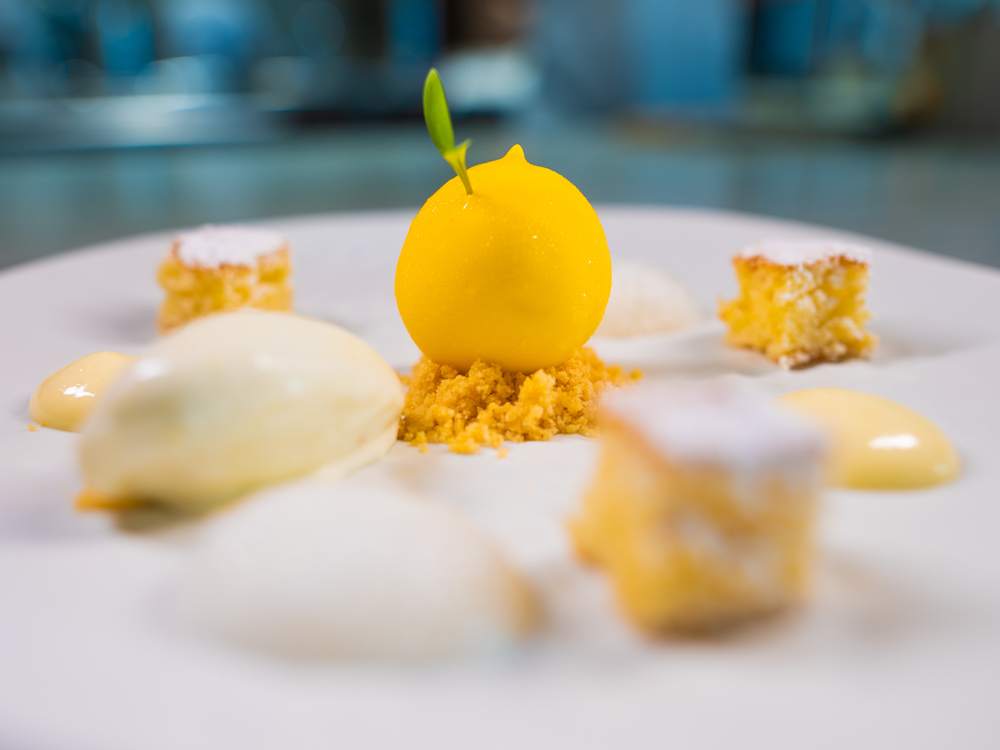 Come with us on a delectable journey of the senses through the culinary possibilities awaiting you in the flavours, sensations, smells and colours of Tenerife food. Filled with delights and products unique to the island, interwoven with long traditions, these goods have evolved to adapt to even the most demanding of palates.
Just metres from home at Abama Resort you'll find the Michelin-star restaurants M.B by Martín Berasategui and Kabuki. The first fuses Tenerife ingredients with international haute cuisine and the latter offers a Japanese menu prepared to the highest standards. But the culinary offers don't stop there, with more than 10 other restaurants on the grounds including Martín Berasategui's Melvin and the to the creative Basque tapas at Txoko.
But no matter where you go on the island, you'll find that gastronomy and Tenerife walk hand in hand, and this adventure begins in the traditional markets and local product shops. Without much searching, incredible typical Canary Island dishes can be found that are easy to prepare at home to surprise your family and friends. Below we highlight the local ingredients of Tenerife and traditional Canary Islands cuisine that form the backbone of much of its culture.
From the celebrated Canary Island bananas to the interesting olive oil of the archipelago, to gofio and dragon fruit, Tenerife has a wealth to explore. Read on to discover some well-known and not so well-known, but still delicious, dishes, including the famous papas arrugás con mojo picón, sancocho, frangollo, cocido canario, quesillo, and huevos moles. And we've also included some of the other best restaurants in Santa Cruz de Tenerife, the Canary island with the most total Michelin stars. We'll finish our culinary adventure back here at Abama Resort, a place that brings together everything a food lover could wish for.
The Canary Islands banana and gofio: symbols of the islands
If we had to choose two foods that are eminently characteristic of the Fortunate Isles, it would be the Canary Islands banana and gofio. Their simplicity and humble nature are compatible with their versatility and, precisely for this reason, they have a place in every kitchen. In fact, the island's bananas and Canary Islands gofio are packed with nutrients pleasing flavors; it's no wonder many famous chefs have included them in their most innovative recipes.
Although the climate in Tenerife provides the perfect conditions to grow a wide range of fruit, the star of the show is undoubtedly the Tenerife bananas. As the most important crop in the whole archipelago, it carries a Denomination of Origin certification that endorses the quality, nutritional value and sweet taste for which it has been internationally recognised. In addition to the health benefits of these bananas and the ease with which they can be transported and consumed raw, they are also easy to combine into different dishes. Gourmet combinations like banana and chocolate cake, fruit skewers with a Pedro Ximénez reduction, and savoury creations such as banana lasagne are dishes where this fruit can shine.
Canarian gofio is the other flagship of local cuisine and Tenerifans are rightly proud of it. Gofio is a toasted flour that comes from wheat, corn or barley or even a mixture of all three. It is rich in fibre and low in salt and fat, which means it is a food that helps prevent and control cholesterol. It is also a source of minerals and other nutrients such as vitamins A, B (B1, B2), C and D, and Omega-6 fatty acids and proteins. So, if a balanced and healthy diet is what you are after, it should be a must-have item in your shopping basket.
The consumption of gofio on the island dates back to long before the Spanish conquest and that is precisely why it is a staple of almost any Canary Island pantry. It is versatile, easy to consume and can be found in all supermarkets. In addition, it is inexpensive, nutritious and smells heavenly. For most Canary Islanders, gofio can be eaten in a number of ways: either with milk alone; in the form of a dough to make other dishes, desserts or cakes; with the typical escaldón de gofio; or adding it to cheeses or soups.
Canary Islands potatoes and dragon fruit: gifts from the land
Having a luxury residence in Tenerife, you're well aware of the heavenly climate. This, together with its geographical traits, mean that the island has some special agricultural products with exquisite and distinctive flavours, including fruit in which natural simplicity and the exoticism converge, and call the attention of many chefs to whom typical Canary Islands food appeals greatly.
Canary Island potatoes are one such example. The so-called Papas Antiguas Canarias have been granted a Protected Designation of Origin (PDO). It is not surprising that with 29 unique genetic varieties and more than 40 varieties in total, these nightshades play a leading role in one of the best known Canary Island recipes: papas arrugadas (wrinkled potatoes) with mojo picón. This humble but delicious food of Bolivian origin has been grown for over 500 years in the Canary Islands and its flavour, together with its culinary possibilities, will continue to be part of Tenerife's gastronomy for a long time to come.
But the options for eating Canary Islands potatoes don't stop there. There is a wide range of dishes in which they make an appearance: in purée or cream, au gratin, in omelettes or simply roasted. Not to mention one of the most mouth-watering traditional recipes: with carajacas featuring filleted liver, garlic, paprika and cumin.
A more recent addition to the recipe book is the pitahaya or Tenerife fruit which originally came from other latitudes such as Mexico, Bolivia, Colombia and Peru, but which is becoming increasingly popular in Europe. It is one of the most versatile Canary Island fruits. It can be eaten whole, including the seeds, or included in salads, ice cream, jams or yoghurts. Its benefits include its antioxidant qualities and its support for perfect, moisturized and glowing skin. Although they contain few calories, the Canary Islands pitahaya offers an explosion of nutrients: B group vitamins, potassium, iron, phosphorus and calcium, and in the case of the red variety, vitamin C. The health benefits don't stop there though. Dragon fruit can also aid in relieving stress, headaches, and even help control dandruff.
Oil, cheese and Spanish honey: a taste of tradition
If there are three products that have accompanied most civilizations throughout history, they are olive oil, cheese and honey. They too make an appearance in local cuisine.
The internationally renowned and unique Spanish olive oil, also has its Canary island version. It is called Agüimes olive oil, a special product whose excellence was registered in 2001 by the World Germplasm Bank of the University of Córdoba. Thanks to the temperature, altitude, winds and soil in which the Verdiel de Huévar olive trees grow, this oil from the Canary Islands stands out for its excellence. Plus, as is always the case, the island's climate and geology have given rise to a unique, characteristic product with immeasurable flavor, colour, texture and nuances. This olive oil is smooth, fruity and slightly bitter, with tangs of tomatoes and fresh grass. Always a winning bet when it comes to preparing or accompanying a variety of dishes, you can try it with some delicious local cheeses.
Tenerife produces many types of artisanal Canary Island cheese: cured and slightly spicy varieties from El Tanque, those from Arico-Fasnia, Anaga and Teno; and others from Benijos, Arico or La Orchilla. There are endless possibilities for cheese lovers to sample a spectrum of cheeses that can be consumed alone or in a Canary Island recipe of fried or grilled cheese. Such is the quality of Tenerife cheese that, in 2017, it was honoured at the World Cheese Awards, the largest competition of this type in the world, featuring more than 3,000 samples from 33 countries.
Cured, semi-cured or fresh, all Canary Island cheese is of high quality, but perhaps Pajonales, a special Gran Canaria cheese, can be said to be the most delectable. It is made with milk from the south of Gran Canaria, which, being an arid area, produces milk with more fat. The process of care and craftsmanship results in an intense butter flavour with hints of fruit and a spicy aftertaste. The secret is in its slow cooking at a low temperature, followed by up to ten months of maturing.
In discussing the most typical foods and products of Tenerife gastronomy we cannot leave out the sweetest of all: honey. Though honey from other islands is also highly praised, the honey from Tenerife was awarded a Designation of Origin in 2014 and includes 13 mono-flower varieties. The Spanish honey produced by the islands, is thanks in part to an exclusive subspecies of bee, the Black Canary Bee, a jewel of biodiversity that has adapted to the distinctiveness of the local climate and blossom to produce excellent honeys with an infinite number of surprising nuances, aromas and characteristics. Anyone with a sweet tooth will have to try them all.
Canary Islands cuisine: the perfect combination of tradition and fine dining
With this diversity of native ingredients, and this feast of flavors, colours, aromas and textures, you must already have an idea that typical Canary Islands food is spectacular. The gastronomic tradition of Tenerife is characterized by the great simplicity and freshness of its ingredients, two fundamental things that converting the act of eating into an experience for the senses. From appetizers to desserts, to sample Tenerife food is to partake in its history and understand this rich mix of cultures.
To prepare a recipe typical of Canary Islands cuisine, you need not go far. Use market ingredients and familiarize yourself with classic recipes that will enrich your cooking with the vital aromas of a mestizo people. Cooks in our luxury homes in Tenerife take note! For starters, you can't miss the typical Canarian potatoes with Canary Islands mojo sauce. Queen of archipelago gastronomy, this sauce should never be far from the table. Whether red or green Canary Islands mojo sauce, it will always be a fitting accompaniment to any dish. Or try the subtle and delicious gofio croquettes with chorizo de Teror or the surprising roasted cheese with mojo to savour the unique offerings of Canary Island appetizers at their best.
As for main dishes, opt for fish with onioned whelk or cod with almonds, or should you want a meat dish, try a traditional Canary Islands stew. Also, don't forget the escaldón de gofio canario: a rich soup that can be made with meat, fish or even in a vegetarian version. If your stay at Abama Resort coincides with Lent, try cooking some exquisite traditional food in Tenerife: sancocho. Complemented by potatoes, sweet potatoes, mojo, or pella de gofio, the star of the dish, the wreckfish or grouper, will delight all your guests.
If you are spending New Year's Eve in Spain, we would like to recommend a list of local options for a holiday meal. Turkeys can be substituted for a roast pig's leg to refine your cooking skills. Simply choose a leg at the market and season it well. Add garlic in strategic incisions to give it more aroma. Grease the skin with lard and leave it in the oven at 180º for some time. Calculate one hour per kilo of meat and breathe in the incredible aroma that will permeate your kitchen. A totally original and zero-kilometre Christmas dinner made with regional culinary products!
And there can be no talk of dishes and recipes without including succulent Canary Island desserts. Frangollo is one of those fresh and healthy delicacies with a taste of tradition and which many households are currently determined to recover. Those keen to try all of the island's delicacies will have to find the sweet pasties known as "truchas", or quesillo, huevos moles or gofio in any of its sweet forms: pella, tarts, cakes, mousses.
As a final note, if you don't have time to make a time-consuming dessert recipe at home, there are places near Abama that will gladly help. At 100% Pan, master baker and pastry chef Alexis García makes gourmet products in his Tenerife bread oven. We are delighted to have this shop so near, with his creations making life in our paradise even sweeter.
Michelin star restaurants in Tenerife
If good food is your thing but you don't spend every day in the kitchen, don't fret. In close proximity to your luxury property on Tenerife, you'll find a wide range of top restaurants that impeccably combine specialty products to create the most contemporary cuisine. This is corroborated by the respected and internationally known Michelin Guide, the oldest European hotel and restaurant guide, a reference book and compass for all foodies. Tenerife is the Canary Island that boasts the most stars, specifically six Michelin stars, distributed among five of its restaurants: two at Martín Berasategui's M.B, and one each at El Rincón de Juan Carlos, Kazán, Nub and Abama Kabuki.
Try the tasting menu at the M.B Martín Berasategui, located in the hotel The Ritz-Carlton, Abama, and be amazed by the originality of his creations. Any dish on the menu will be exquisite, but we suggest the grilled tuna belly on Iberian dashi broth spaghetti and the flame-grilled pigeon breast on cocoa. Another gourmet possibility close to your home in Tenerife is the Japanese cuisine of Abama Kabuki by Canary Islands chef David Rivero. Located in the Abama Golf Clubhouse, this Michelin starred restaurant awaits you with handcrafted Japanese fusion offerings that make use of local ingredients to offer a completely original menu.
Abama, a focal point of Tenerife's gastronomy
Top quality local products, internationally renowned chefs, restaurants that combine innovation, vision and tradition, and pioneering gastronomic experiences will leave you wanting nothing. All this, and much more, converges at Abama, with additional dining options such as the Melvin Restaurant, Berasategui's third project at the resort after his Basque tapas restaurant, Txoko. Simply go to Las Terrazas de Abama and allow yourself to indulge in the Mediterranean menu that blends the exquisite local market products with harmony and sophistication. Add to that the impressive views of the island of La Gomera and the Atlantic Ocean, and the unforgettable experience transcends the culinary. If you want to enjoy all this without leaving your home, try the "Chef at Home" service, in which the Melvin by Martín Berasategui team, led by chef Diego Dato, will create an exclusive and personalised menu especially for you, or their a la carte breakfast and room service.
As the above testifies, trying out Tenerife food is an experience nothing less than sublime. A splendid combination of flavours and textures derive from unique products when attention is paid to all their distinctive qualities. Canary Islands dishes, thanks to their versatility, surprise chefs and diners alike. So, if you are a lover of good food and you want to try new flavours from around the world, Abama Tenerife is the perfect spot for you.