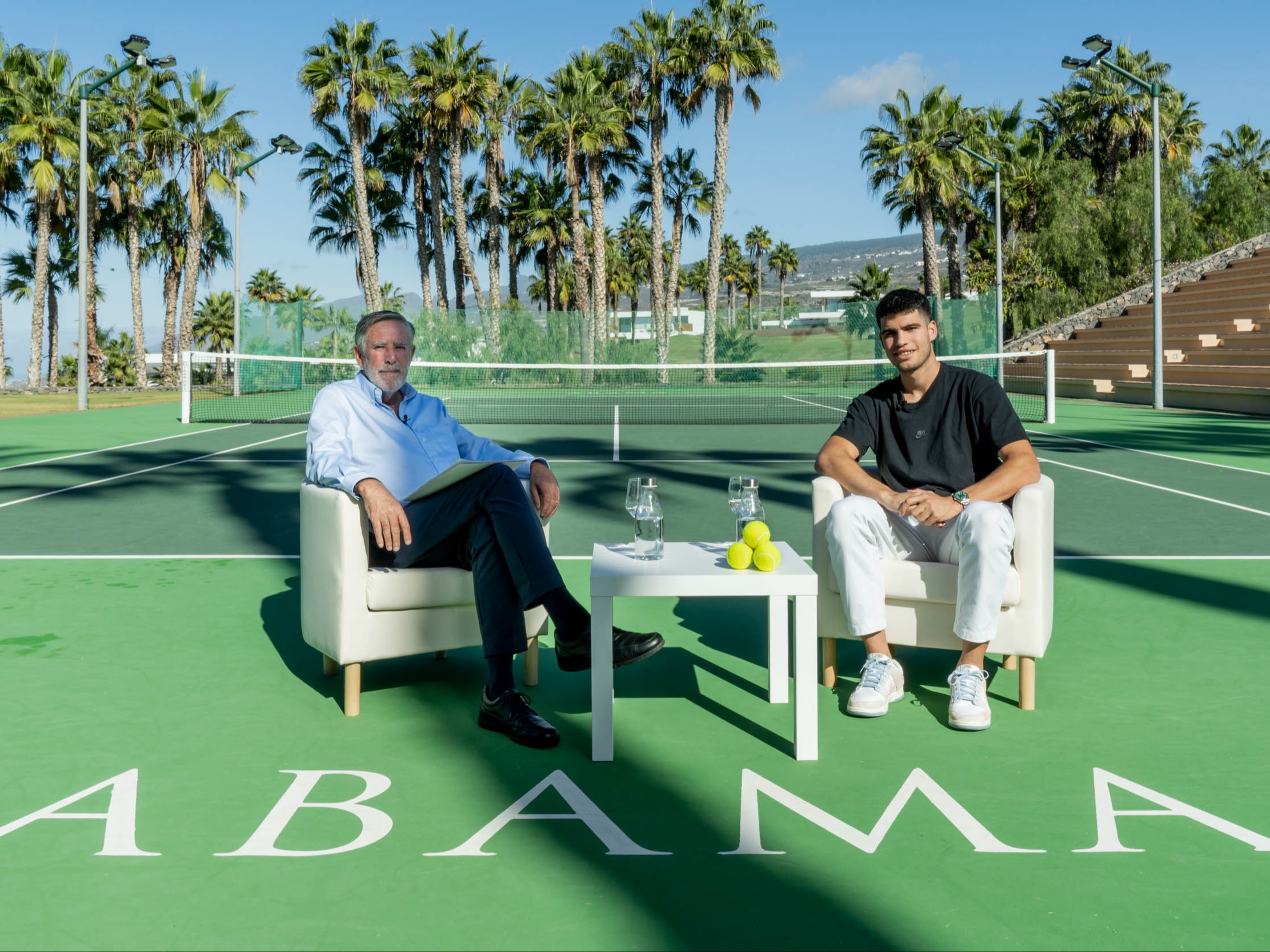 November was an exciting month at Abama as our newly opened La Plaza hosted its first large event: a press conference for tennis World No. 1 Carlos Alcaraz. The 19-year-old, who is recovering from an injury before prepping for the Australian Open in January 2023, spent several days holidaying in our Las Terrazas de Abama Suites. We welcomed media and numerous dignitaries from Tenerife, including President of the Cabildo of Tenerife Pedro Martín and Guía de Isora Mayor Josefa Mesa. Afterwards, Carlos Alcaraz sat down with Brendan Breen, the Director of Abama Golf & Abama Tennis, to talk about his stay and the exciting year ahead.
Brendan Breen

: You've been here for a few days on holidays at Abama and I hope you're enjoying the resort and its surroundings. First of all, I'd like to congratulate you on closing out the year as the ATP World No. 1. How do you feel about being the youngest tennis player in history to have obtained that title?

Carlos Alcaraz: Well, to me it's amazing. Since I started playing tennis, basically, my dream was to be number one in the world, to win a Grand Slam, and to be able to achieve it so soon is, for me, as I said, incredible. Everything has come very, very quickly, but I think it's the fruit of the day-to-day work over years of playing tennis.
The fans obviously have high expectations for the start of your '22-'23 season. Are you looking forward to the Australian Open, the first Grand Slam of the year?
I can't wait to start, really. I'll go as I go to each tournament: trying to win it, believing that I can win it. I have enough time to prepare, to get in good training sessions, have a good preseason. I'm very excited to go to Australia.
Great players like Nadal and Djokovic have praised your game and believe you still have a lot to reveal. How does it feel to receive praise like that from some of the most world-renowned tennis players in the history of the sport?
Well, honestly, many times I still can't believe it. When someone like Rafa or Djokovic or Federer talks about your game - not just about how good something is for tennis - it's special. It still feels unreal. But it's incredible to be able to share dressing rooms and tournaments with the players you watched as a child and - obviously - it's incredible that they would praise my game in that way.
What recommendations would you make to young people with promise who want to get to the top of the game?
I always say the same thing: the first and most important thing is that they enjoy playing tennis. There are many players - many children - you see who aren't really having a good time. It seems like they're maybe forced to be there, and I don't think that's right. For me, the main thing is that they should enjoy playing tennis. If later they decide to be more professional and they want to dedicate themselves completely to the game, my advice is that they train at 100% every day, treat every practice like it's their last one, and obviously don't rush. Enjoy the journey.
In the last few weeks, we've seen you work hard to recover from your injury. Have your days at Abama helped you relax and disconnect a bit?
Yes, they definitely have. The tennis season is very, very long and you need to build in your moments of relaxation. But I have had to go to the gym from time to time while here to continue my recovery process, which is not a simple thing. Overall, though, I've had a lot of time to disconnect.
What impressions of Tenerife are you taking away with you? Of its landscapes, its food and its people? Have you been here before?
No, this was my first visit, and I was very pleasantly surprised. It is a very beautiful area with amazing landscapes and super friendly people. And you eat spectacularly here, too. The truth is I was very surprised and it's a place I would return to.
As you've seen, Abama has a great gastronomic and leisure offer. You're staying at Las Terrazas de Abama Suites…did you try Martín Berasategui's restaurant, Melvin?
Yes, I went to the restaurant the first day and it was great. I was recently arrived, went down to the restaurant, and it was spectacular. I am definitely enjoying my experience.
Right now we're at the Abama Tennis facilities. We hope to see you playing here soon! This coming year we'll host at least three ATP tournaments…which bells does that ring for you?
Well, it brings back great memories of when I played the ATP Challengers. It's wonderful to be able to bring tournaments to your country and bring tournaments here, isn't it? For all the players too. I've traveled a lot for tennis, and the truth is that having a tournament in a place like this helps you feel better off the court. It makes you happy. So I think the players are going to enjoy it a lot.
As you know, we also have a golf course here that is quite well known in Spain. Obviously, because of your injury, you can't practice…but do you play golf?
When I can, yes. When I'm at home I really like to play golf.
Are you already at Rafa's level? He's a very good golfer, isn't he?
No, no, I have years in front of me before I reach his level. They started way before me. I still need some time!
This visit from World No. 1 Carlos Alcaraz also served to announce that in 2023 Abama will host at least three ATP Challenger Tournaments. The first will be an ATP Challenger 100 between the 15th and the 22nd of January, and the other two will be ATP Challenger 75s between the 29th and the 5th of February and the 5th and the 12th of February. We can't wait to host more great players here and hope to continue strengthening Tenerife's positioning as a quality tournament venue.
Published in category
News
Share this post