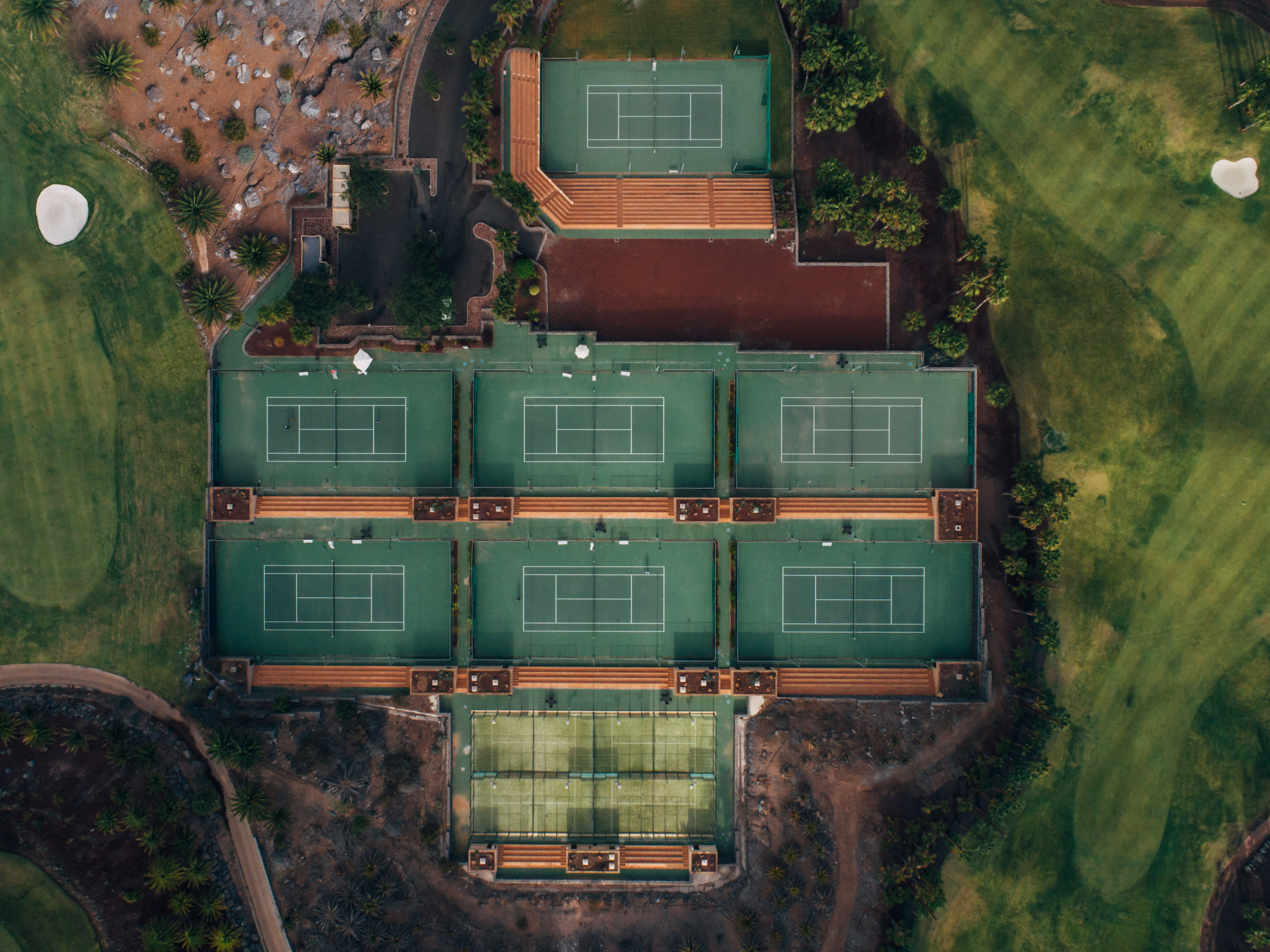 Healthy and delightful to play at any age, tennis occupies a privileged place at Abama thanks to the work of the Abama Tennis Academy, one of the best facilities on Tenerife. With world-class instructors, professional courts, and a variety of learning options, tennis training at our resort is a true experience for residents and guests of our Tenerife accommodation alike.
Ideal for improving coordination, toning muscles and strengthening joints, tennis is also recommended by many doctors for its mental benefits. Social interaction, stress release, and increased serotonin provide a sense of well-being that will have you upping your practice hours in short order. Whether you've never picked up a racket or are looking to improve your technique, this is the ideal place. The Academy's training program adapts itself to all ages and skill levels.
We spoke with Hegoi Jáuregui, Head Coach of the Abama Tennis Academy, about the advantages of training at Abama and the types of classes available. Jáuregui was the Basque Country regional champion in the juvenile division and spent five years at the Sergi Bruguera Academy. He has trained with great world champions like Garbiñe Muguruza and loves to share his knowledge and experience with students of all ages.
What can the Tennis Academy offer to someone who's never played?
It is never too late to learn and have fun, which is why anyone is more than welcome at our Academy. It's a good idea to take a few private tennis lessons to establish a technical foundation, and then begin playing some skill-level-appropriate matches as you improve. Group classes are also a good option, especially if you do a week at a time, and they're a fun way to meet people. When international travel becomes a bit more regular, especially from Northern Europe and England, the group class options will be reactivated.
Is the Academy open to everyone, owners and guests? What's the minimum amount of class time you recommend in order to make them productive?
Yes, the classes are open to everyone: hotel guests, Las Terrazas guests, Abama homeowners and even people who aren't staying at the resort. As for the time you should dedicate, it really depends on your objectives and how long you'll be at the resort. Guests usually stay between one and two weeks and we are available seven days a week. For residents who want to maintain their level of evolution, I would recommend two to three days of practice a week, minimum.
What types of classes do you offer?
We do individual classes, classes for two or three people, and group classes with three or more people. Generally, the classes last one hour, but there is also the option of getting two hours or even five-hour packages so you can choose the days and times. There are also 45-minute mini-lessons for boys and girls under the age of nine.
Do you offer different courses according to the skill level of the clients?
We adapt to what each student needs, because everyone on the teaching team has extensive experience in the tennis world. When group classes are requested, obviously we do our best to divide people by levels and ages.
What advantages does the Academy offer for those who already play?
Someone who already has tennis skills can play directly with us at a good level. We call these "hitting sessions", which basically consist of volleying, returning balls, and playing matches with the instructor. This is the recommended approach if you're a medium-advanced-level player.
Are the courses open year-round? Is there a time of year that's busier?
The Academy is open all year, but the high season is between October and April, which includes Easter, Christmas and British holidays. Probably our largest contingent of clients is British.
What are the best features of the Abama Tennis Academy?
The surface of all our tennis courts is Flexi®-Pave, which, unlike other fast court surfaces, isn't hard. So it's easier on the joints.
I would also highlight the incredible panoramas from the courts. While you're playing you have impressive views of the ocean and the island of La Gomera and you are surrounded by nature. There is an atmosphere of incredible peace and beauty here! We have a team of well-trained instructors who are very skilled, as well as high-quality facilities that have been used for several professional tournaments. It's one of the best centers in Tenerife, no doubt.
With more than 3,000 hours of sunshine a year, and an average temperature of 21ºC, the Tenerife weather is always conducive to practicing this thoroughly enjoyable, motivational sport. So the next time you come to Abama for your Tenerife holidays, plan to up your game and exceed your own expectations at the Abama Tennis Academy.