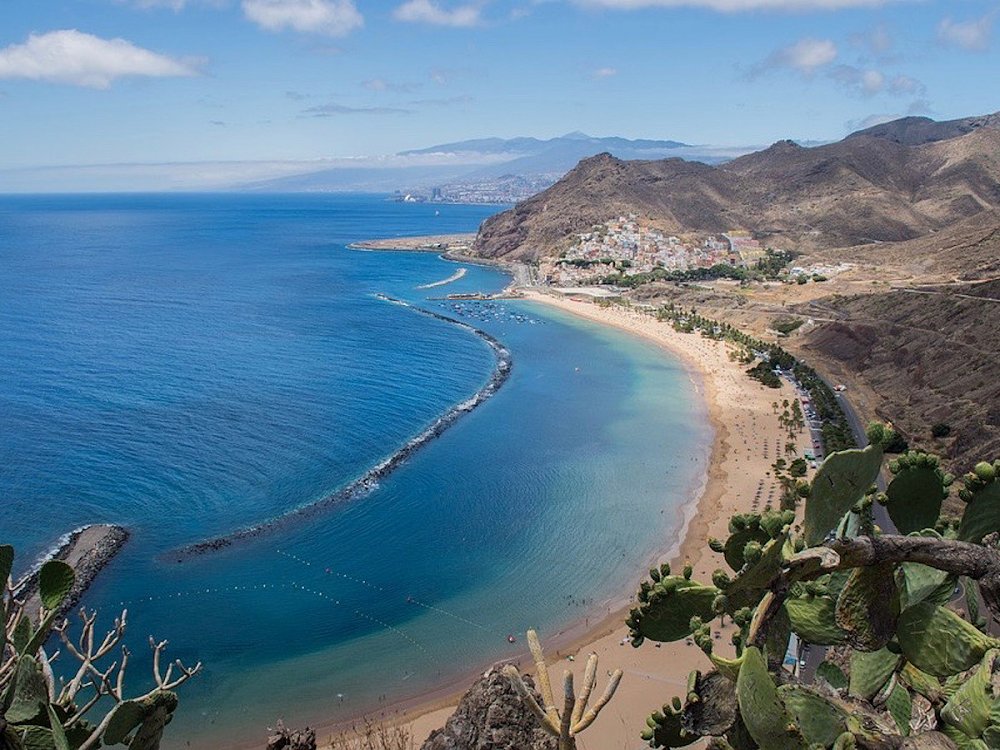 It's no secret that some of the best beaches in Tenerife are near our luxury properties at Abama. Besides our own beach, in the neighboring town of Adeje, the crystalline waters of Torviscas or those of Duque beach just beg to be swum in. And best of all is that both beaches have the Blue Flag emblem, in other words, they have first-rate bathroom facilities and quality standards to ensure your day at the beach is as enjoyable and relaxing as it ought to be. We'd like to recommend 6 other corners of Tenerife with this same internationally recognized certification. Lovely beach walks, refreshing ocean spray…don't miss them!
Playa de La Arena
The most well known of the Blue Flag beaches on Tenerife, La Arena Beach offers a wealth of exotic marine life and numerous dive clubs to help you enjoy it. And located just a 15-minute drive from Abama in Puerto Santiago, the reason to visit is as clear as the water. After a spell in the sun or the sea, a stroll about the town sampling typical Canary Islands dishes is the perfect ingredient to a great afternoon out.
Las Vistas Beach
If you want to meander down a long stretch of sand or are looking for a family-friendly place, Las Vistas will be one of your best beaches in Tenerife. At almost a kilometre in length and with waters as crystal clear as they are calm, it is the perfect spot for a day of pure relaxation less than 30 minutes from your exclusive residence in Tenerife. Adding to its charm, the beach features its own artificial island with a fountain that spouts sea water into the sky.
Los Cristianos beach
Nearby, also in Arona, the charm of this urban beach is its distinctive maritime ambiance that has been attracting tourists since they first began to visit the island in the 1960s. In addition to enjoying its calm surf and its golden sand, you can delight in the small boats bobbing about on the water without renouncing excellent services and a wide range of water sports.
The beach and coves of La Jaquita
A little over half an hour from your exclusive home on Tenerife, the coast of Alcalá's main attraction is its long promenade, from which you can enjoy stunning sunsets. If it is too hot to walk, its coast, divided into three small black sand beaches with natural pools, is sure to entice you to immerse yourself and forget everything else.
El Socorro beach
Located in Los Realejos, just one hour from your luxury property on Tenerife, this volcanic sand beach offers spectacular views of the rugged silhouette of the north of the island. The impressive waves delight even the staunchest surfers but, because they break far from the shore, swimmers can also appreciate this magnificent enclave. Of course, keep an eye on the currents and especially so if it is your first time.
San Telmo Beach
Last but not least, we can't leave out this picturesque little spot in Puerto de la Cruz, an old jetty with black sand and pebbles to lie out on. Though you'll have to drive more than an hour, you're sure to love the small natural pools that form between the rocks when the tide goes out, as well as the nearby hermitage of San Telmo, which dates from the 18th century.
So, which of the best beaches in Tenerife will it be today? Their close proximity to Abama Resort means that you can visit them all! Just one more reason to hunt for that perfect coastal property for sale...