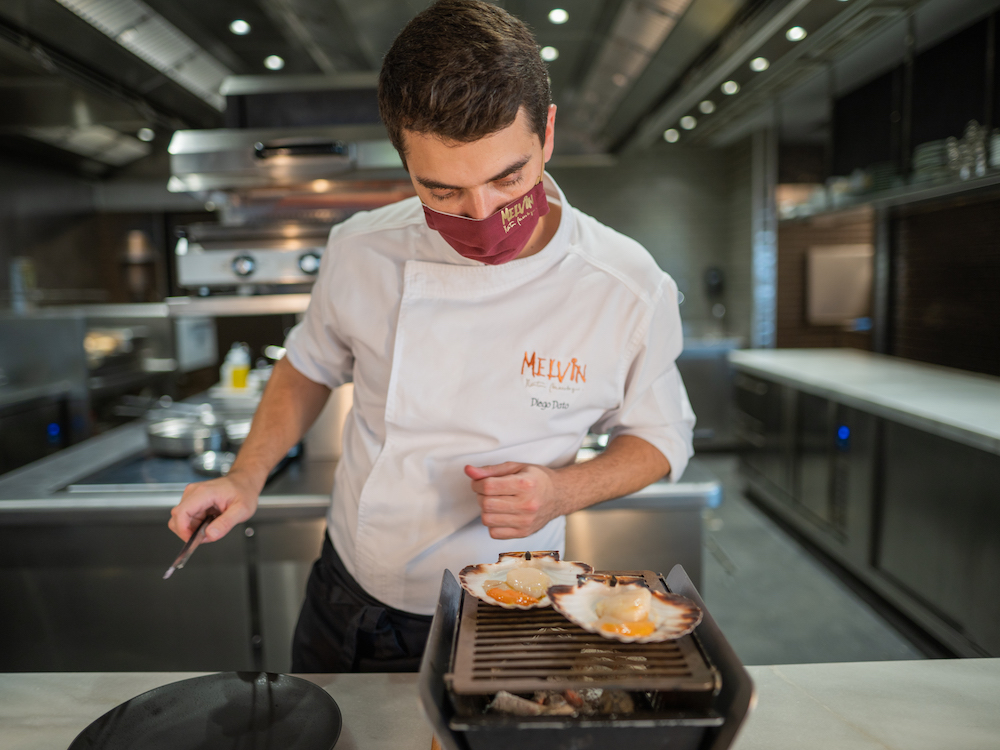 Whether you want to savor an à la carte breakfast made with local ingredients or enjoy the sunset over the Atlantic Ocean, the Tenerife fine dining at Abama is second to none. Travel to the Basque Country, try the delicacies of the Mediterranean Sea, discover recipes typical of the Canary Islands, or even enjoy a Japanese menu. Without leaving the resort, just a few meters from your home you can choose from a variety of options at any time of day or night, crafted by such culinary greats as Martín Berasategui. If you seek Michelin-star restaurants, a novel fusion experience, or the privilege of enjoying a custom meal in your living room, you'll find it here at Abama. Tempt your palate with this overview of our restaurants, each offering a unique atmosphere and the charm of Abama's surroundings. There's a venue for every occasion and each will have you toasting another season in this gated community on Tenerife. Bon appétit!
M.B by Martín Berasategui, international excellence
A Basque-inspired menu delights the diners who come to M.B by Martín Berasategui, the only restaurant in the Canary Islands with two Michelin stars and two suns from the Repsol Guide. Here, the talent and originality of chef Erlantz Gorostiza shine as he channels the great Martín Berasategui, internationally honored with 12 Michelin stars. Located in The Ritz-Carlton, Abama, M.B is a refined fine dining experience in which fish and shellfish predominate in inspired preparations that include Mediterranean touches as well. Familiar flavors are reborn here, and complemented by a wine cellar with more than 700 selections.
Passion for Basque food at Txoko
After the success of M.B, Berasategui and Gorostiza wanted to honor the lighter, but no less delicious, side of the Basque culinary tradition: tapas. Txoko was born to pay homage to traditional recipes for pinchos, but with flair and creativity mixed into the preparation and presentation. Its location near The Ritz-Carlton, Abama's El Lago pool offers a dreamy setting to match the edible surprises in store. Whether you're ready for a full meal or just searching for a few delectable bites, Txoko is a true delight for the senses.
Abama Kabuki, a tribute to Japanese haute cuisine
With extraordinary views over the golf course and the island of La Gomera, Abama Kabuki is an authentic Japanese gastronomy experience. Located in the Abama Golf Clubhouse, this luxury restaurant has one Michelin star and two Repsol suns that recognize its innovative fusion of Japanese and Mediterranean food. Helming the kitchen, chef David Rivero has brought his unique sensibilities to bear on the combination of ingredients and the presentation of the dishes. A sushi bar, the exclusive reservation-only Kabuki Space, and the Kabuki Bar complete the offer, and you can choose from more than 300 wines and a selection of sakes, beer and cocktails from Japan.
The best panoramic views from El Mirador
Wooden beams, a thatched roof, cooling white tones, and a large garden: inspired by the architecture and landscapes of northern Africa, the El Mirador restaurant is a soothing environment in which to enjoy a meal or afternoon cocktail. And thanks to its cliffside location, it also boasts magnificent views over the Atlantic Ocean. Seafood dominates the menu, in keeping with the environment that surrounds it, but the cuisine tips its hat to the Mediterranean with extraordinary rice soup and paella, too. The adjacent infinity pool means that diners can blend their leisure activities seamlessly during their relaxing European holidays.
Melvin by Martín Berasategui, the elevation of Canary Island flavors
Named in tribute to the resort's first architect, Melvin Villarroel, Melvin restaurant is Martín Berasategui's third restaurant on the grounds. Its spectacular location in the Social Club of Las Terrazas de Abama makes it the perfect sundown destination, and it's won the appreciation of guests and owners alike with its fine dining interpretation of Canary Islands cuisine. The menu developed by Berasategui has found its perfect interpreter in chef Diego Dato. A range of textures, aromas and flavors pay tribute to local ingredients for breakfast, lunch, or dinner. Additional luxury services include Chef at Home, which will let you plan and serve a Melvin meal at home, as well as exclusive room service for residents and guests of Las Terrazas.
A 100% Spanish experience at the Beach Club
There's nothing like a beach bar for a true Spanish experience, but the Abama Beach Club elevates the concept and makes it an irresistible draw for those who want to dine accompanied by the sound of the waves and the aroma of the sea. Freshly prepared fish, perfectly cooked paellas, grilled meat, surprising cocktail combinations and, above all, a relaxed atmosphere, make this the perfect place to lounge or eat at any time of the year.
The fine dining options at Abama make every occasion a celebration of good food. And the offer doesn't end there. Additional venues, including the Italian Verona, the breakfast buffet at La Veranda, and the comfortable lounge atmosphere of the Lobby Bar will leave you just as delighted. Soon there will be additional offers at Plaza Abama, our new social, commercial, and dining hub for residents, which is currently under construction. No matter your choice, you're sure to have a wonderful evening at one of these extraordinary restaurants, and be reminded once again of everything a luxury house at Abama has to offer.