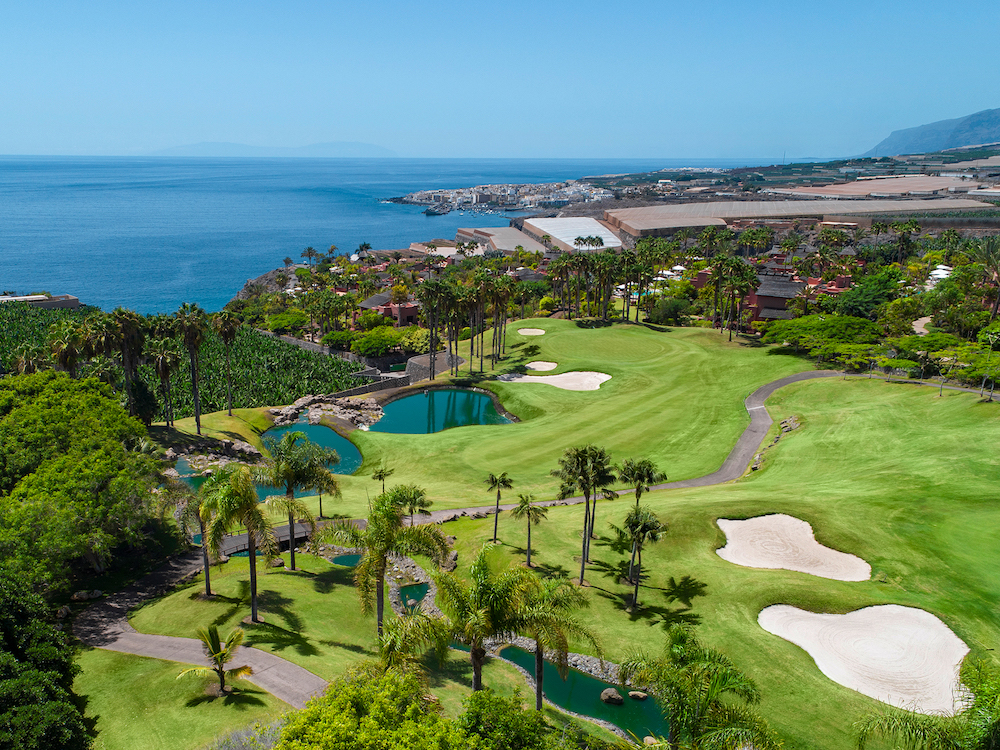 A first glimpse of Abama, one of Spain's best golf resorts, complete with its palm trees, waterfalls and lakes, creates quite an impression. And this idyllic image is further cemented after playing the 18-hole Abama golf course that both amateurs and golf professionals confirm is of unparalleled quality. Renowned former pro golfer Dave Thomas designed Abama Golf in 2005, and his aim was to draw upon the features of the landscape to create this outstanding golf resort, Tenerife.
Since it opened, the course's excellence has led to hosting international championships and appearing in prominent sector publications. Most importantly, it was the first golf resort in Spain to receive an IAGTO quality certification. Join us on this tour of one of the best Tenerife golf courses, offering different levels of difficulty to meet the expectations of all players.
We'll also show you the many ways you can spend your unforgettable golf escapes at Abama or simply enjoy the occasional getaway. And if your intertest is further piqued and you've been thinking about purchasing a home in Spain, a resort like Abama will give you the opportunity to combine a secure location for your residence with the ability to play golf whenever you want. As Brendan Breen, Director of Abama Golf notes, this course "was built with the needs of the residents and guests of the resort in mind. The objective was to create a golf resort exclusively for the enjoyment of owners and visitors."
Abama Golf leads the ranking of the best golf courses in Europe
Totaling some 6271 square metres, Abama Golf has been ranked by Golf Digest as one of Europe's best golf resorts. It is also recognised as the best golf course in Spain for the quality of its services and facilities. This ranking, granted by the editors of the world's best-selling golf magazine, is the type of endorsement golf enthusiasts look for when seeking courses that meet the highest international standards.
Offering some of the best golf breaks in Spain, Abama Golf was also the first course in the country to obtain the IAGTO quality certification granted by the World Organization of Golf Tour Operators. It is an honour that adds to the incredible experience of playing here, surrounded by unparalleled views of the ocean and the island of La Gomera. Additionally, the golf website leadingcourses.com has awarded Abama first place in its ranking as one of the best golf courses in Spain: number one in the Canary Islands and third in the country. In a tourist destination of international standing, having such a distinction is a strong attraction for elite sportsmen and women in search of great courses away from big cities, as well as for less experienced golfers looking to improve their handicap on demanding terrain. Being the best of the Canary Islands golf resorts, Abama has attracted international sportsmen and women in such prestigious events as the International Golf Travel Market (IGTM).
Always on the move in the golf world, Abama Tenerife has also attended important international golf tournaments such as CransMontana, and hosted great golf Tenerife events here at Abama including the IAGTO Tenerife Golf Trophy 2019 and, of course, our lively annual Abama Owners Cup & Gala. Additionally, it is the first course on Tenerife to be EMAS certified by the European Union, ensuring that its administration has an Environmental Management System in place.
Winter golf at Abama
With an average temperature of 21 degrees Celsius year round, Abama Golf makes the dream of playing winter golf in the European Union a reality. Located in the Canary Islands, Tenerife is a destination strategically connected to the continent by two airports. Its exceptional geographical location also makes it a valuable tourist destination and Europe's best kept secret.
If you own a property at Abama or choose to spend your golf holidays in Spain, you will have already seen the wonders of this extraordinary golf course situated at an altitude of 315 metres above sea level, on the west side of the Teide. Along its precise and technically elevated layout is a landscape including more than 25,000 palm trees, 300 species of subtropical plants, and dozens of lakes and waterfalls. The par-72 course stands out for its incredible views of the Atlantic Ocean from every different viewpoint, and is recognized as one of the best winter golf destinations in Spain.
If summer is your preferred season to tee off, you can begin your game at 7:30 in the morning in an Abama Golf buggy. They'll carry you along slopes, fairways and gentle descents and, at the end of the day, you'll feel that peace of mind that only a good round can offer.
Fine dining after a day of golf
Before starting a day of play at the best golf course in the Canary Islands, you must register at the Clubhouse reception area. It is open from 7:30am to 7:00pm to welcome golfers and is the perfect après-golf oasis. It is also the home of our Pro Shop, where accessories, brand-name clothing, and footwear can be purchased. Should your Abama Resort Tenerife stay be short and you'd rather not bring your clubs, they can be rented at the resort to play hassle-free.
Spectacular views of the ocean from the Club's terrace make it an ideal spot for a light meal or a cocktail after a long day. And if you want an exclusive gastronomic experience, book at the extraordinary Abama Kabuki. With ample space to serve its customers, the menu of this Michelin-starred Japanese restaurant in Tenerife is a work of art. With cocktail and sushi bars, and a fusion menu featuring Mediterranean ingredients, you'll find perfect harmony between flavors and aesthetics.
Take classes at one of the best golf academies in Spain
Beginning to play golf is usually the start of a rewarding path that keeps moving forward, and players soon find themselves looking for expert instruction in golf academies in Spain. The excitement generated by your first successful shot and its incredible velocity will leave you wanting to sign up for classes to improve your game. Terms such as swing, tie, birdie or Eagle will begin to enter your common vocabulary, almost without you being aware of them. But true passion for golf also demands the support of a good instructor, someone capable of transmitting their knowledge clearly and with enthusiasm.
With years of experience in practice and pedagogy, the instructors at the Abama Golf Academy have designed courses for different levels to improve golf performance during your golf holidays that perfectly fit the time you have available to dedicate to it. Be it a week's holiday or just a short break, beginners and experts will find their ideal course in our training catalogue. One of the advantages of our golf and spa breaks is that, according to your level, you can sign up for private sessions, a four-hour intensive programme, or 3- or 5-day classes. New golfers have access to a five-hectare practice area with three par-3 holes, which are ideal for gaining confidence. Ample space to focus on learning is key, especially when training requires patience and perseverance.
Buy a luxury property in Tenerife and play golf when you like
Having a luxury property in Tenerife provides a unique opportunity to become part of an international community of passionate golfers. Abama Luxury Residences is a complex with a wide range of properties able to satisfy the needs of different buyers.
At the centre of the resort are Los Jardines de Abama and Las Villas del Tenis, two independent property communities with fully furnished apartments and villas. With the possibility of staying here for long periods and using the property for holiday rentals when away, owners are free of administrative concerns as Abama Property Management takes care of the maintenance and commercial management.
Our Custom Villas and Las Atalayas de Abama are freehold villa properties that complete the current real estate offer at Abama. The Custom Villas allow buyers to invest in a plot of land and design their house made to measure, under the tasteful guidance of Abama's architects. Terraced plots make up the Las Atalayas de Abama terrain and boast modern villas with incredible panoramic views.
Experience an unforgettable golf holiday in Spain
After a day of practice, resting in your luxury flat on Tenerife will seal the end of a perfect experience. The Las Terrazas de Abama apartments have spectacular views over the Atlantic Ocean that will let you drink in the stunning surroundings. Order food at the pool area, while you sunbathe or shop at the gourmet Deli Shop for the ingredients of an authentic Spanish meal to prepare at home. If, after a day golfing, cooking doesn't appeal, then call up Room Service. You can transform your kitchen into a professional culinary space with exclusive dishes prepared by the team at Melvin restaurant, or have them brought directly to the dining room of your residence. Naturally, there is always the option of reserving a table in the restaurant to enjoy an authentic gastronomic experience designed by Michelin-starred Spanish chef Martín Berasategui.
If you like to play other sports besides golf, Abama Resort Tenerife delivers on this front too. There are seven professional-standard tennis courts and four paddle tennis courts on the grounds, all professionally lit to help your game at any time of day. In the gymnasium at Las Terrazas, you can keep fit with your eyes lost in the horizon. Should you need a personal trainer or want to continue with your guided yoga and Pilates sessions, you can also request these personalized services. To golf Abama, Tenerife, is to enjoy every day, but the days you're not playing you can head down to the beach by taking our direct transfer service to this golden cove with its calm waters. A sun lounger, a parasol and a good cocktail are the basic ingredients of a day spent disconnecting on the beautiful Canary Islands coast.
Finally, if you're traveling with your family, whether to your permanent residence at the resort or for your holidays with children, you will be pleased to know that there is an Abama Kids' Camp. This playful and highly educational club will allow your little ones to make new friends, experience nature up close, and acquire new cultural knowledge, almost without realising it, through activities and sport.
When we speak about one of the best golf resorts in the world, it's plain that the details are everything. It's the perfect mix of ingredients, in which sport, fun, relaxation and nature combine in harmony. If you enter Abama delighted with your golf bag, you are sure to leave even happier, with new friends, experiences and plans that will have you wanting to visit Tenerife again and again.