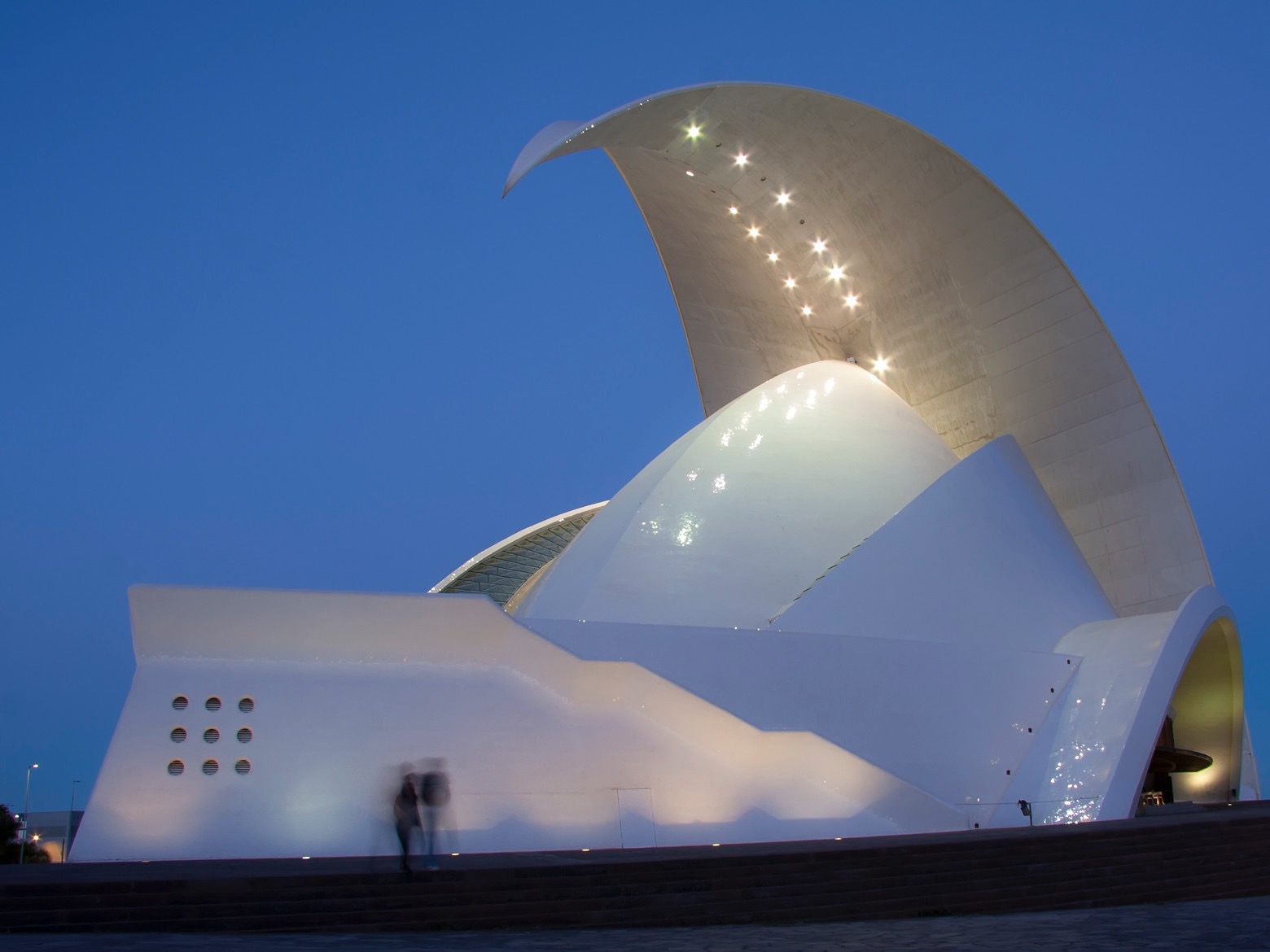 A true symbol of the island, the Tenerife Auditorium is a must-see if you haven't yet. Whether visiting your home at Abama or spending a few days of vacation in the resort's suites, this trip, head to the city of Santa Cruz de Tenerife and discover all the Auditorium has to offer. The monumental architecture of this iconic Canary Islands space stands out in the skyline, day and night, and its magnificent cultural program is always filled with engaging programming.
Modern architecture on Tenerife
Designed by renowned architect Santiago Calatrava, the auditorium's structure is a play of volumes that seem to defy the wind. Because of its similarity to the Sydney Opera House in Australia, some media have come to refer to Santa Cruz as the Sydney of the Atlantic, but there is no doubt that this building has a character of its own. And if you visit, there are additional attractions in the area, including the San Juan Bautista Castle and the César Manrique water park that will make the trip even more worth your while.
A photogenic masterpiece
If you don't have the time to stay for a concert, you'll be happy to know that the Tenerife Auditorium provides perfect photo opportunities day and night. With the Atlantic Ocean in the background and the brightness of the white roof that covers it, you can get incredible images from all angles. And at night, the strategically placed spotlights provide an extraordinary combination of architecture and night sky that will leave you deep in contemplation.
World music and culture
The Tenerife Symphony Orchestra and the Tenerife Opera use this privileged stage throughout their performance seasons, but there is also additional programming that includes first-class jazz, dance and performing arts festivals. It's a true luxury when you're looking for the perfect night out while on holiday, and by far the most prestigious music centre in the Canary Islands archipelago.
2023 Summer of jazz
If you're planning to spend some of your days at Abama Resort for your Tenerife accommodation, register for the International Canarias Jazz & Más Festival and see the inside of the Auditorium while enjoying an unforgettable experience. Here are just a few of the concerts you can enjoy:
July 6th, Jazzmeia Horn
July 13th, Manu Katché
July 14th, Lucas Santana with Sven Rozier and The Lehmanns Brothers
July 15th, Daïda, Thorbjørn Risager & The Black Tornado
July 16th, La Metropole Orkest and Kandace Springs
Your Tenerife holidays that begin at Abama Resort can be further improved by one of the finest stages in the south of Europe: the Tenerife Auditorium.