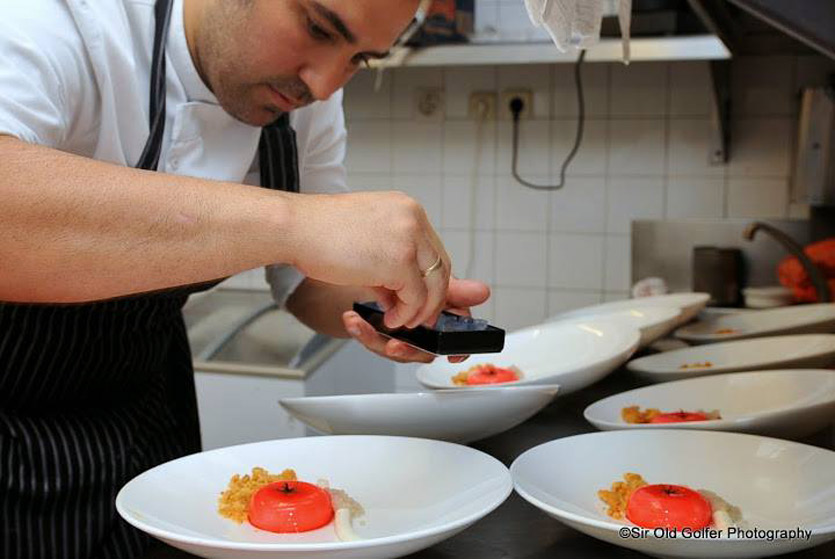 One of the simple pleasures of life is enjoying good bread, and perhaps its only rival pleasure is sharing a delicious pastry with family and friends. And these pleasures are those that Alexis García, the owner of 100% Pan, brings daily to the owners of our villas and luxury apartments at Abama Tenerife. We got in contact with him so that we could find out more about his story once we realized the tremendous success he's been enjoying among our residents. We are nothing less than delighted to have his treats close at hand, making life in our paradise just that much sweeter.
100% bread, but also delicious pastries. What do you love more, making a good bread dough or dreaming up sweet new concoctions?
The bread bakery was where we began, but the satisfaction that comes with creating new textures and designs for pastries isn't really comparable with working with bread. Bread is a living product to which you have to dedicate care and time. We dedicate imagination and much more creativity to our desserts at 100% Pan, and we have a great time.
You're one of the most beloved local businesses among owners of our Abama luxury residences. To what do you attribute this success?
We think that the key has always been our attention to quality and our attempt to stand out in our sector and specialize in what we do.
Do you have repeat customers from Abama? What can you tell us about them?
Yes, we have lots of clients that come daily. Many families visit us for breakfast or lunch and they always leave happy. Sometimes they even write us when they're away or bring a souvenir from one of their many trips.
In a place like Tenerife that's so open to tourism, you must have a lot of contact with people from different places and cultures. What do your international clients tend to ask for the most?
In general, a little bit of everything. Bread is a product that people use every day, and a good croissant is a staple. I'm sure they find most of our products pretty attractive. A lot of our interntional clients also order our desserts when they have company at their homes or as gifts for friends.
Have you incorporated any new recipes or products that these clients have asked for?
No, as of now we've been able to meet their needs without ordering anything special. The style of our products does have a more European origin, with influences from France, Germany and Belgium forming part of the foundation of our work. But of course we're always eager to listen to our clients and do everything we can to meet their needs.
How does the presence of international residents affect local businesses like 100% Pan? Do you note a closer bond?
Yes, we definitely have a bond with our regular customers that stay on the island for long periods of time. We look out for them and they for us. They know that they can depend on our products and services to be available when they arrive and we're delighted for it to be that way.
The baking world seems to be getting back to its roots, using recipes to make bread that was for a time left in the wake of industrial products. Do you think this demonstrates a rethinking of the approach to lifestyle and health within families?
We think so, and we think that's the way it should be. Our point of view is that the poor use of products and their industrialization left our profession lagging for a number of years, which devalued its worth. But thanks to businesses with the same mentality as 100% Pan, an appreciation for quality, professionalism, and good food is coming back. People are paying much more attention to what they eat, and they value it more. There's still a long way to go, especially here on the islands, but thanks to the resident tourists who have other habits when it comes to food, it's an easier road.
You're located on an island with tremendous gastronomic wealth. How do fine dining and Canary Islands ingredients fit together with traditional baking and gourmet pastries?
Our objective at 100% Pan has always been to lead the gourmet baking and high-end pastry sector. By working together with the great chefs on our island and always searching for great new products or reviving wonderful old ones, we've succeeded, in large part, in this endeavor. But the work is never done!
Address of this great Tenerife food establishment:
100% Pan – Pastelería
C/ La Graciosa, 4, Guía De Isora, Tenerife.
Tfno: + 34 922 13 82 47