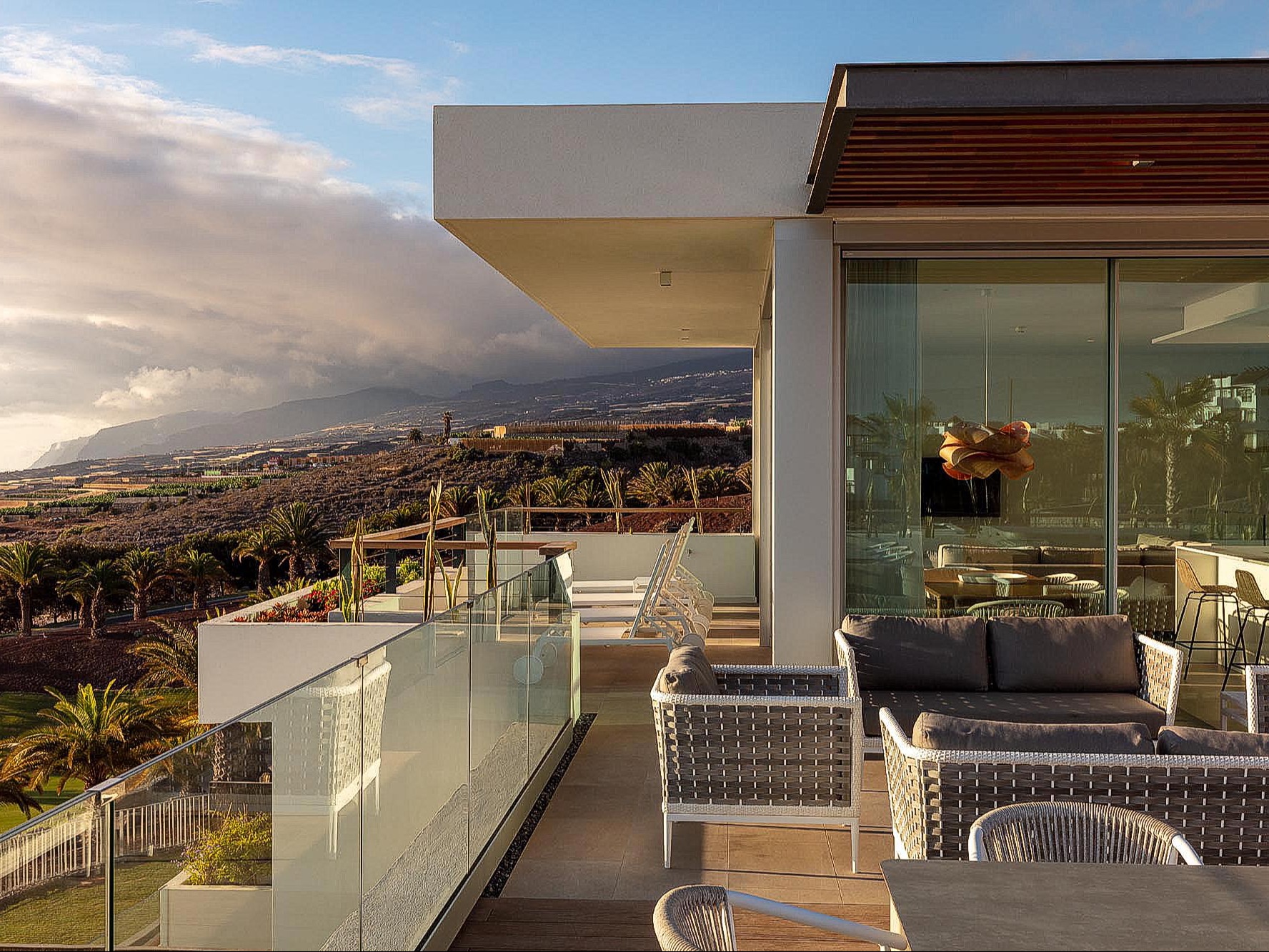 Today we introduce you to Coderch Urbanismo y Arquitectura, one of the firms Abama is privileged to count among our top-tier architects for our new build homes. Needing absolutely no introduction in the Canary Islands, thanks to their outstanding work on numerous plans and projects, our resort is nonetheless proud to tout some of their greatest professional achievements here for our foreign owners and visitors.
As anyone who has visited Abama will attest, our resort strives for perfection in every way, from its commitment to quality to the incredible staff we are fortunate to employ. And architecture at Abama is no different. From the beginning, our developers have sought out and retained the brightest and most creative minds to create a place unlike any other.
The first guiding light was Melvin Villarroel, the architect behind the design of what is currently The Ritz-Carlton, Abama. It was not only the citadel-like building that emerged from his vision, but also the landscaping of the resort and the insistence upon making the terraced, volcanic land, upon which Abama is built, the bedrock of the resort's design.
Villarroel was responsible, too, for the original concept behind Las Terrazas de Abama, the first of our residential communities, which echo some of the aesthetic ideas of the hotel building while still claiming their own unique design. But the studio responsible for bringing these plans to life was none other than Coderch Urbanismo y Arquitectura, who seamlessly bridged existing and new concepts to create a calming, grounded community where privacy and outdoor space coexist comfortably.
So named for the ample terraces that fully incorporate the landscape into the everyday living experience, Las Terrazas are 151 apartments surrounded by Abama's award-winning golf course, which also benefit from three outdoor swimming pools, a social club, a Martín Berasategui restaurant, and ample gardens and walking areas. The suites-only bedrooms and spacious interiors make for a luxury living experience, with hotel service and rental management included.
The success of Las Terrazas earned Coderch Urbanismo y Arquitectura another project at Abama - this time based on the firm's own design in contemporary modern terms -, currently under construction, with more than a dozen of the first-line units already built and delivered. This new community, Los Jardines de Abama, will ultimately consist of 160 apartments completely adapted to the natural topography. The retaining walls are made of local volcanic rock, recalling the origins of the land and contrasting beautifully with the sleek modern design of these residences. Magnificent panoramic views are one of the highlights of these homes facing the Atlantic Ocean, their white exteriors referencing those of Las Terrazas, but reflected through a different stylistic prism.
The work at Abama is far from a fledgling project for this firm founded in 2002. It's been a family affair for the three principal architects, Juan Lima Coderch, Jorge Coderch Figueroa, and Alejandro Afonso Coderch, for almost 20 years, with a range of projects under their belt that include not only architecture but also public works projects and urban planning and design.
From 2006-2013, the studio was responsible for making the beaches and coves of La Jaquita, in Alcalá, into a functional public space that offered citizens direct access to the ocean. It involved not only a full analysis and understanding of the structural aspects of the coastline, but also the planning and execution of the adjacent service buildings, beachfront structures, and boardwalk. The project earned Coderch Urbanismo y Arquitectura the Agustín de Betancourt Prize for the best Civil Engineering Project in the 2010-2013 period, as well as naming them Finalist in the first Tenerife-Gomera-Hierro COAC Architecture Prize for the 2008-2017 period.
Another important public works project was the Urban Park of Las Torres de Taco in La Laguna on Tenerife. Completed in 2007, the 25,000 sqm. park was designed to provide a new public gathering, sport, and leisure area for local citizens. It included walking areas, a central plaza, a large grassy area, a children's play area, two football fields and several basketball courts, built on terraces to accommodate the 11.5 meters of elevation change between the highest and lowest points of the terrain above sea level. The studio was named a Finalist in the XIII Architecture Prize of the Canary Islands, 2006-2007.
The above projects exemplify the unique capabilities required of any architectural or urban planning firm working in the Canary Islands. Not only are the best studios versed in structural analysis and planning of both coastal and mountain terrain, but they must have the legal and environmental expertise required to work in a region with numerous protected natural and cultural areas.
It is telling, then, that Coderch Urbanismo y Arquitectura has been entrusted with multiple large-scale municipal planning projects, not only on Tenerife, but other islands as well. These include full plans for the municipalities of Guía de Isora (where Abama is located), Granadilla, Adeje, and Garachico on Tenerife; San Sebastián on La Gomera; Yaiza and Tinajo on Lanzarote; and Pájara on Fuerteventura. They have also executed partial and special plans for La Jaquita, Abama, Casco de Guía, San Isidro, and others. A network of multidisciplinary collaborators, including biologists, geographers, historians, economists, technical architects, telecommunications specialists and more, can be called on to assist in whatever capacity the projects require.
We are fortunate to have this highly experienced studio working here at Abama, where they are able to deploy their skills in island planning and cutting-edge modern house design to the benefit of our owners and guests. Coderch Urbanismo y Arquitectura's two planned communities stand among the resort's calling cards for their innovation and beauty, fully worthy of the natural environment that surrounds them.