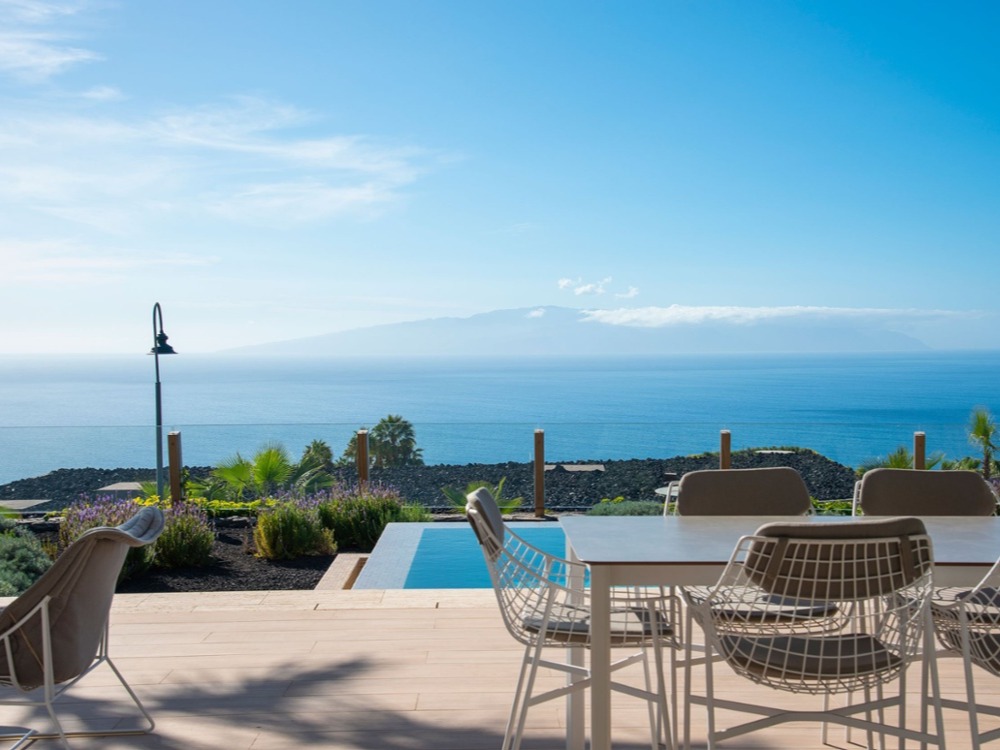 Offering personalized experiences, a haven from overcrowded spaces, and celebrating privacy, Abama has led the luxury tourism category on Tenerife since 2005, when its golf course was opened and the hotel and residential components began to be developed. Slowly but surely, our resort has gained a top place among Europeans who find Spain attractive but would prefer to avoid big cities and crowded beaches. For this restless traveler with high purchasing power, the Canary Islands are an oasis where pleasant temperatures, lush vegetation and incredible volcanic landscapes provide the perfect setting for a relaxing vacation or a second home to enjoy during the colder months of the year. As a destination, Tenerife in general has emerged as a top pick for tourism, buttressed by strengths and potential that places like Abama have been able to support.
What makes Tenerife ideal for luxury tourism?
Connected with the main European cities by air and sea, Tenerife has a very pleasant climate that ranges from 17ºC in winter to 25ºC in summer. This may well be the main attraction for many travelers looking for destinations in Europe. Once on the island, these travelers find such a variety of landscapes, vegetation and contrasts that they are spoiled for choice when it comes to outdoor activities. In fact, the beautiful Teide National Park alone would be enough for several days.
Exclusive coves and luxury yachts
Tenerife's beaches on the Atlantic Ocean deserve a post all their own because, in addition to the famous ones, there are cozy coves and natural ocean pools aplenty for tourists to enjoy. And places to rent sailboats and luxury yachts for personal use are easy to find. Guided private excursions for whale watching or scuba diving are also offered by several reputable companies, among many other alternatives.
Unique golf courses
With 8 golf courses and 2 pitch-and-putt courses distributed over the north and south of the island, Tenerife offers golfers the possibility of playing in the midst of exotic landscapes and incredible sea views. At Abama Golf, for example, visitors will appreciate the impressive surroundings, which include 22 lakes and more than 20,000 palm trees, managing them under a sustainability strategy that ensures the organic maintenance of the turf without the use of chemical agents.
5-star accommodation
In terms of its accommodation capacity, Tenerife has some 35 five-star hotels, a figure similar to that of Madrid, But, unlike the Spanish capital, the island has been able to develop more residential units made up of full apartments and villas, ensuring guests' maximum comfort and privacy. Luxury resorts like Abama provide different accommodation options among their properties, designed by prestigious architects and aimed both at buyers who want a second residence and investors who will spend some time in their homes but primarily rent them to third parties.
International acclaim
By attending all the largest tourism fairs, the Cabildo of Tenerife has intensified its international marketing strategy in recent years. Yet its intention is not to increase the number of tourists but to encourage quality tourism that generates a positive and sustainable economic impact. As an example, the local government recently joined the Virtuoso conference in Canada, a gathering of the most important luxury agencies in the world, reiterating the island's interest in attracting tourists who want new luxury experiences in exclusive and differentiated destinations. The types of travelers who, having fallen in love with this destination, now want to now buy coastal property for sale to return to again and again.
Published in category
Resort
Share this post