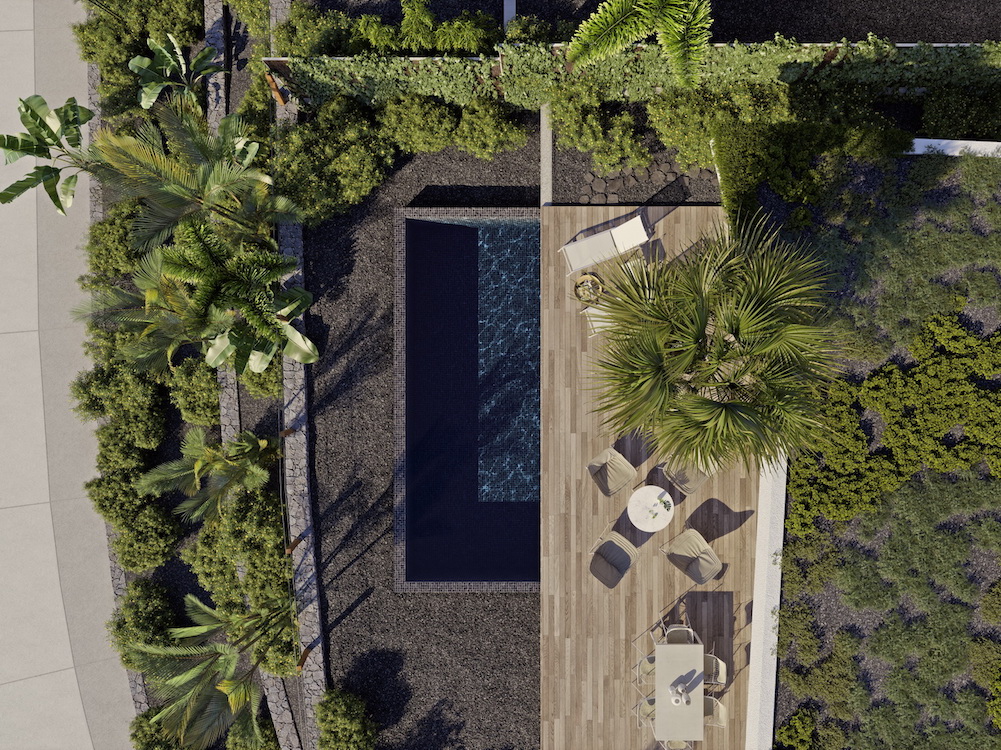 The names of modern architects Virgilio Gutiérrez Herreros and Eustaquio Martínez will always be inextricably linked to the history of Abama Resort. Their emblematic Bellevue villas located at Abama were named "Best new build homes of the decade" by the College of Architects of Tenerife, La Gomera and El Hierro in 2018. An exquisite homage to Mid-century Modern architecture, these houses received the Manuel de Oraá y Arcocha Architecture Prize and stand as a true benchmark for residential architecture in the Canary Islands.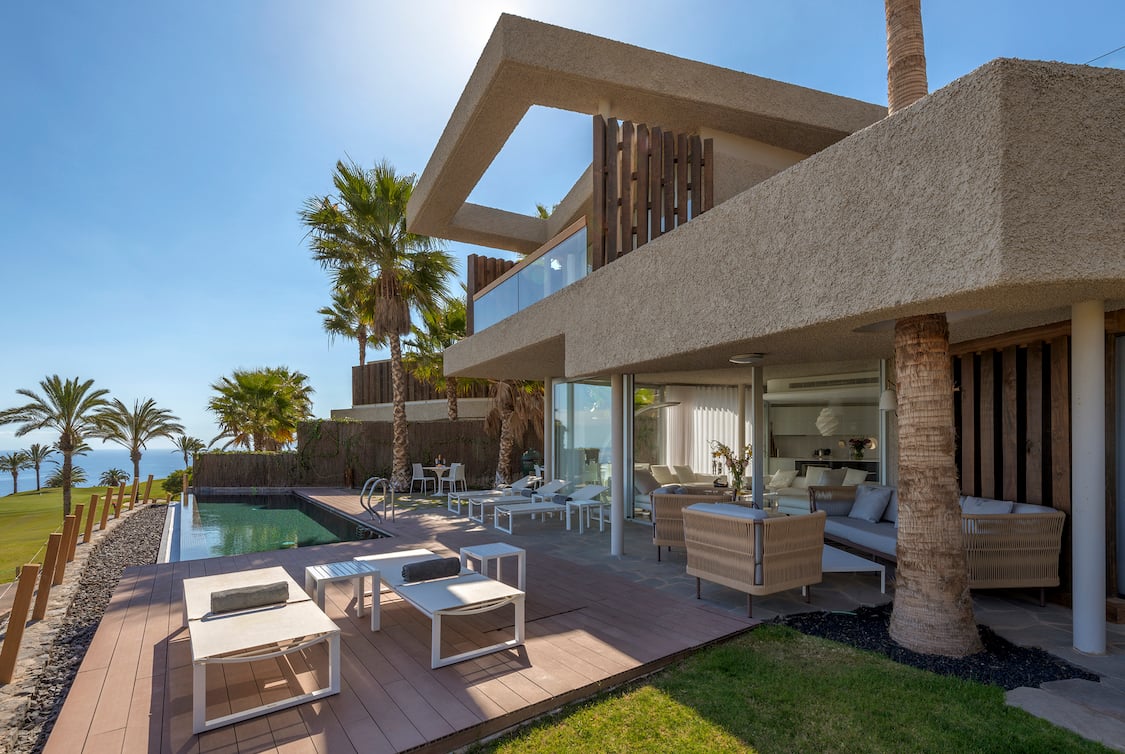 Despite the awards, this duo of two independent professionals isn't content to rest on its laurels. Gutiérrez and Martínez continue striving for innovative solutions in their Tenerife public works projects and in private residential proposals. After the success of Bellevue, they have returned to our resort for the development of Las Villas del Tenis, a residential complex designed to integrate with its surroundings without neglecting any functional details.
Las Villas del Tenis, a tribute to the landscape
With an exterior that visually flows towards the golf course and an open-plan interior, Las Villas del Tenis comprise an architectural unit whose ultimate objective is to exalt the landscape. Its architects imagined a residential use that would transcend the holiday seasons and facilitate telecommuting at any time of the year while disconnecting from the pressure of urban life though the ever-present vista of the Atlantic Ocean.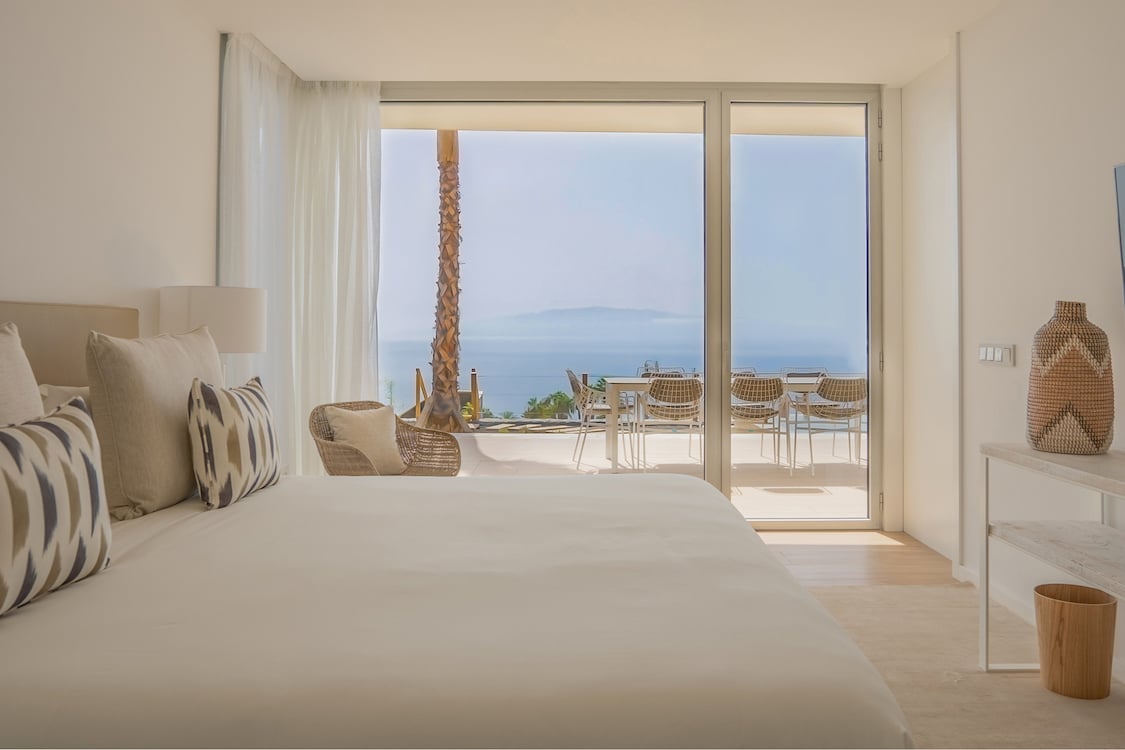 The environment plays protagonist in other ways as well, with sustainability being one of the guiding concepts in the homes' design. The community's green roofs contribute to the thermal insulation of the properties and the solar panels are part of the high levels of energy efficiency enjoyed by these serene villas. The interior space ranges between 184 and 270 sqm, built on plots of between 430 and 694 m2. The outdoor terraces, gardens and swimming pools are as fundamental a part of the residential experience as the interiors because, for these modern architects, Abama is an enclave that should be enjoyed with all the senses.
Fully furnished and equipped with top brands for all fixtures and finishes, including outdoor furniture and built-in wardrobes, Las Villas del Tenis also have a sizable underground parking garage and basement to complete these 2- and 3-bedroom residences defined by their privacy and comfort.
Architects committed to the region
Well known on the island of Tenerife, Gutiérrez and Martínez have left their mark through important public works like several of Tenerife's more prominent plazas and the new Tenerife North airport, which was selected by the Museum of Modern Art to represent new architecture in Spain.
In addition, they have been awarded numerous prizes, both together and individually. In the 2002-2003 edition of the Manuel de Oraá y Arcocha Regional Architecture Prize, Eustaquio Martínez received an honorable mention. In several other editions of this same award, Virgilio Gutiérrez was recognized with multiple honorable mentions, and won First Place in the 10th edition of the Canary Islands Architecture Prize for his Casa Barrera. In fact, this work was presented as one of the seven buildings proposed by Spain for the EU Mies van der Rohe Prize for Contemporary Architecture in 2003.
Most recently, the College of Architects of Tenerife has just awarded Gutiérrez and Martínez Second Place in its 2018-2020 Architecture Awards for another Abama home: one of our Custom Villas designed for a private owner. The beautiful 500 sqm house faces the golf course and has interiors designed by Rita Rosés of the RR Interior Design firm.
Modern house design is about creating spaces that can be inhabited naturally while carrying out all the different activities that define daily life in the 21st Century: teleworking, exercise, social life, and family time. We're proud to have such committed and passionate modern architects like Virgilio Gutiérrez and Eustaquio Martínez on our roster of contributors to the unique environment and aesthetic that defines Abama.