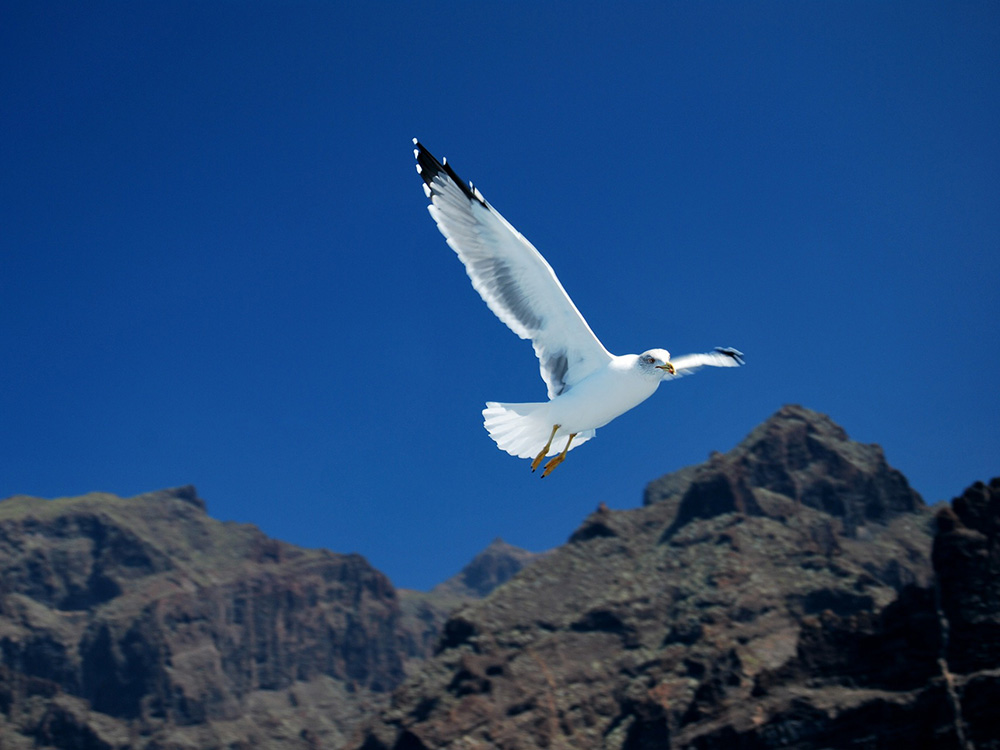 Canary Islands animals and plants are known the world over for comprising numerous species found only within the archipelago. It may not be your first consideration when choosing a destination, but once arrived at Abama Resort Tenerife, you'll quickly notice that the natural surroundings are awe-inducing. And as you return again and again, you'll have ever more opportunities to grow your appreciation of its wild and singular biodiversity.

Within an hour of the resort, you can come face to face with trees dating to the Cenozoic Era, exotic animals, and endemic species you'll see nowhere else on Earth. Traverse the island's beaches and you'll see edible plants that grow at their borders, or visit the forests and be amazed by the monumental size of its age-old trees. Dive into the ocean and witness the incredible abundance of coral and fish that swim in these protected environments. And if you're lucky, right now, and right in the garden of your own luxury house on Tenerife, there might be a bird you can only see on the island. Reconnect with nature and rediscover why we must do our utmost to protect it!
Wild native plants
The rocky shores of the island are full of Astydamia latifolia, called "Sea lettuce" in Spanish. The name isn't an accident, as these edible plants are full of Vitamin C. A walk near your property on Tenerife will let you appreciate them up close, and you'll also be able to lay eyes on another coastal plant that has grown tremendously in the past years: Slenderleaf iceplant. Its delicate white flowers, only a centimeter in diameter, are a real delight for the senses and in the past sometimes were a base for gofio, a traditional Canary Islands food.
Ancient forests that have survived intact
One of the natural riches of which Tenerifans are most proud are the surviving Laurel Forests, an ancient reserve comprising huge, vigorous specimens of ferns, laurel trees, small-leaved holly, and Persea indica (viñátigo). These are trees that date to the Cenozoic Era and that continue to grow wild without human intervention. Taking a walk through this exuberant vegetation is a singular experience that you can have any time of year, very close to your Tenerife property.
Unique endemic species
It's hard to believe that the island of Tenerife is just 2,034 square kilometers when you learn that it's the home of half of Spain's endemic species. You'll find 800 unique varieties of flora and Canary Islands animals here, including the malva de risco, with its long-lasting flowers; the cardón, whose reddish tips shine and can been seen from several kilometers away; and the cresta del gallo, whose impressive stems can be a meter and a half tall. And worthy of a special mention is the Magnoliopsida or hierba pajonera, exclusive to the Teide National Park, which has an impressive capacity to adapt itself to different temperatures.
Birds found nowhere else on Earth
The landscape that you enjoy from your luxury home on Tenerife wouldn't be the same without its birds, and some of these Canary Islands animals are unique to the archipelago. Endemic species like Bolle's pigeon, the Laurel pigeon, and the Tenerife blue chaffinch live side by side with migratory birds like the American golden plover and the Ring-necked duck. Calonectris diomedea, commonly known as Scopoli's shearwater, are also often seen on the island, and lull us to sleep every night with their peculiar guttural birdsong.
An ocean teeming with life
We can't sign off without a dive into the Atlantic Ocean. The submarine volcanic formations are home to exotic fish like the Barred hogfish and the Canary moray eel, as well as to the popular Mediterranean parrotfish, which are exalted in local cuisine. And if you descend a bit further in the summertime, you may find yourself face to face with a Loggerhead sea turtle, en route from the Americas. And even if you prefer to enjoy the maritime landscape from the beach or a boat, you have a good chance of seeing whales and Common bottlenose dolphins.

Abama Resort Tenerife truly has it all, especially when you consider not only the incredible services and amenities within, but the astounding virgin surroundings outside the grounds that create a home for unique Canary Islands animals and plants. It's an unparalleled richness you'll find nowhere else in the world, and a constant reminder that Mother Nature is one of the dominating forces on this special island.