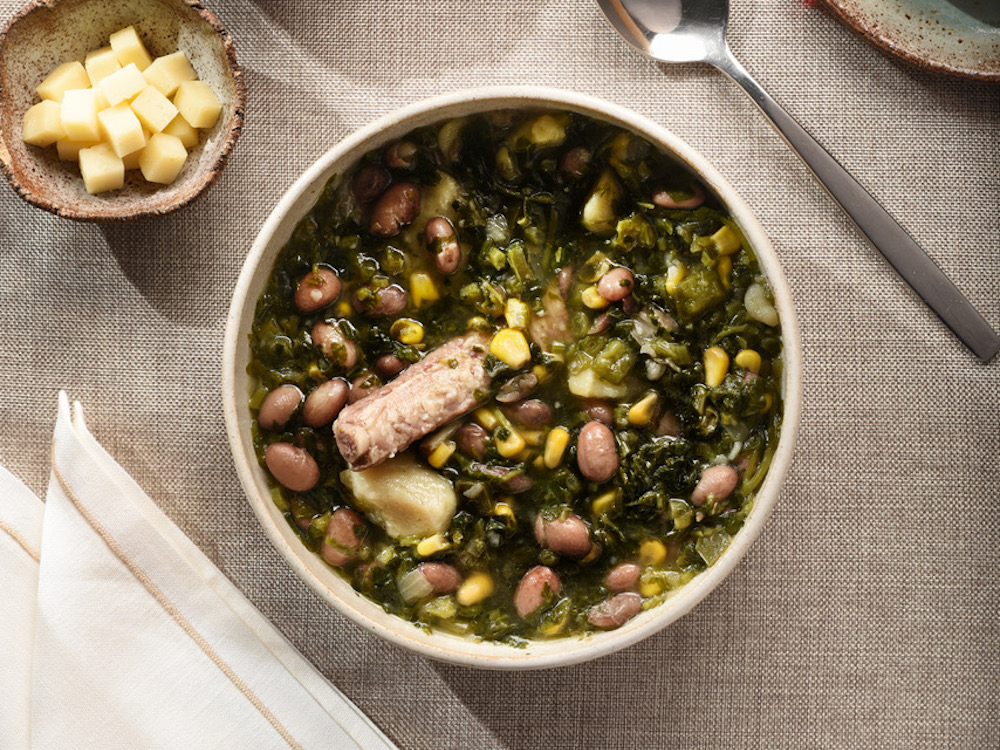 One of the things we love best about Tenerife is enjoying traditional Canary Islands dishes. Excellent food is to be found here in some of the most unassuming restaurants. You might stop into a small place by the side of the road and leave completely sated, having had one of the best meals of your life. Canary Islands cuisine has benefitted tremendously from easy access to the sea and centuries of mixed cultural influence, leaving the island with traditional dishes that are complex, flavorful, and surprising.
We're lucky to live in a moment of great appreciation for culture and history. Faced with unprecedented access to information and other ways of life, our curiosity has been ignited to explore our own roots as well. Here on the islands, many younger people, especially, who have fond memories of their mothers or grandmothers making traditional Canary Islands food, would like to introduce those influences into their present lives. Families with children would like to keep those memories alive. The problem, for many, is one of time.
Numerous modern families live in a two-income household, with both parents working. Those who live alone or with roommates may find themselves in the office until late, unable to dedicate themselves to making dishes that require hours of preparation. This was the panorama that Carlos Ascanio saw, and which inspired him to found Doña Fela Traditional Canary Islands Dishes.
Ascanio, a longtime catering, gastronomy, and events entrepreneur, realized during the pandemic that even as people grew shorter on time, their desire to be serving heathy, traditional meals at home, made with local products, was increasing. On a personal level, he also sought to replicate the gastronomic experience of his own childhood by re-popularizing dishes that used to be staples.
Working alongside him is Chef and Gastronomy Consultant Juan Carlos Clemente, who not only has an impressive career behind him but considers himself a defender and promotor of Canary Islands cuisine and products. He has worked in Michelin-star restaurants including Martín Berasategui and El Cingle, and in multiple 5- and 6-star hotels as Head Chef.
Doña Fela launched its first line in 2021 with eight products, including delectable favorites like potaje de berros, rancho canario, and arvejas compuestas. Every dish in the line is 100% natural, made without preservatives or food dyes, using only the best raw ingredients and, whenever possible, locally produced products. The packaging is made from materials produced in sustainable forests that can be recycled. And any prepared food that is not sold goes to local food banks to be given to people who need it.
As a forward-thinking company, Doña Fela has big plans for their customers, not wanting the experience to stop with those clients buying a dish in the supermarket. When there is time to be had, whether on the weekends or holidays, Ascanio hopes Doña Fela will inspire people to begin making these traditional Canary Islands dishes themselves and cooking alongside their children or friends. That's why their website will post recipes and seek to interact with their customers as they enjoy their Tenerife food journey. The past, as they say, is present. Below, two recipes courtesy of Doña Fela that will give you a taste of what's to come!
Ropa Vieja
Ingredients
250 g potatoes

1,36 kg chickpeas

500 g chicken

360 g onion

Olive oil

Red pepper

Tomato sauce

White wine

Garlic

Parsley

Salt

Smoked sweet paprika

Cayenne pepper

Black pepper

Safflower

Thyme

Oregano

Bay leaf
Preparation
Let the chickpeas soak in three parts water for 48 hours. Then drain and set the chickpeas aside.

Cut the chicken into pieces.

Place water in a large pot and add the soaked chickpeas, coarse salt, and bay leaf. Cook on high until it boils. Then lower the heat to medium and let it cook for approximately another hour and a half. Every once in a while, you can remove the foam that rises to the surface during the cooking process.

Once the chickpeas are tender, add the chicken – preferably in a cooking bag – and cook for an additional hour and a half. Remove the foam from the pot.

Take out the chicken, the chickpeas, and the broth separately, save them all, and let them cool.

Debone the chicken and pull the meat apart with your fingers to make small chunks. Put the chicken aside, in the refrigerator.

Stir-fry the olive oil, diced onion, diced red pepper, and tomato sauce.

Season the stir-fry to taste with white wine, diced garlic, diced parsley, salt, paprika, cayenne, black pepper, safflower, thyme, and oregano.

When the stir-fry is ready, add the chickpeas and the broth, as well as the chicken, and cook it on a medium-high flame, stirring carefully so it doesn't stick to the bottom.

Meanwhile, peel and cut the potatoes in cubes and fry them in hot oil. You can use olive oil or sunflower oil.

Once fried, mix the potatoes with the rest of the ingredients and cook them together for 10 additional minutes so they absorb the flavors of the dish.
Watercress stew
Ingredients
500 g pork ribs

1 kg watercress

500 g dried pinto beans

640 g potatoes

600 g white onion

350 g corn (millo)

Olive oil

Green pepper

Garlic

Salt

Cumin
Preparation
Let the dried pinto beans soak in three parts water for 24 hours. Then drain and set aside.

Wash, peel, and dice the potatoes into cubes.

Finely dice the garlic, onion, and green pepper.

Wash and dry the watercress, throwing away the fibrous bit of the plant. Cut into pieces.

Blend coarse salt, garlic and cumin to taste, making a paste.

Put olive oil in a pressure cooker and add the garlic, onion and green pepper mixture, as well as the diced potatoes, the soaked beans, the corn, and the ribs on the bone. Cover in water and set it on high until it boils, then reduce the heat to medium and let it cook for about an hour until the beans are tender.

Once the beans are tender, add the chopped watercress and cover, cooking it on medium for another 15 minutes.

Take about a tenth of the liquid, along with some potatoes and vegetables, and blend them together with a hand blender in a separate container. Add the mixture back into the pot.

Add the salt, garlic and cumin paste to the pot and bring it to boil again without the lid.

Let it rest in the pot for 5 minutes before serving.
Published in category
Tenerife
Share this post