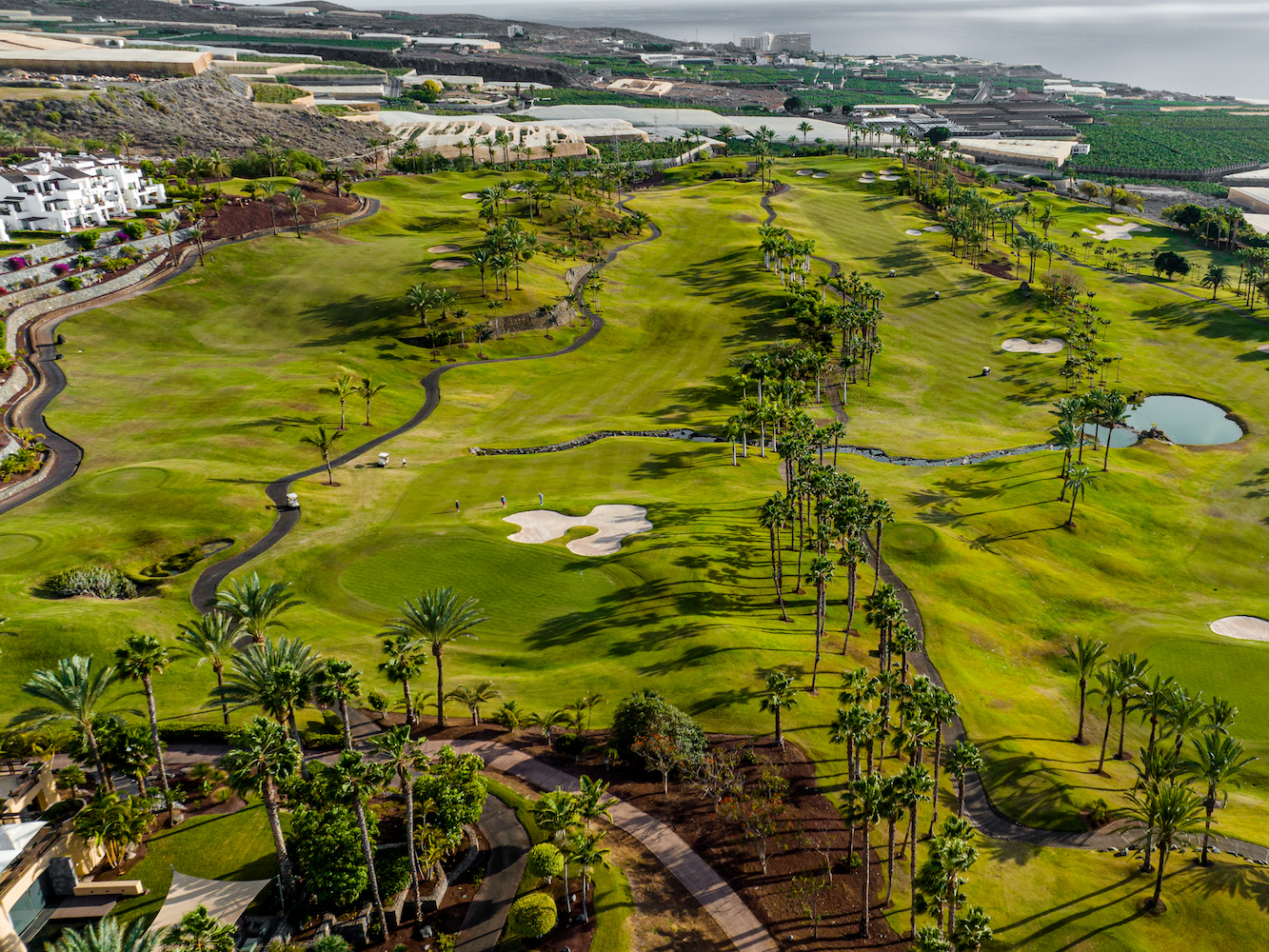 With consistently mild temperatures and low rainfall, Abama is an ideal place for golf escapes at any time of the year. Whether you're looking forward to a weekend away or longer, you'll want for absolutely nothing at our resort. The wonderful suites-only accommodations of Las Terrazas de Abama or Los Jardines de Abama will serve as your home base as you discover one of the best golf courses in Spain.
The 18-hole course at Abama Golf was designed by Dave Thomas, and it's known for delighting and challenging players of every level. Thomas's illustrious professional career as a player was followed by equally successful years as a designer, with a total of more than 40 courses to his name in the U.K., Spain, France, Germany, Japan, Russia, Brazil, Taiwan, the Ivory Coast, Nigeria, China, and Norway. Abama's large greens provide an infinite choice of flag positions that, combined with the wide tee areas at each hole, makes the course accessible for players with high handicaps, yet exciting even for experienced golfers. It hosts several golf tournaments every year.
The Abama golf course is more than 6,000 meters of terrain with a high point at 315 meters above sea level, making its jaw-dropping views as compelling an attraction as the course itself. With an elevation grade of 14-15%, playing with a buggy is obligatory, but there is a fleet of GPS-equipped electric buggies at the ready that come with their own water coolers and detailed information about each hole.
Beginners will get the support they need at the Abama Golf Academy, where experts can guide them on the driving range and putting green. Other facilities include the exceptional Clubhouse, the home of one of our Michelin-starred restaurants, equipped with dressing rooms, indoor and outdoor lounges, and a shop stocked with a full range of professional golf equipment.
If you're ready to begin planning this year's golf escapes, you'll want to have a look at Las Terrazas de Abama Suites' special Eagle Pack. This package experience includes 7 days of unlimited golf plus 7 nights of 5-star accommodation in the Las Terrazas de Abama Suites. You can take your complimentary breakfast at Martín Berasategui's Melvin restaurant, located in the Social Club of Las Terrazas and boasting stunning panoramic views of the Atlantic Ocean. Breakfast at Melvin is a rotation of 4 international menus that change every day: Asian, Spanish, European, and American. The package also includes 3 dinners at Melvin (drinks not included) so you can sample the fine dining menu overseen by Berasategui, who has been awarded 12 Michelin stars in total for his restaurants. Finally, you'll have 60 golf balls per day that you can use on the driving range for your warmups, and enjoy the Welcome Pack that sets the tone for the excellent service our guests can expect to receive.
There's no place like Abama for your golf escapes. The island of Tenerife is a wonder to behold, and it's only fitting that it should also be home to one of the best golf resorts in Europe.