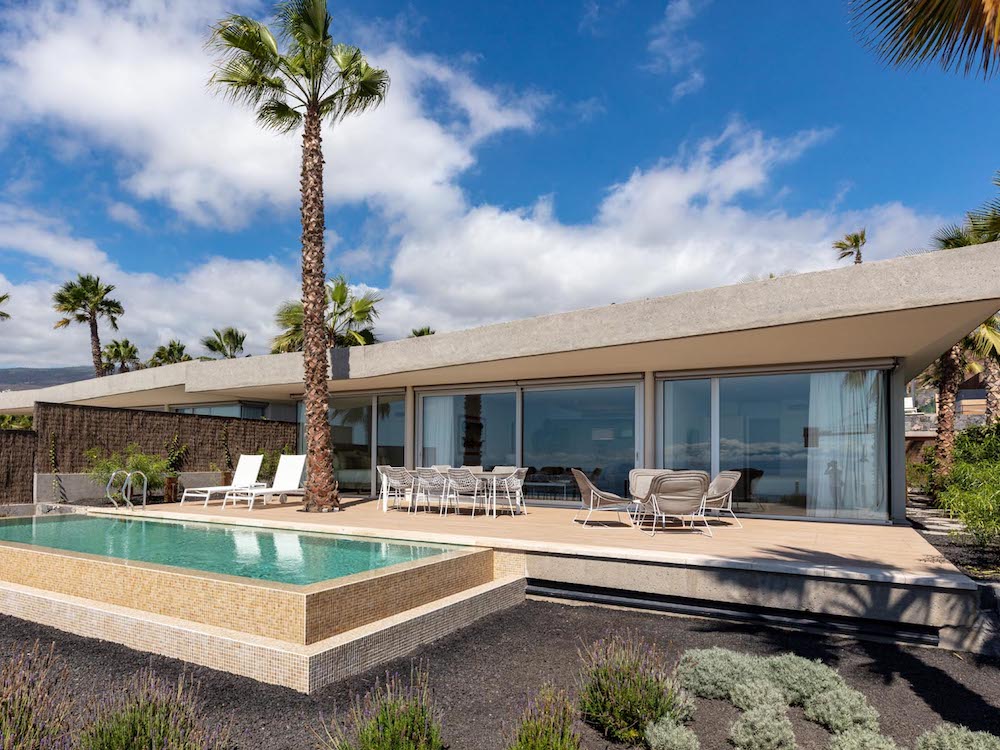 Abama Resort is nothing if not unique, striving for excellence in our facilities, architecture, hotel service, and personalized treatment of our guests and owners. Each new product we develop is designed to introduce a new concept to resort life. And so it has been with Las Villas del Tenis. These extraordinary villas, designed by some of Tenerife's top architects, are beautiful, sustainable homes whose three-bedroom suites overlooking the Atlantic offer a haven for those seeking nature and tranquility.
The distinguishing feature of these villas is that they are zoned for tourism, meaning they are an excellent investment option for buyers who would like to let their residence for part of the year. Additionally, owners benefit from a host of features and 5-star hotel service options not often available to homeowners. The villas come furnished, and all indoor maintenance, pool maintenance, housekeeping, and landscaping is managed for owners while they are away. When owners arrive at Abama, they will find their homes as spotless as a hotel, with all the attendant services they expect. These include an à la carte menu of Wellness services like massages and private fitness training, and our monthly Wellness Weekends; complimentary transport throughout the resort and down to the beach; and our reception and concierge services.
Moreover, the facilities available to residents and guests of Las Villas del Tenis are nothing less than extraordinary. They can use our award-winning 18-hole golf course at preferential rates, as well as our newly refurbished Tennis Center and the fitness center. They can breakfast or dine at Martín Berasategui's Melvin restaurant, order from the Sunway Pool Bar or the Zumeria, or buy local delicacies at the Gourmet Shop. Those with children can explore the wide variety of educational and entertaining activities offered at the Abama Kids Camp. In short, the benefits of owning a luxury house or holidaying in a resort go well beyond what you can expect from a standalone property or hotel.
Las Villas del Tenis is operated by MyWay Meaningful Hotels, who have already proven themselves to be among the top management groups in the Canary Islands. Las Terrazas de Abama Suites, the first of the Abama Hotels, has won accolades from the International Hotel Awards, the World Travel Awards, TripAdvisor, and British Airways. Its success spurred the opening of the second hotel, Los Jardines de Abama Suites, in 2020, offering a different design aesthetic but the same impeccable hotel service and warm welcome.
Now we are happy to announce that the Las Villas del Tenis 3-bedroom villas with private pools will open to guests the 1st of October, 2022, just in time for Half-term, but Abama Hotels is already accepting reservations. Book your holiday now and enjoy up to a 10% discount if you join the MyAbama loyalty program.