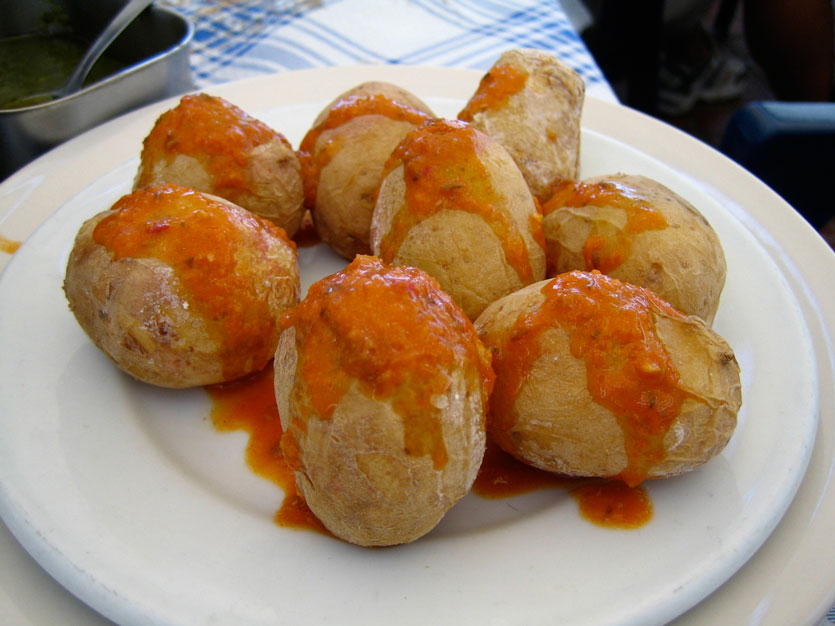 There's a primordial pleasure in cooking for your family, and today we'd like to offer some suggestions for making Canary Islands cuisine at home. If you use local ingredients and classic recipes you'll discover new flavours and aromas steeped in the mestizo history of the islands. Here, our abundant and volcanic agriculture mixes with ingredients from the Americas in simple dishes that pack a real flavour punch.
So enjoy these ideas for making a 100% Canary Islands dinner, simple but exquisite, using products from the area. Two appetizers, a main dish, and a dessert designed for four.
First appetizer: Wrinkly potatoes (papas arrugadas) with spicy mojo
If there's a dish typical of Canary Islands cuisine, it's papas arrugadas with Canary Islands mojo sauce or "mojo picón". To make the potatoes, submerge a half a kilo of small potatoes, washed well but with the skin still on, in a pot filled with enough boiling water to cover them, and add a lot of salt (about 150 grams). Leave them to boil for 20-30 minutes until they are tender. Drain the water out and throw another handful of salt into the pot with the potatoes, then vigorously shake them around in the pot over the flame for another few minutes.
For the mojo picón, buy garlic, cumin, "picona" pepper (a typical Canary Island ingredient that you will have no problem finding and that give it the spicy touch), black pepper and salt. Blend them together, then slowly add olive oil and vinegar until the sauce takes on an unctuous texture. Pour onto the papas arrugadas and done!
Second appetizer: Gofio croquettes with Teror chorizo
Canarian gofio is nearly synonymous with the Islands; it has been a staple of the aboriginal peoples of the archipelago since ancient times. It's a flour milled from toasted oat, millet or wheat, and you can find it in any establishment near your property at Abama. Teror chorizo is another local item that, unlike many other cured sausage products, has the consistency of soft dough.
For this recipe, start out by making a Bechamel sauce, but substitute the regular flour for gofio. Once it has become creamy, add the Teror chorizo and mix it for a few minutes. Set the dough aside and let it chill in the fridge for at least an hour. Once it has, use your hands to make cylinders out of the dough of approximately 2 cm in width and 4 cm in length. Dip them in beaten egg and then coat in breadcrumbs and fry in olive oil. These croquettes are delicious and perfect for eating with your hands.
Main dish: Cherne with onions
As is the case on all islands, fish and seafood play a fundamental role in traditional food in Tenerife. One of the autoctonous fish is the Cherne or Grouper, which you can prepare by frying the well floured rounds of fish in abundant olive oil. Put the fish aside and sauté two onions, a green pepper and two red peppers (all sliced) in a pan. Place the fish over the vegetables and cover in a tomato sauce made with thyme, bay leaf, salt, pepper, and a glass of white wine. Cook for 20 minutes and you'll have a dish fit for a king.
Dessert: Quesillo
If there is a typical Tenerifan dessert, it's quesillo. Though its name would seem to indicate otherwise, there is no cheese at all in this dish. To make it, separate the whites and yolks of four eggs. Beat the whites until just before they turn snowy and add the yolks until they come together. Then add a small container of condensed milk, 250 grams of sugar, a half a litre of milk and continue to beat. When the mixture is ready, make a delicious caramel by putting sugar in a pan on low heat. Butter the inside of a mold, cover it in the caramel, and fill it with the mixture. Put it in the oven until a toothpick can be inserted into the dessert and come out dry (half an hour or 20 minutes). Take it out of the mold and put it in the fridge for a couple of hours. Present it with a bit of whipped cream and you'll have a dessert that no one will refuse.
With this advice about how to make your next home meal a tribute to Canary Islands cuisine, you can invite family and friends to your luxury apartment at Abama and astound them with the aromas and flavours of the Fortunate Isles. A pure delight for your senses, and one you can continue to explore with other Tenerife food.