If you've a taste for traditional Canary Islands cuisine but don't have quite enough time to head out and explore the best authentic restaurants Tenerife has to offer, something new at Abama could be your ticket to happiness. The first La Plaza Abama restaurant has just opened and its menu pays homage to traditional Canary Islands cuisine even as it throws in a few modern twists.
The new restaurant is called Tágara, after a major Guía de Isora ravine that received its name at the beginning of the 16th Century, or possibly even before. The restaurant's setting is almost as impressive as the orography that lent its name, with floor-to-ceiling windows looking out over the La Plaza Abama infinity pool and the ocean and islands beyond. The windows slide as panels, meaning that on still days, eating indoors feels like eating outdoors, with that melding of exterior and interior that characterizes almost all of Abama's spaces.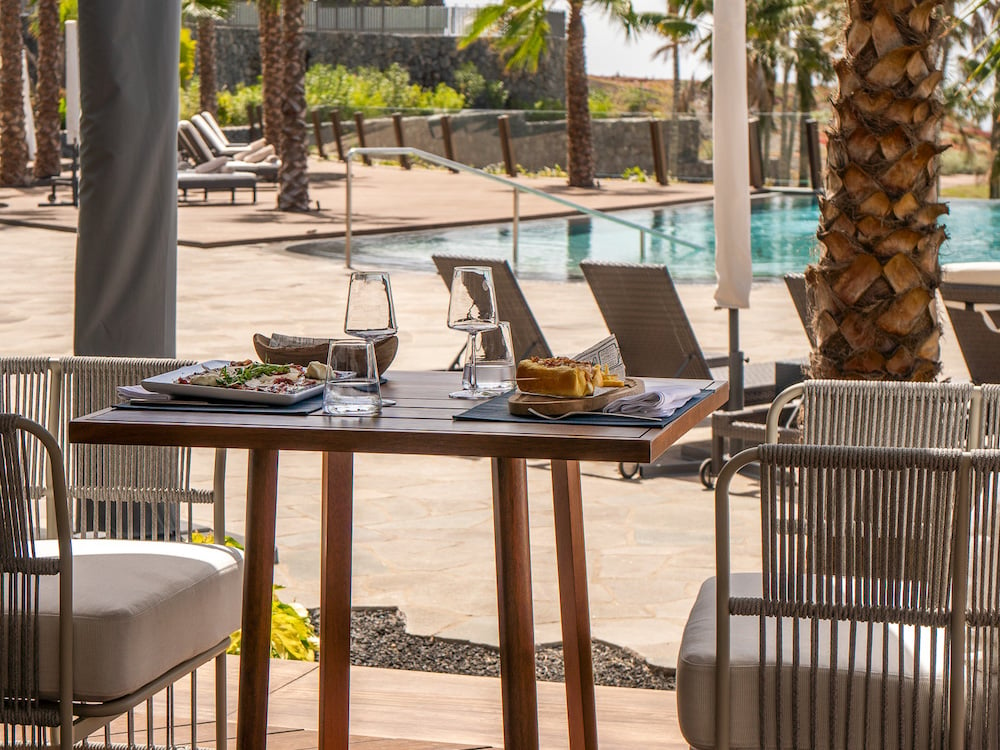 The appetizers alone are enough to make your mouth water, combining fresh local seafood with vegetables and specialty products, such as cheese, in whose production the Canary Islands excel. Tágara's local cheese board, accompanied by marmelades made on the islands, will give you a taste of what else is to come. Octopus with causa limeña, grilled Canary Islands duck with an avocado mousse and crispy corn, and Canary Islands garlic prawns are just a few of your potential options. And that's before you get to the entrées, where favorites like fish stew with gofio or fried kid with pepper chutney and sweet potato purée will make it nearly impossible to choose.
Open for lunch and dinner, Tágara joins Melvin by Martín Berasategui (a Mediterranean restaurant with a wide variety of spectacular rice dishes) among the dining options at the center of the resort. We can't fail to mention the Michelin-star restaurants, of course, for which the resort is famous. Nearest to the center is the beautiful Kabuki, located in a stunning space inside the Abama Golf Clubhouse. This Japanese restaurant serves up a fusion of flavors and techniques, while the two-Michelin-star M.B restaurant, also by Martín Berasategui, is located in The Ritz-Carlton, Abama, together with numerous other dining establishments.
Fortunately for you, Abama can be visited more than once, and there'll be plenty of time to try them all. But if today your curiosity about traditional Canary Islands cuisine is uppermost, book your table at Tágara and get ready for gastronomic ideas that are as fresh as the produce from which they take their inspiration. Abama has the restaurants on Tenerife you've been looking for, and they won't disappoint.