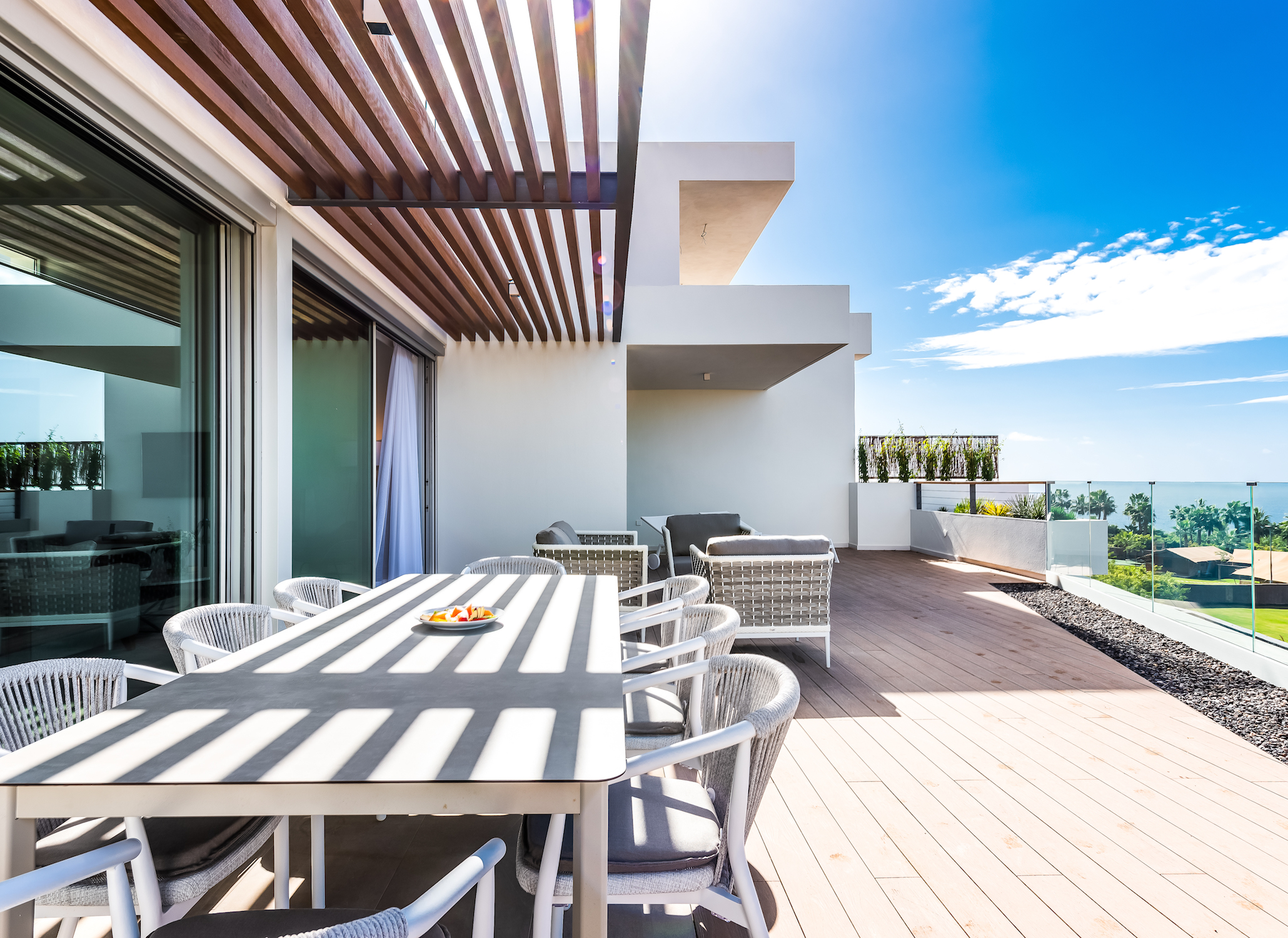 Betting everything on form and eliminating the superfluous, architectural minimalism has demonstrated over the past century that it is well equipped to survive the passing of time and trends. With its capacities to integrate with its environment, blend with classic styles, and demonstrate character through the forceful personality of its lines, this style has become one of the conceptual keys to residential architecture in our Tenerife community.
Los Jardines de Abama, a set of new-build homes inspired by simplicity and open spaces, are the latest emblem of Abama Resort's commitment to avant-garde architecture from Tenerife studio Coderch Urbanismo y Arquitectura. Offering a completely different architectural proposal than the team's last project at Abama, Las Terrazas, these new apartments lean towards modern minimalism and refined forms and, additionally, offer an investment component.
Located at the heart of the resort just off our Dave Thomas golf course, the first-line units of these luxury apartments offer spectacular views over the Atlantic Ocean. Each of the 48 units that make up Los Jardines de Abama also manage to enjoy privacy through clever angles and positioning. As with Las Terrazas de Abama, inspired by the style of the great architect Melvin Villarroel, natural staggering has been employed to build a construction in harmony with the topography of the land. And though each of these two projects present unique characteristics, their visual architectural dialogue is evident.
"With Los Jardines de Abama, we maintain the same philosophy as in Las Terrazas, with white volumes, natural materials, landscaping based on natural stone and a green environment with tropical vegetation. But in terms of the architectural evolution, it is clear that there is a much more modern concept in Los Jardines. Large windows, long terraces and minimal lines that put the incredible landscape front and center. In fact, my favorite aspect of this project is the complete integration of the landscape into the design," explains Juan Lima Coderch, architect and landscape designer of the firm.
The surface area of the apartments varies between 83 and 200 m2, and in all the units there are large windows that allow the completely open-plan environment to communicate with the spacious terraces that range between 22 and 116 m2. These ideal dimensions make sharing space with friends, relaxing, or working from home comfortable within the same space.
Whether it's a ground-level garden apartment or a higher-level duplex, each Los Jardines apartment has built-in wardrobes, suite-style bedrooms, a parking space and a private storage room.
With configurations of 1, 2 or 3 bedrooms, Los Jardines units are equipped with first-rate brands such as Porcelanosa, Axor-Hansgrohe or Duravit that ensure high standards of quality and durability. Furnished with a simple elegance, the apartments are dominated by white finishes in combination with gray and beige tones and materials like wood that provide a refined natural feel. It's work of great aesthetic quality that also offers short-term return on investment through holiday rental when the apartment is not occupied by its owners.
Another remarkable aspect of this contemporary architecture project is that the infrastructure includes energy conservation systems to minimize environmental and economic impact.
The owners of Los Jardines de Abama and their guests have access to their own Social Club, community pools, the gym, the club restaurant and the lounges. With the Abama Owners Card, they enjoy special advantages and discounts on many resort services and they also become part of the Abama Prestige Owners' Club, which plans exclusive events and personalized experiences.
Conceived from the beginning as an ode to minimalism, Los Jardines de Abama stands as a successful interpretation of modern house design that revels in the landscape without compromising privacy.