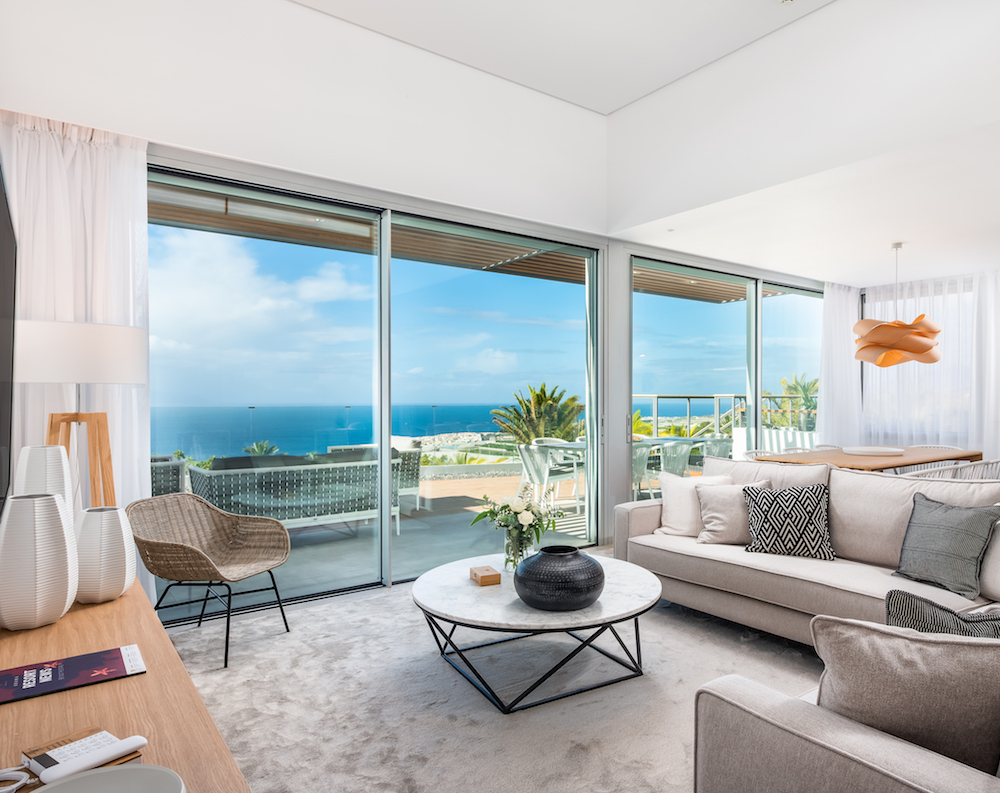 Spacious interconnected areas, copious natural light, and the use of sustainable materials: modern house design is an interpretation of XXI Century desires, giving rise to comfortable homes whose structures appeal to all the senses. Angles in harmony with their surroundings, large windows, and continuous visual planes combine in a delicate balance of lines that resolve into beauty.
Aesthetics are an ever-more prevalent factor in the appraisal or reappraisal of real estate. Like investment in modern art, the purchase of a property created under the most stringent standards of modern house design is a decision that implies a passion for visual simplicity, attention to environment, and appreciation of the location in which a home is built. Ostentatious luxury has been left behind as society has experienced paradigm shifts in its expectations about safety, mobility, and leisure. Quality of life has come to the fore, both in the private sphere and in the spaces we share with others who also want to enjoy activities outside the home.
Join us for a journey through contemporary architecture and discover why the residential communities at Abama Resort, where interiors and exteriors demonstrate attention to every detail, are steadily increasing in value in a market that demands exquisite design and comfort in equal measure.
The eternal appeal of minimalism
Shedding artifice and prioritizing the essential are the twin pillars of minimalism in architecture. Inheriting from traditional Japanese design, this style reached its height of modern expression in the German Bauhaus school at the beginning of the XX Century, and its impact was so profound that it remains in wide use today. If, as noted master Ludwig Mies van der Rohe, "Less is more," minimalism rests on the principle of rejecting excess. It seeks freedom by eliminating barriers, choosing furniture that is simple in form but highly functional, and allowing light and relaxing colors to predominate. It's an apparent simplification that, in reality, encompasses a complex desire to rediscover fundamental values.
Minimalist architecture defines essential elements as those that are necessary. It doesn't exceed itself, gravitating instead towards simple materials like concrete or glass. But minimalist structures take their force from juxtaposition, expressed in many ways, such as the use of natural rock or concrete textures and the tonalities of wood or metal.
At Abama Resort, minimalism has been a common denominator in its projects. This architectural style is reflected in, for example, the simplicity of floor-to-ceiling windows, interconnected rooms, dominant white and grey tones, great subtlety of line, and the use of wood in garden and terrace design. It's an aesthetic proposal that invites owners to contemplate the simple essence of their daily lives.
An homage to iconic architecture
If at the beginning of the XX Century architecture prioritized stylistic cleanliness over function, the post-war era redefined this necessity and began exploring further possibilities. Le Corbusier's New Brutalism elevated structure above aesthetic considerations, and the resultant coldness of some of its works spurred a countercurrent that sought more expression without abandoning the principle of simplicity. Low, long ceilings in horizontal designs were one of the calling cards of the Mid-Century Modern style that flourished in the United States.
Exposed pilasters and beams, the juxtaposition of materials like wood and stone tiles, and a refined elegance in fixtures make Mid-Century Modern architecture an atemporal style that has been easily integrated into luxury resorts. With the sobriety that is one of its enduring traits, Abama has paid tribute to this iconic architectural period with its Bellevue villas. These homes' open spaces offer impressive panoramas of the surrounding golf course and the Atlantic Ocean. And for their successful efforts, architects Virgilio Gutiérrez Herreros and Eustaquio Martínez García were awarded the Manuel de Oraá y Arcocha Architecture Prize for the Best New Build Homes of the Decade from the Association of Architects of Tenerife, La Gomera, and El Hierro.
Auteur architecture: lending a name to a community
A value added in the decision to purchase any type of property, the residential community takes nothing away from the individuality of a home. It is harmony rather than homogeneity that presides, allowing residences to be correctly proportioned in relation to the landscape, and to achieve a symbiosis between the terrain and the character of the development. Customized properties with generous square meterage are expressed in a unified architectural language.
When creative genius Melvin Villarroel breathed life into the first properties at Abama, his spatial concepts became a part of the resort's identity. Featuring a perfect balance between the external surroundings and solid forms, The Ritz-Carlton, Abama hotel and the Las Terrazas de Abama residences have become iconic buildings in Tenerife. Beyond the ochre and white tones that blend seamlessly with the palette of the island, the edifices rise naturally from the terrain, playing with light and shadow to create a visual impact that has not faded with time.
The incorporation of local influence into architecture
Both art and transformative technique, modern architecture dialogues openly and continuously with its environment. Birds form part of the fiber of Tenerife's being, and it's no accident that important architectural works like the Adán Martín Auditorium have a sculptural component to them that evokes a sensation of movement and freedom. The building's creator, Santiago Calatrava, constructed its great curving volumes using three materials common all over the island: concrete, glass, and iron.
Also composed of spectacular semicircular volumes, the Centro Magma del Palacio de Congresos de Adeje was conceived as an homage to the waves of the ocean. This is a work into which local architects Felipe Artengo Rufino, Fernando Martín Menis, and José María Rodríguez-Pastrana incorporated a stone from the south of Tenerife, the chasnera. And at the church of the Santísimo Redentor in San Crístobal de la Laguna, where straight lines predominate, the power of raw concrete is leveraged to support high walls that let in copious amounts of natural light.
The residential projects at Abama Resort also join this modern Tenerife architectural movement, letting the dominant volcanic terrain play protagonist, seeking open spaces, using local materials for construction, and finding ingenious solutions for the varying altitudes of the land. Modern architects Virgilio Gutiérrez Herreros and Eustaquio Martínez García was responsible for the design of the Bellevue and Las Villas del Tenis residential communities, each with its own distinctive style but coinciding in the privacy and comfort they offer to their residents. Corona-Amaral Arquitectos lent their hand to Las Atalayas, independent luxury villas whose location offers impressive views over the Atlantic Ocean. Los Jardines de Abama are the work of Coderch Urbanismo y Arquitectura, rising above the golf course as a magnificent lookout from which to contemplate the island of La Gomera from many angles. And finally, for those who want to be intimately involved in constructing their dream homes, prestigious architects such as Andrés Mazuelas and Leonardo Omar offer personalized service for the development of our Custom Villas.
Landscape and architecture in perfect symbiosis
The design of homes that harmonize with their surroundings stems from an innate respect for the environment and the sustainable use of local resources. Modern house design does not seek to arbitrarily transform the location of a home but rather communicate with it in a conscious way. Now, more than ever, the value of real estate is determined in large part by the natural areas that surround it, the outdoors being an asset to be enjoyed now and for generations to come.
On an island like Tenerife, with year-round springtime temperatures, homes can include solar panels for the production of energy and use wood to insulate and construct outdoor terraces. Native vegetation can be employed in green walls, as borders between homes, and of course in gardens, without putting extra strain on the ecosystem. The reuse of quarry residuals like marble or slate is another important way to contribute to the sustainability of development projects.
The environment is no mere accessory at Abama Resort; it is the backbone of the project. With optimization always in mind, Abama chooses recycled materials, reuses precious resources like water, and focuses on energy efficiency. Internal circuits in a gated community like Abama guarantee that the resort can comply with European environmental regulations, and simultaneously afford the tranquility of restricted access 24 hours a day. Another rising trend in sustainable communities is the incorporation of properties that can be used for both residential and tourism purposes. These properties, which can even be bought on a completely buy-to-let basis, are an opportunity to encourage diversity and efficiency in residential spaces throughout the year and offer solid returns on investment.
Interior design as a conceptual cornerstone
The Bauhaus School represented an important turning point not only in the world of architecture, but also in interior design. Beginning in the XX Century, teaming up with interior designers became one of the keys for fully realizing an architectural vision and achieving aesthetic harmony. Most importantly, residents' comfort came to the fore with the dawning realization that the choice of fixtures, textiles and furniture could provide said comfort and still be attractive and visually clean. Modern interior design focuses on elements that have a defined function and meaning for those that occupy the space. Concepts drawn from minimalism, such as order, brightness, and simplicity, were introduced into interior design with a clear premise: living with less puts even more emphasis on the specific forms, colors, and textures that are chosen.
Interior design aimed to personalize spaces so they could express their own character while avoiding visual contamination. The elimination of excess gave reign to decorative pieces and furniture that accurately interpreted the needs of those who used them every day. In addition, the relationship between the interior and the exterior of a home was put into balance, favoring internal use of the colors of the landscape, sunlight, and the shapes of natural elements.
With more than 30 years of experience, interior designer Rita Roses defines this art as the "integration of the interior environment with architecture." The soul and reference point for the decoration of the Abama residential communities, Roses's interior design tips have a very clear objective: to ensure that every detail brings joy into the home. Lounges that invite conversation, terraces that inspire, kitchens with warmth, and bedrooms that offer true rest are just a few of the goals she pursues passionately in the design of each resort project.
The warmth of materials like wood, natural linen, cotton and wool textiles, large light elements in strategic locations, and designer furniture placed to enjoy the best views predominate in her work. If you cannot live comfortably in a space, it will have no vitality. And interiors must adapt to changing times and changing uses, as we saw clearly in 2020 as homes transformed into polyvalent spaces where private life and work life could coexist.
The irruption of working from home has made us all rethink the distribution of space in order to continue our professional activities and have the square meters required to enjoy our relationships with the other people in our homes. The size of the rooms themselves, open interior spaces, appropriate furniture, and private outdoor gardens offer ideal conditions for living and working in the same environment. And the possibility of combining professional life with open-air sport or activity close at hand has become a tremendous added value.
An attractive destination as a long-term investment
If architectural aesthetics are vital when making a real estate investment, so too is the location in which the property is situated. The global experience of pandemic lockdown has led to a serious reckoning with regard to the conditions of city life. Larger spaces with gardens, strategic geographic locations, leisure and sport options close to hand, and spaces that offer socialization without crowding have become urgent needs for those who want to slow their agitated urban lives. Located on the island of Tenerife, a resort like Abama is a secluded enclave on the Atlantic Ocean: a dramatic and literal breath of fresh air for those considering a drastic change in lifestyle. And thanks to Spanish regulations that allow some homeowners to obtain residence visas with the purchase of real estate, there are added benefits for buyers impacted by Brexit or who hail from other continents.
Whether as a permanent or seasonal residence, a luxury home at Abama guarantees vacations in Europe and access to one of its best golf courses, an exquisite dining offer that includes two Michelin-starred restaurants, professionally-equipped tennis courts, and a spa and gyms within the grounds of the resort. And the exuberance of the volcanic landscape surrounding the resort, dominated by the Teide Natural Park, a UNESCO World Heritage Site, is unique.
Other locations famous for their integration of landscape and cutting-edge architecture include Changzhou (in China), which boasts a lakeside resort along the Taihu; and Phuket, in Thailand, whose best residential communities are a true tribute to the Indian Ocean. The work of firms like International Place Design LLC (iPlace Design), MHBC (MacNaughton Hermsen Britton Clarkson Planning Limited) and Smallwood Architects set the bar high with tasteful projects that seem to rise naturally from their surroundings.
Whatever the differences in geography, the aesthetics of modern house design are a value proposition not only for individual real estate properties but for the residential communities of which they form part. Attention to detail, simplicity in the service of elegance, and integration with the magnificence of the surrounding environment are the key elements that have redefined the concept of an investment property of exquisite refinement that increases in value with time.