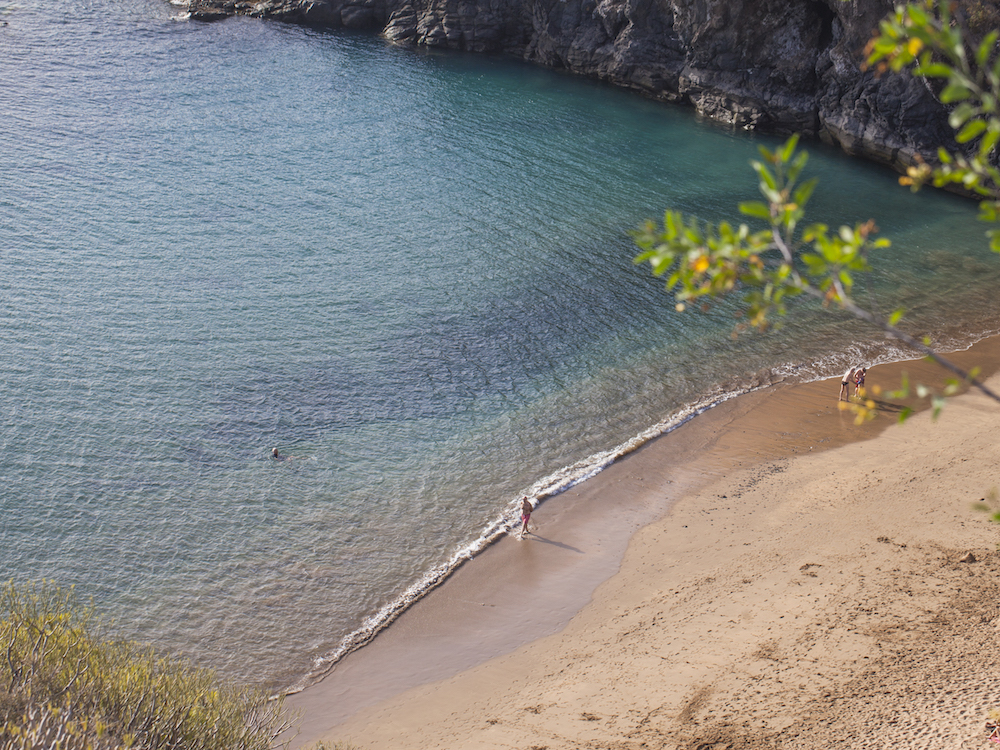 Today we bring you 5 more places to visit in Tenerife that, as a resident of the island, you have to learn about. If you are an owner of one of our properties at Abama Hotel Resort, you already know that living here is an unrivaled experience. Add to it that the charms of our Island of Eternal Spring are also unbeatable, attracting thousands of people a day to one of the most spectacular environments on Earth. For those of you that like to keep the flame of love alive and are looking for experiences you can have as a couple, Tenerife is a constant source of opportunities to put romance at the center of your life.
Watch the sun set from the Alto de Guajara
The Teide National Park has some spectacular shows on offer. Hiking up to the Alto de Guajara is no doubt an unforgettable experience, but it's made unique if you stay to see the sunset from its peak. The sun sets with the Teide, delivering fantastic views of La Gomera, La Palma and El Hierro. This is one that hopeless romantics won't be able to get enough of.
Lose yourselves on one of its secret beaches
Despite the fact that at Abama we have one of the most charming of Tenerife's beaches just a few steps from our luxury apartments and villas, many of our residents like to leave the grounds and try to find deserted beaches where you'll never run into tourists. If you don't mind walking, these calas and secret beaches on Tenerife are perfect for you. We'll offer you two that we here at Abama like, but if you like a challenge, go off and try to find your own. The first is the white sand beach at Montaña Pelada, on the south of the island, perfect for enjoying an intimate day together. And if you like sunsets, we recommend Benijo Beach as one of the loveliest places to visit in Tenerife, which you'll find at the end of a stairway that leads you right down to the sand.
Enjoy a romantic dinner under one of the most envy-inducing skies on the planet
Here in the Canary Islands we have the fortune to be able to gaze at one of the cleanest skies in all of Europe, and during the summer months the Milky Way is on display in all its splendor. In fact, our luxury apartments and villas are constructed deliberately to be able to enjoy outdoor spaces, and even our luxury apartments, Las Terrazas, got their name because we know that they are special places from which to enjoy the marvels of our surroundings. Whether it's from the exterior of one of our restaurants or from your own home, everyone who lives in a paradise like this one needs to enjoy at least a few meals under the moonlight. Life viewed from under the Tenerifan stars always takes on a healthy glow. Try it!
Bathe in natural rock pools
You're used to swimming in the private pool at your luxury villa, in Abama's various swimming pools, and even in the comfort of our luxury spa, but have you ever tried a natural pool? Taking a dip in pools sculpted over millenia by the ocean is something truly extraordinary. The Canary Island coast is dotted with such waterholes just waiting for you, where you can submerge yourself and forget your cares. Try Tancón, a spectacular spot hidden in a cave, one of the secrets of the coast of Puerto Santiago. Another pool not to be missed is the Charco de la Laja, a small volcanic paradise created by the haphazard placement of lava deposits, one of the most beautiful places on the coast of San Juan de la Rambla. For clear and calm waters, the Charco de la Laja is the ideal destination to connect with nature in a unique environment. To access it you'll have to take a path that winds upwards from the coast.
Walk hand-in-hand in The Enchanted Forest
In the Rural Park of Anaga, some 90 km by car from our luxury resort in Tenerife, you can find the most well-conserved subtropical Laurel forest in all of Tenerife. The humidity that reigns in the Monteverde ensures that, even on the hottest days, it's pleasant to walk along the hiking trails that cover it. In Anaga there are dozens of possible itineraries, but the hiking trail of the Enchanted Forest, in the Pijaral Nature Reserve, stands out for the stunning views that you can enjoy during a soothing walk.
As you see, you won't find it hard to find places to visit in Tenerife where you can give free rein to your romantic side. And that's without mentioning that our luxury properties at Abama already work as a tonic for the body and mind. Come home after a perfect day to a candlelit dinner or a film on the sofa; there's just nothing better than feeling at home in your second home. Or get inspired and see out the next group of spectacular Tenerife destinations.