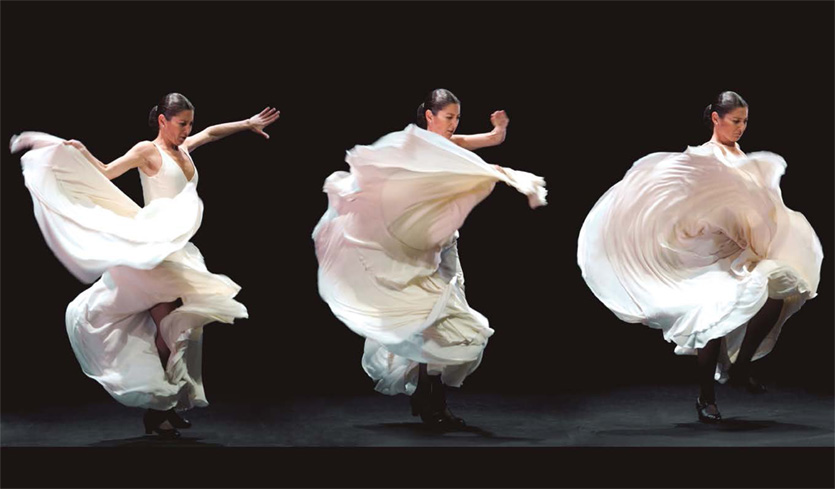 We recently sat down for an interview with Sara Baras, one of the most famous Spanish flamenco dancers alive, ahead of what is sure to be a stunning performance at Abama Resort for our Charity Gala on October 14th. We are beyond thrilled to welcome this world-famous dancer who, at the tender age of 45, has already lived many lives at the highest levels of international dance. Welcomed into all the world's best theatres, and recipient of numerous national and international prizes for her artistic contributions, Ms. Baras always leaves it all on the stage.
You're in the middle of touring with your show
Voces, an homage to the artists that have influenced you and your career. Which of them is most present in your mind and why?

The people that have influenced me the most are those that I reference in the show. These are not only professional but also personal influences, and I have had the honour of meeting them (except for Carmen Amaya) and enjoying some unforgettable moments.
Voces
is also a voyage through the various permutations and important figures of Spanish flamenco. Is it perhaps one of the most complete works in your career of paying homage to this culture?

Perhaps more than being the most comprehensive work, it's the one in which I have chosen the figures most representative of the type of flamenco that I was planning to choreograph and dance, since the show is dedicated to each one of them.
You've had a fairytale career by any measure. To what do you attribute your success?
Above all, it has been about hard work, preparation, honesty, and respect for the public. When the curtain goes up, I am always 100% prepared and I always give absolutely everything I have in my shows. Every single one of them.
You've made a name for yourself in the flamenco world inside and outside Spain. Has it been more difficult to achieve this renown at home than abroad?
No, the public's acceptance of my performances has been very similar inside and outside Spain. I feel very loved in my country.
How have your extensive tours and trips affected your character as an artist? Have they changed the way you view the world in any way?
I've spent my whole life travelling on extensive tours and trips and I don't know any other way of life or of seeing the world. But I am convinced that learning about other countries and cultures enriches us and makes us more respectful and empathetic towards others. It also helps you to appreciate your family and friends more, and to realize that Spain is a marvellous country.
At Abama you'll be performing for a crowd that is, in large part, international. Why do you think Spanish flamenco is capable of transmitting emotions to everyone, no matter their country of origin?
Precisely for that reason: because it transmits emotions, and emotions can't be waylaid by borders or languages. They go directly to your heart no matter where you're from.
You have become one of the most well-known Spanish artists internationally in the world of flamenco and many view you as a personification of Spanish culture. How does it feel to have the weight of this tradition on your shoulders?
I feel tremendously fulfilled and proud, and very, very responsible!!!
Known as a determined artist of many talents, you are constantly offering your public new material and have maintained an intense career. What are you preparing for the future?
We're already working on the new show, but I can't yet tell you anything. The only thing I can say is that my team and I have taken it on with the same eagerness we had for our very first show, and that we will pour our souls into this work and on the stage, just as we've done for every show that's preceded it.
Abama's Gala Dinner, as you know, is a charity function benefitting the Alda Foundation. So we're very interested in your own social work through collaborations with associations like Mi Princesa Rett. How did that opportunity come about, and why do you support the cause?
I had the opportunity to meet Paco and Marina through a Twitter message; they are Martina's parents and the founders of Mi Princesa Rett. The message really struck a chord with me and we invited them to the theatre because they're from Badajoz and it happened that on that exact date we were doing a show in Mérida. Since then we've developed a really special relationship. Martina is the same age as my son, and that also hit me quite hard. And that's where we are today: we keep fighting and hoping that eventually we'll be able to beat Rett syndrome.
Join us at Abama in October for this incredible Spanish flamenco event, and add it to your list of examples of Tenerife culture that you have experienced since you came to the archipelago.