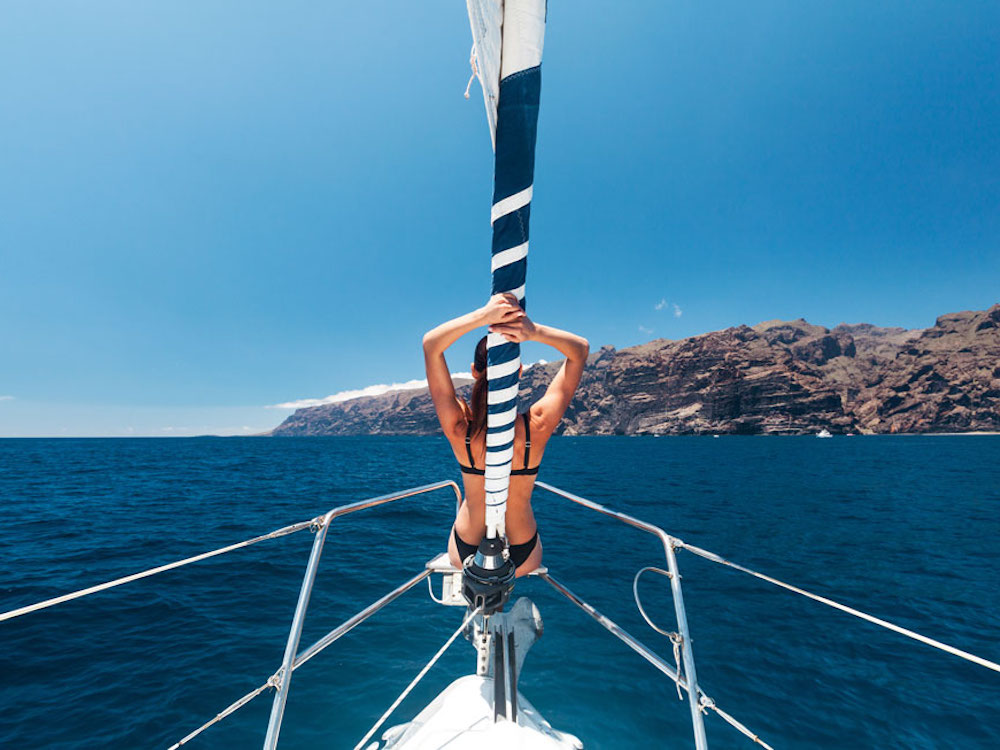 Magical experiences mark you forever, and your next Tenerife holidays will be one of these special memories. You'll discover extraordinary landscapes, relax in the peace of natural surroundings, and enjoy the comforts of world-class accommodation. Your adventure will let you leave the European winter behind, but remain on the continent, and you'll be surrounded by a local community that has successfully welcomed international tourism without renouncing its identity.
Located slightly north of the Tropic of Cancer, Tenerife is the largest island in the Canary archipelago. Its unique geography has allowed it to protect the largest number of endemic species in Europe, and it has been named a biosphere reserve by UNESCO. With an average temperature of 22 degrees Celsius and 3,000 hours of sunshine a year, Tenerife has long been called the "island of eternal spring". Thanks to the many airline routes to other parts of Europe, the world has learned of its treasures, including its rich local culture and cuisine, cultural institutions like the Adán Martín auditorium, luxury hotels and, of course, incredible beaches on the shores of the Atlantic.
Nature in its purest form
Of volcanic origin, Tenerife's arid landscapes display a rich range of ocher colors, but its varied microclimates have also maintained ancient green forests of extraordinary dimensions, and natural pools along many of its beaches. There are hundreds of plant and animal species that can only be found in this corner of the continent, in protected areas like Anaga Rural Park. If variety is the spice of life, these marked contrasts of tones, texture and panoramic views create the perfect setting for unforgettable secret escapes to Tenerife.
From any part of the island, the Tenerife skyline is dominated by the Teide. At a peak of 3715 meters above sea level, the volcano is the highest in Spain and the third highest in the world, after Hawaii's Mauna Kea and Mauna Loa. Equally imposing and emblematic, it is the center of the Teide National Park, a UNESCO World Heritage Site.
Tenerife's 342 kilometers of coastline provide the sun and beach tourism that so many love, but the island is a jewel worthy of exploration no matter your favorite holiday activities. Hiking, landscape photography, sailing or dolphin watching, or exclusive guided tours of protected nature reserves like the Barranco del Infierno can all be part of your Costa Adeje holidays.
Eternal spring
What is the warmest place in Europe in January? No matter the time of year, the Canary Islands offer the best climate in Europe, perfect for taking a few days off from the cold winter. And among the islands, the southwest of Tenerife offers the best of the best. The Macaronesian trade winds are responsible for moderating the Tenerife weather, producing different environments depending on the height and position of each location, with higher humidity and rain in the north and northeast and a lower level of rainfall in the southwest, where Abama is located.
An easily accessible destination
When you want to disconnect from your urban routine, this holiday destination is just a stone's throw away. With two airports, one in the north, closer to the capital, Santa Cruz, and another in the south that receives most of the air traffic from the European capitals, Tenerife holidays are accessible at any time of the year, even if just for a quick weekend away. According to data from the Cabildo de Tenerife, of the 5 million foreign tourists who visited the island in 2019, 35% were British, aided by the large number of London to Tenerife flights. There has also been a marked increase in Oslo to Tenerife flights; according to these same data, the influx of Norwegian tourists to the island registered a growth of almost 10% between 2018 and 2019. Another notable route is Iceland - Tenerife, with the Nordic country's own carrier, Icelandair, operating out of Tenerife Sur airport.
Family vacation
The memories built on family vacations are priceless, and Tenerife is a great destination for travel with children and teenagers. Siam Park is considered one of the best water parks in the world, and has a wave pool whose swells reach 4 meters. Loro Park has the largest collection of parrots in the world. And besides these, there are innumerable leisure options for your little ones, like walking through the Enchanted Forest of Anaga, or going up the Teide by cable car with magnificent views from every angle.
Outdoor sports
For those who love outdoor activities, the island's springlike temperatures are a guarantee your plans won't be derailed due to bad weather during your stay. At Abama, you can play golf on a professional course, lounge by a swimming pool that's never crowded, or improve your serve at the Abama Tennis Academy with individual classes adapted to your level. And the constant pull of the Atlantic Ocean adds the possibility of adventure to any plan. Sightings of whales and dolphins in their natural habitat is an experience at your fingertips; just travel to the nearby Los Gigantes and join an expedition. Or if you crave action, there are any number of watersport companies ready to help you test your skills while taking in the impressive landscapes from the water.
Centuries of history
Interacting with locals is one of the best ways to understand a destination, and the diverse demographic and cultural history of the Canary Islands has resulted in a mix of influences that is one of the most fascinating parts of any visit to Tenerife. Hospitable and open, the island residents have welcomed international tourism without renouncing what makes them unique, and visitors can catch glimpses of history almost anywhere they turn.
As heirs of the pastoral traditions of the Guanche people, Tenerife residents keep ancient recipes like gofio alive, preserve the caves that were their ancestors' refuges, and even, on the neighboring island of La Gomera, sometimes use a whistled language to communicate that has been used for centuries to speak over long distances. Today, this preservation has earned it a distinction as a World Heritage Site.
International attractions
The capital city of the island, Santa Cruz de Tenerife, hosts the second-most famous Carnival celebration in the world, distinguished by massive attendance and performances and parades of high quality. Sister city San Cristóbal de La Laguna has a historical center that has been named a World Heritage Site thanks to its impeccable state of conservation. And a tour of each of the 31 municipalities of the island will reveal something special that makes a visit a must.
Tranquil tourism
In the southwest, the town of Guía de Isora is a model destination that has opted to reinforce its cultural attractions and pursue high-end, high quality tourism for modern visitors who seek exclusivity, personalized services, and a low-key environment. In fact, this evolution of the tourism sector is evident all over the island. Where once the trend pulled strongly towards mass accommodation with the barest of services, today Tenerife opts for quality accommodation that delivers comfort and tranquility. The best Tenerife hotels guarantee maximum relaxation and privacy, and deliver considered architecture in harmony with its surroundings. Five-star services meet the needs of any visitor, and encourage him or her to return again and again.
Privacy and exclusive services
Designing extraordinary experiences for guests is the hallmark of 5 star hotels in Tenerife. Guests want independent accommodation as well as personalized, high-quality services. The modern Tenerife visitor seeks a quiet destination where she can relax, but with a dining, sports, wellness and leisure offer that is attractive and varied enough to stand out. With one of the best golf courses in Europe, Michelin restaurants on the grounds, and a secluded beach cove, Las Terrazas de Abama has won a Travellers' Choice award and risen to the top of the ranks of the island's hotel offer. This aparthotel Tenerife comprises 151 suites-only private apartments with impressive views of the Atlantic and large terraces or private gardens where anyone will feel at home.
Sustainability at the core
As part of this extraordinary island and community, Abama Hotels is deeply committed to sustainability and to reducing our environmental impact more each year. We participate in conservation and social projects, emphasize local hiring, apply for certifications that require low CO2 emissions, and use our resources carefully. Our apartments and facilities allow you to enjoy Tenerife accommodation while contributing to sustainable practices. Whether here for a short visit or a longer stay as a digital nomad, the facilities offered by our hotels, in combination with the attractions of this incredible island, make a stay at Abama one you'll never forget.
For those bent on exploring new corners of Europe, Tenerife holidays will tick every box. Here, tourism is sustainable in its protection of the area's natural and cultural heritage; conscious in its offer of slow tourism bereft of haste and stress; and authentic in its focus on the local traditions and attractions that make a holiday an adventure in enrichment.